DE LaMarr Woodley was too big to play Pop Warner football when he grew up in Saginaw, Mich. In fact, Woodley didn't start playing competitive football until he was in 7th grade. His initial goal was to be a WWE wrestler (which he still occasionally channels on the field – see photo below). But once Woodley strapped on the pads, football was his direction.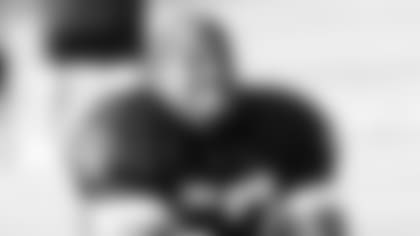 DE LaMarr Woodley shows off his WWF skills on LB Sio Moore.
Photo by Tony Gonzales
Now, heading into his eighth NFL season, with a Pro Bowl and All-Pro selection under his belt, the football world is better because Woodley chose to play between the stripes instead of the ropes.
Growing up, Woodley looked up to the local athletes from his high school. "The people I looked up to were actually the local people, the local people that went to Saginaw High," said Woodley. "Those are the guys I looked at. I feel like those are like the celebrities of the city because I didn't really watch it on TV much and those were the guys I actually physically could go see. I could see them around the city and those were the guys that were kind of like my role models."
Motivated by the people close to home, Woodley chose the University of Michigan, which is only about an hour and a half away from Saginaw. "I just felt like everything I needed was right there at home," he said. "As far as what separated them from all the other schools, they talked about education more than anything. They talked more about a student-athlete. I said, 'with this game, it can be over at any given time.' And they talked about how they wanted athletes to graduate in three and a half years and they pushed that more than any other school I went to visit and that stood out more. National TV every week and great history and tradition behind that team, I said, 'hey, I can stay right here at home.'"
His decision was the correct one as he went on to become the first ever Michigan player to receive the Lombardi Trophy awarded to the nation's top college football lineman. Woodley also won the Ted Hendricks Award as the nation's premier defensive end.
Woodley's favorite memory from his college days as a Wolverine happened senior year against Notre Dame. "Notre Dame was supposed to be going to the National Championship that year and we won and we just whooped them," Woodley reminisced. "I think Brady Quinn went to throw the ball and he kind of fumbled it and I picked it up and ran with it for like 50 yards for my first college touchdown. So that's probably the best memory I have."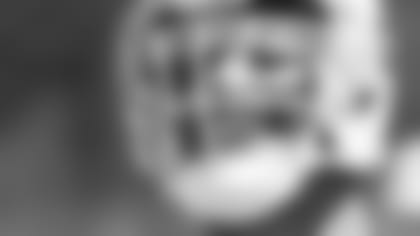 Photo by Tony Gonzales
His college career caught the attention of the Pittsburgh Steelers, also close to home, and he was selected in the 2nd round (46th overall) of the 2007 NFL Draft. Woodley spent seven seasons as a Steeler, compiling 299 career tackles, 57 sacks, 16 passes defensed, five interceptions, nine forced fumbles and nine fumble recoveries.
Although he was slowed in 2013 from an ankle injury, the Raiders signed Woodley as a free agent in March 2014.
He hasn't been slowed down long term, however, because Woodley won't give up on the game he loves. "I just like playing. I like to compete," said Woodley. "I love the opportunity to try to dominate the person across from me and it's the only game you can play where you can physically attack somebody and it's not committing a crime."
Now in his first training camp with the Raiders, the 6'2", 265-pound NFL linebacker turned defensive end is working to feel comfortable in a new city in a new defense with new teammates. "The transition, to me, is just training camp, going to a new facility, finding a new place to stay, learning new teammates," said Woodley. "Other than that it's still football to me. All those other things that you have to worry about – how practice is going to be run and how do you get to the facility – is simply easy for me."
He is going through the transition with fellow veteran DE Justin Tuck, who signed about an hour prior to Woodley back in March. "Me and Tuck have the same agent so I've known Tuck for quite a few years," Woodley explained. "We were here on our visit together and once he signed, then I signed. So having him here and pretty much watching his whole career since he's been in college, I knew the type of player Tuck is and having the opportunity to play with him is great for me."
The veteran has no problem switching from linebacker to defensive end with the Raiders. "The switch is easy," said Woodley. "In Pittsburgh, the only difference is I was dropping back more and rushing 50 percent of the time. Here I'm more rushing 90 percent of the time and dropping back 10 percent of the time. So that transition really isn't a big difference other than me putting my hand in the dirt."
Woodley is a self-proclaimed jokester, so he fits in well with the high-energy, goofy group of defensive linemen. "It's fun in our defensive line room. We have some funny characters in there," said Woodley.
And he knows what it takes to be successful. "[The Pittsburgh defense] was so successful because you had guys that trusted one another," he explained. "When you get out there on the football field, it's just trusting the man next to you that he's going to do his job and nobody's trying to do the other person's job. Once you do that, it allows somebody else to make the play. You're not going to get the glory, but we know the reason I made this play, this sack, is because of you, and that's what it was in Pittsburgh."
Woodley wants that success here in Oakland and believes it's possible, proclaiming in a press conference during the offseason that the Raiders are a playoff-caliber team. "If you come in here and just say I just want to be 8-8, I wouldn't want you part of my team," Woodley said during a May 27 interview. "Anybody on this team, the objective, and any sport and anything you play, should always be the top and say, 'man, I want to win the Super Bowl.' Anything less, I wouldn't want you on my team. So when they ask me, 'what do you think about this team,' I think we're a playoff team. That's the winning attitude."
He wants to be on the winning side of things rocking the Silver and Black. "The rival between us and Pittsburgh…I used to watch those highlights," said Woodley. "It's just a bunch of crazy fans. It's a place where you fear to come in and play. To have the opportunity now to come and not be the guy to get booed, it's going to be great. So I can't wait to put it on and especially in front of the Black Hole."