On March 21, 2014, the Oakland Raiders acquired veteran QB Matt Schaub from the Houston Texans. Entering his 11th NFL season, Schaub has totaled 24,254 passing yards on 2,035 completions, achieved an 89.8 passer rating and thrown 130 touchdowns.
Although the 2013 season with the Texans did not go as the Pennsylvania-native had planned, Schaub still accumulated 2,310 yards and 10 touchdowns.
Now the Raiders starting quarterback, Schaub hopes to rebound and produce like he did in 2009, 2010 and 2012, recording over 4,000 passing yards and over a 90.0 passer rating each of those seasons.
Schaub was a quarterback from the first time he stepped onto the field in the third grade. "Growing up where I did, when I did, there wasn't any flag football leagues," explained Schaub. "It was just -- get right into tackle. So third grade I started and I remember the first practice the coach was figuring out who wanted to play what positions and I always liked to throw and have the ball, so I said, 'I'll be the quarterback.' And I've been a quarterback since."
The 6'5", 235-pound signal-caller played college football at the University of Virginia and was drafted by the Atlanta Falcons in the third round (90th overall) of the 2004 NFL Draft. He spent three seasons in Atlanta behind QB Michael Vick before being traded to the Houston Texans. That first transition helped prepare the 10-year veteran for the second move of his professional career.
"I think coming here now seven years later, having played a lot of football, I knew how I wanted to approach this scenario and what the team needed me to come and do and how to come in the door and how to take control of things," said Schaub. "Just that confidence and that ability to understand what my role was going to be allowed me to make this transition to Oakland a little easier because I've had the experience I've had previously."
Since arriving in Oakland, Schaub has embraced his opportunity on the team and in the community. "It's been a great transition. The area is awesome, the town, the organization, the coaches, the players on the team have all embraced me and just really welcomed me," he said. "It's been a great time the first few months. The hardest part has been being away from family, but it also has allowed me to fully immerse myself in the playbook, spend time with the coaches, the other players, get to know them off the field a little bit and just understand the playbook and what we're being asked to do here, which is a little different than what I've had in my past."
Part of Schaub's ability to adjust comes from his capacity to understand the dynamics with teammates on and off the field. "It's something that you have to have innately, but at the same time, it's something you work towards," explained Schaub. "To really understand your team and your teammates and what makes them tick, that's something that you really have to work to accomplish. Getting to know those guys so when you're in the huddle, what keeps guys going? Is this a guy that in a TV timeout you want to throw a joke out to, to keep him loose because he gets too tense? Or is this a guy who needs a little fire lit under him?"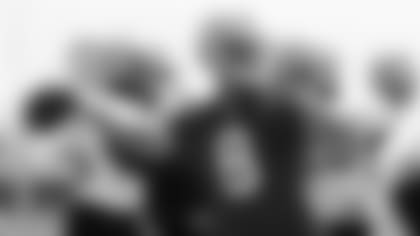 He also has the leadership qualities necessary for a successful quarterback. "I like to lead by example mostly, but there's a time and a place where you have to be a little bit more vocal," said Schaub. "That's why it's great in a football team that you have multiple leaders that might fill different roles. Naturally, I'm more of a lead by example guy but you have to have a little bit of a mix of all of those attributes to really be effective. When you come into a new place, you want to come in and show guys that you know what you're doing, that you're going to work hard, that you're going to bust your tail."
Schaub has been able to maintain his drive, in addition to his leadership qualities, because football is a game he loves. "I just love the competition, striving to win a championship," he said. "There's no better team game than football, out there, where everybody needs to be on the same page doing the right thing to be successful. And the competition, the struggle back and forth between the defense and the offense, it's just such a great game."
While his love for the game is part of what keeps him motivated, Schaub's family is his fire on a daily basis. "My family – my wife and our three little kids – and just trying to make them proud and do right by them…being a football player is one thing, but being a dad, being a husband, that's what keeps me motivated," said Schaub.
The father of three embraces every part of the game, including the preparation. "There's no other game where you put so much time and energy into something preparing on the practice field, in the meeting rooms, in the weight rooms," said Schaub. "It's a constant, never-ending strive for improvement."
His work on and off the field is all to deliver results on Sundays, and he's looking forward to performing for Raider Nation. He is ready to work for wins in Oakland. "Interacting with the fan base and Raider Nation and playing in front of the fans in the Coliseum – I'm extremely excited about that," said Schaub. "Having been a visiting team in this environment can be pretty hostile. Raider Nation is something that you always hear about and I'm anxious to play in front of them as a home team and home crowd. I'm looking forward to that and having them on our side. There's no more passionate fans in the NFL than here in Oakland. I'm really excited about it."
Schaub heads into Training Camp 2014 with confidence in himself, as well as from his coaching staff. "He's about what we thought he was," said Offensive Coordinator Greg Olson. "He's a guy that obviously has experience and that shows in the way that he manages a game and manages the huddle. Obviously he's an accurate player. He's good in the pocket. He's got a good pocket presence in there. He's got good leadership skills, he's very intelligent. He's shown the accuracy right now that we're looking for."
Head Coach Dennis Allen was pleased with what Schaub was able to accomplish during the offseason program and looks forward to seeing what he can do during training camp. "He's come in here and been really exactly what I thought he was going to be. He's a good veteran player that understands how to play the game," said Coach Allen. "He's been successful in this league, and I think he's going to continue to be successful."
Stay tuned throughout training camp for the latest on Schaub and the rest of the 2014 Raiders.