RB Maurice Jones-Drew has never been the tallest, probably never been the fastest, nor predicted to be the best. But the 5'7", 210-pound running back also has never let the doubters hold him back. From success at De La Salle to UCLA to the NFL, Jones-Drew managed to silence critics and become a successful, three-down back.
His determination began when he joined the De La Salle varsity squad as a sophomore. Prior to then, Jones-Drew had easily worked his way up through Pop Warner and freshman football. "First thing, they taught me was how to work. I'd never been in a place where you had so much talent on the field and the way these guys worked was like they were the worst players ever," said Jones-Drew. "Going there I came in a little cocky, thinking, 'oh look what I did on the freshman, can't wait to do this on varsity,' and I couldn't even finish a workout. It was mind blowing and humbling. You play the game with a certain attitude, a certain arrogance because you have to be confident in yourself, but when you work, you work as if you're the worst or at least like there is someone out there that's better than you. That's just the mentality I took on and every level I went up this is how it worked."
That mentality has propelled the Bay Area-native into one of the premier backs in the league. Over the course of eight seasons, Jones-Drew has accumulated 8,071 yards (which includes three seasons with over 1,000 yards) and 68 touchdowns. He's added 2,783 receiving yards and 11 touchdowns. "Every day I know someone else is out there, if it was college, it was Reggie Bush across the street [at USC] or if it's in the league, it's somebody else. There's always somebody that you can use to keep me working, keep me going, to keep me striving for greatness. So obviously when I got here it's always, 'Darren's doing something.' I know Darren is out there busting his butt getting ready for this thing so I have to continue to push myself up past limits that I thought I set on myself."
Jones-Drew has learned how to work hard, but over eight years, he has found other ways to keep himself motivated and focused on the game of football. "Obviously every morning I wake up and see four kids that I have to feed and have to fend for that don't know how to do it themselves, so that's obviously number one," explained the NFL veteran. "But coming into this game you always want to leave something. You want people to see you play and be inspired by your play. That's always driven me to go out and play the way I do. Regardless if we are up by 100 or down by 100, I'm going to play the same way; it's never going to change. It's something that I kind of just live by, doing the right things all the time and never have anyone question my effort or question why I did something."
In 2012, Jones-Drew suffered an injury that kept him out more than half the season, and in 2013, he was not able to return to his complete form. Despite the setbacks, Jones-Drew was not ready to hang up the cleats. "I did contemplate retirement throughout the offseason but I felt like I had so much more to give. I wasn't done with football," he said. "Now if I felt like I was done and my body couldn't handle anymore and I had nothing else left, I would have walked away with no regrets. But for me now, I still have something to give. To be able to come back home and play in front of my hometown, in front of my family and friends, is kind of how I wanted to go out and it ended up working out that way."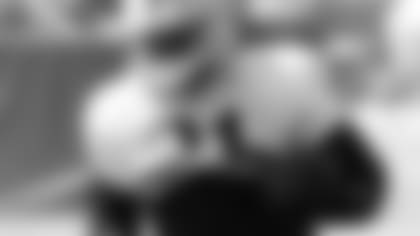 The three-time Pro Bowler came home to Oakland and signed a free agent contract at the end of March 2014. The day he signed, Jones-Drew wore a big smile as he walked around the Raiders facility. "Everything was so surreal. Coming back and signing this contract, where I'm going to be here for three years and pretty much end my career here in Oakland, was something I was always thinking about. That smile was coming back home."
He joined a tight-knit running back room with veterans Darren McFadden and Marcel Reece and a young runner in Latavius Murray. "They are great people. I respect [McFadden's] game, he respects mine and we are going to continue to go out there and work and we know whatever we do is going to be the best for the organization. We always try to keep that in mind as we're out there playing and working hard trying to beat each other out for a certain spot."
The respect the running backs have for each other is the same respect all of the guys on the Raiders roster have for each other, particularly the new free agents, many of whom came in with chips on their shoulders and understand what it takes to win. "As of now it's always been about competing, trying to be the best that I can be everyday and pushing and raising that standard and that expectation of this organization," said Jones-Drew. "When I was growing up, one thing for me was the Raiders were always at the top. So I think for us coming in, we understand what it takes to get that way because we have a lot of guys on our team that have won rings on our team; we have guys that have been successful on our team. For us, it's more of pushing everyone else to live up to that standard that it takes to be great."
As a long-time Raiders fan, Jones-Drew wants to bring back the winning attitude and the greatness of the franchise to Oakland. He knows what it feels like for the Black Hole to be rocking. "For me it's just about coming back and ending my career the right way in the right place," said Jones-Drew.
Jones-Drew believes this organization is headed in the right direction and the pieces are in place. "I think what Reggie has done throughout this offseason, the way the guys from last year allowed everyone to come in and take parts and pieces and try to push this thing ahead, it's been amazing," said Jones-Drew. "What hasn't been here all the time is that competing element - guys just competing against other guys, guys competing for spots, and it's a natural competition."
He is seeing the competition in practice on a daily basis. "We have seven linemen for five jobs, we have four running backs for one job, we have a receiver battling left and right trying to make plays trying to get on the field, we have a quarterback battle, we have a D-linemen battle," said Jones-Drew. "There are battles everywhere. Guys are fighting for spots and in essence that is going to help us be a better team. You'll see guys diving for balls, see guys batting [balls], guys are doing a lot of things I haven't seen here in a while and I think it's just the nature, the culture we've created here now that we are going to continue to fight for that and do whatever we can to keep that competitive culture around here because that's what wins championships."
Jones-Drew is rejuvenated and motivated and he believes in this team. He knows what it takes to be great because he's worked towards it his entire life. He has never let the doubters take away his drive. He has never given up. When he believes something can be done, he makes it happen. This year, and this team, is no different.