He grew up in Manchester, England, where football means soccer. And he didn't start playing American football until three years ago. But Menelik Watson is currently in the number one spot at right tackle on the Oakland Raiders depth chart.
The 6'5", 310-pound offensive lineman is finding his way in the NFL after spending his rookie season working through injuries and his mindset for 2014 is focused and determined.
"Last year, going into OTAs, I had the playbook down and everything," said Watson. Coming into camp I was just very confident and then as soon as my health went, pretty much everything else went out the window too. It's important to have them all together. Healthy body, healthy mind, and now it's one less thing I have to worry about."
| | |
| --- | --- |
| | |
| | Photo by Tony Gonzales |
| | |
Watson took the field for the first preseason game with the first string. It was an opportunity he didn't have in 2013. "It was fun. Too much fun – I came out there and got a false start at the beginning," he said. "I just wanted to get off the ball. Everything just feels right. I don't like it when moments are kind of exploded; I like it when they just seem right and normal. Even in the warm-up and being part of the first string and running out there for that first series, it just felt right."
Just a few years ago, playing for the Raiders or any NFL team wasn't even on the big lineman's mind. Watson was a basketball player from England. He spent two years at Marist College, playing one year of football, before transferring to Florida State University and really strapping on the pads. 
As soon as he started playing football, he knew the NFL was in his future. "My dream was to play professional sports and at the time it was basketball, but when I got to America and I got to experience American football, I just knew it was for me," said Watson. "It still makes it a little surreal sometimes when I step back and look at it and think about it, but it's just another step in my life, honestly."
At Florida State, Watson was coached on the offensive line by Rick Trickett, and despite playing there for only a year, he felt prepared to take on the next level. "The way he coached us is very similar to Coach [Tony] Sparano," said Watson. "Coach Trickett taught us to never be satisfied with your performance, always be your harshest critic, how to work hard as offensive linemen and how to come together, too. No matter what the odds were, just understand that the unit is important. As long as the front five guys stay together, we'll always have something special."
Watson also faced NFL-caliber competition on a daily basis. "Just the guys I was going against at Florida State – Bjoern Werner, Brandon Jenkins, Tank Carradine – those guys were all pro guys, so I was going against them every day," he explained. "It was just a perfect setting."
It seems unlikely that a kid from England, new to football, would be able to find his way to the NFL, particularly in the upper rounds of the draft, but Watson attributes it to his determination and ability to absorb information without past teachings getting in the way.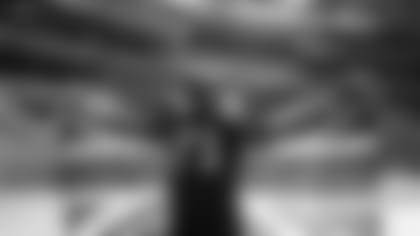 Watson visits Wembley Stadium in London during the offseason. AP Photo
"Just being a blank slate and being hungry and determined," he said. "When I first started playing American football, I knew nothing. I liked it that way. It was almost like being a kid again when you go to that first camp. I remember my first basketball camp and I didn't know how to dribble a basketball, so I had that feeling again. I'm not a quitter, never have been, so when I said I was going to do it, I knew I was going to give my all into it."
His strength and drive comes from his upbringing, particularly his mother, who played a big role in his life. "My mother was a big influence because for some reason I always had a great connection with my mother," said Watson. "She raised four boys by herself, and one girl, and she did it all by herself. There were a lot of times where she could have quit, a lesser person would have quit, but she didn't. She's always been a big influence on me."
Watson has also taken notes from historical and influential figures in sports. "You hear about the things people like Muhammad Ali did, influential guys who had to go through certain things," said Watson. "I watched the movie '42' not so long ago and was just thinking about putting myself in that predicament and seeing how I would have been in that situation. There have been a lot of people who have touched my life in their own individual ways. I've always learned from the past and love history, so I always try to learn from the past and take lessons from them and put it in my life and use those things to move forward."
The people that have touched his life and given him inspiration have helped Watson reach the highest level in his sport. The British lineman with an art degree from England (unexpected, right?) is not satisfied, however. He is driven by his desire to provide for his family.
"My family still hasn't gotten everything they deserve, my mother especially," said Watson. "She deserves the world, especially everything she's been through in life. I cannot stop until everyone is comfortable and it might never happen, but I'll never be at ease until everyone else has at least seen the world, and is comfortable, and witnessed the things I've witnessed."
And his family, and his country, will be able to witness him in action when the Raiders travel to London for the International Series in September. "I'll tell you one thing now, but my emotions on the day are going to be totally different," said Watson. "I know it's going to be an emotional game. It's going to be something really special, especially a sport like American football, which is just foreign to a lot of people in England. And then to have a homegrown kid come back and display his talents in front of the whole country, it should be a really special night."
Watson isn't thinking too much about that game just yet because he knows there's a long way to go before Week 4. He is working hard for Coach Sparano and his teammates. "I love the fact that Coach Sparano harps on the little things because you lose sight of the little things like something as simple as where you put your foot or you step in a run play or the way you set on a pass set," explained Watson. "Those things matter. It's the difference between getting in a bar fight with a defensive end and just passing the defensive end." 
It helps, also, that all of the offensive linemen are on the same page and are enjoying working together. "We're all together. We all understand where we want to be. We've all got each other's back, which is first and foremost," said Watson. "We crack jokes. Donald Penn gives everyone a hard time. Then we give him a hard time back. Khalif is like the older brother that is always there whenever you need him. Austin is like the big, angry twin; I love playing next to Austin, and then Kevin is like the wise head. And then there are the collective guys from last year – Tony Bergstrom, Matt McCants, Wisniewski. We just have a special group. The biggest thing is that everyone is coachable. There's no egos in the room; it's just guys that are willing to get better and dominate as a unit."
The collective goal and the individual determination is a recipe for success and after missing most of year, that's what Watson is striving for. He is fully committed to his work and the Raiders.
"I am passionate. I'm all in. When I put my heart to something, I'm all the way in."