The Raiders had three seventh-round selections in this year's draft and picked DE Shelby Harris with their second (235th overall). Harris played three seasons at Illinois State after a redshirt freshman season at the University of Wisconsin. Due to an off-field issue, Harris did not play football in 2013 and spent the year working out on his own.
Not playing football for year put things in perspective for the 6'2", 288-pound defensive end. "I've had past off the field issues and just to see them be hurt by the things that I've done, it's made me realize that I'm affecting more than just me," explained Harris. "Everything I do, I can't just have it be for me. I do everything for them. On draft day, when you see everyone smiling and everyone's happy, that's what I strive to do for my family. I strive to make them all happy and proud of me. My mom is a single mom and my grandma is pretty much like my second mom; they both raised me and I will do anything not to let them down."
Receiving the phone call from the Raiders on the third day of the 2014 NFL Draft was a dream-come-true for the rookie. "I was just sitting at home and I was with my family and we were just watching the draft. The sixth round rolls by and the seventh round starts and you start hearing some calls from some teams and I just remember I was on the phone with my agent and he's like, 'have you heard from any teams?' And then I was like, 'hold on, someone from California is calling.' I just remember my heart just like…I don't even remember. I was just sitting there and I got really excited and my mom was sitting next to me and I think she knew what happened because she got really excited and started crying of course. It was a great feeling. It was one of the more memorable times in my life."
Harris had to pinch himself to realize he was truly a member of the Silver and Black. It finally settled in when he put the jersey on for the first time. "I think that's finally when it hit me, like, okay this is real; this isn't a dream," said Harris. "I remember even days after the draft I was like is this real? Am I going to wake up out of a dream eventually? And then to actually go out there and put the jersey on, and to see your locker, it's a once in a lifetime feeling. Time to get to work, this is actually happening right now."
The 22-year-old is getting to work on a daily basis with seasoned veterans like Justin Tuck, LaMarr Woodley and Antonio Smith. "You have the utmost respect for them as players and people and so to be surrounded by such great guys – Justin Tuck, LaMarr Woodley, Antonio Smith – it's a blessing to come in as a rookie and have such great football players to surround yourself with," said Harris. "You can learn so much from them football-wise, life-wise so it's the best situation I could ask to be put in."
Harris believes he's an all-around type of defensive lineman – athletic, powerful and football intelligence - and is excited to hone his skills with the veterans. "I feel like it's a little bit of athleticism, a little bit of power…I always feel like wherever I am, I know what I'm doing. I don't leave that up to question and I feel I have very good instincts so that all goes together in making me a good football player."
Harris has progressed over the several weeks of Phase 3 of the offseason program. He plans to continue his preparation in the month before his first NFL training camp. "I want to become confident in the playbook, so that when training camp comes around and the season comes around, you play as hard as you can without thinking really about anything. Also, earn the respect of the vets," said Harris. "You don't just want to try to come in and act like you know everything. You come in and keep your mouth shut and do what you're supposed to do and that's what I plan on doing."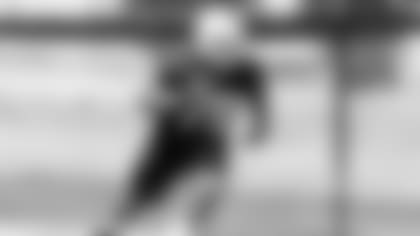 The Mequon, Wis., native seems to understand what it will take to become a productive Raider. "I'm here to work hard and I'm here to make an impact," he said. "I'm here to do the best I can and be the best person I can on and off the field."
Harris wants to make himself and his mom and grandmother proud. And now that he's beginning to get to know Raider Nation, he wants to make them proud too. "Raider Nation is crazy. I love that. They're very passionate about their team," said Harris. "I've been around Oakland and you see nothing but Raiders stuff all over the place. That's the type of organization, the type of fan base, you want to play for, someone that's very passionate about their team and someone that cares if we're winning or losing, and that losing is not okay and we're here to win."
Harris has one more opportunity to work with the team this offseason before they reconvene in July for training camp. Follow all of the action on Raiders.com.