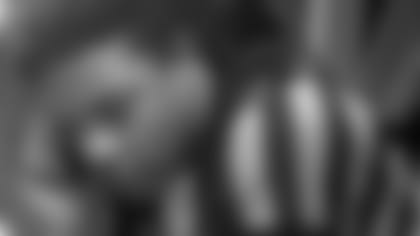 LB Philip Wheeler answers questions from the media during a conference call.
Q: What can you say about the first day today? What was the atmosphere like? What kind of impressions can you draw from the meeting of the team?
Wheeler: I'm pretty sure everybody else thought everyone was new. A lot of new faces, new coaches for everybody so I feel like we're all coming in on an even playing field type thing. As far as competition, I feel like it's going to be healthy competition for us and I think we're going to be a good team because of that.
Q: What can you say about the coaching staff and their message to you?
Wheeler: I mean, this is my first day. I did know one of the coaches prior from the Senior Bowl when I was coming out of college, Coach Tarver. I remember him. I talked to him before I signed and that kind of helped me in my decision. He knew my abilities and everything, so that's one coach I already knew. I feel like this is the best situation for me. I think these coaches here, they were adamant about the way they're running their defenses and it's a defensive head coach, he has a defensive mind, and I just wanted to come to a place that would take defense a little more serious.
Q: Was the decision tough when it came right down to it?
Wheeler: Yeah, it's a tough decision any time you're moving, especially if I have an opportunity to move on the other side of the country. To move towards a defense, it looks like this defense is catered to linebackers and the way, specifically to the way I play, I think. It feels good to be around other good linebackers. It seems like it's already a decent linebacking corps here, pretty good linebacking corps. They're young just like myself so I feel like this is a great opportunity to build something here. As far as my decision, I had the choice of going to a couple other teams, Miami was one of them, I feel like it was a hard decision, but it was a better fit for me because of the type of defense and the type of scheme they're running here, and the type of coaches they've got here.
Q: How is the defense catered to your style of play?
Wheeler: Coach Tarver told me there was going to be a lot of blitzing, a lot of mixing up things, not just standing still in Cover-2 like I did with the Indianapolis Colts for awhile. Nothing against them, we had a great offense that kept us in the lead a lot, so we were able to just sit back in Cover-2 and rush the passer a lot because teams had to catch up. We had two great defensive ends that did that. But I also like to rush the passer from the linebacking position and Coach Tarver said that there would be some of that going on.
Q: I noticed on your Twitter account that you were pretty impressed by all the Raider fans that reached out to you. How many followers did you jump? Did you count? What was it like?
Wheeler: I don't know, I think it was almost 2,000 that jumped up. It was cool because it kind of helped me in my decision because it showed me how big of a football city this is, how much they pay attention to football and stuff. Instead of going to somewhere else…Indianapolis is a pretty good football city, but the fans didn't get more involved in media, just showing us how much they care about the game. So I always wanted to play in a big football city with a legendary team so that kind of helped me choose Oakland.
Q: You've got a history with Peyton Manning and now you guys will be on opposite teams in the same division. What do you bring to the table to the Raiders as far as knowing what Peyton Manning is going to do when he's out there?
Wheeler: He's about to be in a different situation than he was in, I think. I just know from practice going against him. He helped me in terms of playing against the best quarterback in the league. I know how to step my game up because of that. As far as knowing what he's going to do, I mean, he's always kind of unpredictable and that's why he was so good because you don't know where he's going with the ball at a specific time. You know what kind of plays he runs, but you don't know when he's going to run that. I think I'm better because of going against him in practice every day and I'll be prepared to face any quarterback like that. I think I can help the team do that.
Q: People would look at your size and think that you're a tad undersized for a strong-side linebacker but you seem to hold the edge well when you were with Indianapolis. I'm curious to your philosophy on how you do that. How do you stand up as a strong-side linebacker at 6'2", 240?
Wheeler: To be honest, it's kind of difficult for me to decide on a position for myself because I feel like I'm very versatile. The coaches also recognize that and I feel like playing that position it comes pretty simple to me. I'm not worried about it as far as size and everything. I just want to be able to use all of my talent. I'm kind of a jack of all trades so I feel like in Indianapolis I wasn't able to use everything I had. It didn't bore me, it just made me want to do something else, go check out other teams. I just want to be able to use all of my talents. That's all. I feel like I'll be able to do that here and that's why I chose this place.
Q: About how many guys were out there today for the first day?
Wheeler: I don't know really how much of the team was here, but most of us were here. We had meetings. We had our first introduction meeting, a lot of new faces from what I hear and a lot of new faces for me. I think everyone got to know each other today.
Q: We're used to the Raiders for years do a 4-3, not a lot of blitzing, a ton of man-to-man, and we're going to line up our players, not be tricky, we're just going to beat you. So it sounds like it's a new era? We're going to see a lot of different things this year?
Wheeler: I heard a couple of the coaches saying that we're not just big and fast anymore, we're going to be big, fast and we're going to be smarter and have good football players. I actually play Madden a lot, so I know a lot of players on the team because I played with the Raiders because they always had the fastest team. I always put Terrelle Pryor in the game and run around with him on Madden. He's probably my favorite player on the team and no one knows that yet, but I play with them on Madden so I pretty much know everything about the team. They were always bigger, faster, and stronger than everybody. But then the awareness on the game, some of it was down or whatever, but I feel Mr. McKenzie, the GM, is bringing a lot of players in that actually know how to play the game, not just faster than everybody. We have actual football players in here now.