During The Oakland Raiders final home game of the 2008 season, a 27-16 win over the Houston Texans, veteran cheerleader Serrita was announced as the 2008 Raiderette of the Year. As Raiderette of the Year, Serrita had the opportunity to represent the Raiders and Raiderettes at the 2009 Pro Bowl in Honolulu, Hawaii. Here is Serrita's blog chronicling her experiences during Pro Bowl week.
**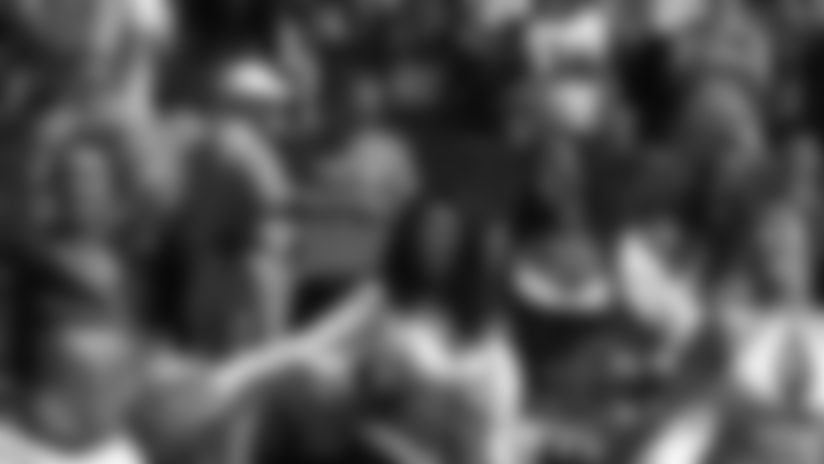 Raiderette Serrita performs during the 2009 Pro Bowl. - *Courtesy of Serrita*
I flew out of SFO, Hawaii bound! I slept the entire flight, woke up in Honolulu. I ran into Nnamdi Asomugha at the airport. We chatted for a few minutes then went our separate ways. I waited for NFL security to come and get me from baggage claim. Once I met up with security they took me to the van where Jackie of the Gold Rush was waiting. Together we waited for Marlina of the Chargers.
The three of us checked into our rooms, being from the west coast, we were the first to arrive. The three of us went to grab food and chat to get to know one another. Later that day we just waited for everyone to arrive.  My roommate finally arrived, Jessica from the Bills. We hit it off instantly and we both realized we are not morning people so we needed to tell ourselves 20 minutes early than our real call time. We both needed music to get us up in the morning, so our system fell into place quickly.
Monday night ended with us practicing for an hour or so and greeting our last arrival (12am), Gena from the Seahawks. We said our goodnights and headed to our rooms to get ready for Day 2 of our trip.
Every morning we had breakfast together and attended a team meeting to find out how our next day will unfold.
Our call time for breakfast was 7:30 a.m. so for my roommate and I that meant 7:10 a.m. We needed to be dressed in full uniform with hair and make up done. During breakfast, the staff introduced themselves to us. A few ladies were called up to tell a little bit about themselves. Ron (one of our group leaders) led the discussion. He seems to be a motivational speaker, he makes you say what you wouldn't normally say and open up, step out of your box and express yourself. After breakfast we headed down to the pool at our hotel for our team photo.
It was very cold and windy, I'm still surprised we pulled it off and created this picture. Our hair was blowing straight up, it began to rain a little so we had to move inside and wait for the wind and rain to stop. After a few hours of rearranging we produced a fabulous team photo! We were all surprised.
After the photo shoot we had an hour to change and eat lunch. After lunch we headed to a ballroom to start practice; 12:30-5:00 p.m. They split us up into the two conferences; AFC and NFC. They turned the music on and we danced. They told us to mark but in a room of 26 women nervous not knowing what to expect we all went full out pushing each other. Within our conference groups they divided us into two lines. I was part of AFC 2, a.k.a Double Deuces. Once we were in our lines they put us into sideline lines based on hair color, height, and team uniform color. In my line: Tasha from the Baltimore Ravens, Lindsay from the Tennessee Titans, Marlina from the San Diego Chargers, Shonica from the Indianapolis Colts, Jessica from the Buffalo Bills, Ryann from the New York Jets, and me! Once we knew our place in line they went through sidelines and fillers over and over again. We would rotate lines so everyone had a chance to be in the front row, which meant you needed to learn back row and front row to each dance. AFC 2 learned a way to communicate with one another and get a feel of our dancing.
We took a break at 5:00 p.m. for dinner and to change into a dry shirt if needed. With such a short period of time and everyone feeling worked we all stayed at the hotel to eat. At this point I was too tired to be hungry but I made myself eat. I shared a pizza with Marlina from the Chargers. I changed into a dry shirt and headed back to round two of practice - 6-10 p.m.
Once we arrived back to the practice room, we went over the sidelines and fillers to refresh and remember what songs you switch lines to and so forth. After that we started our pregame number. We danced to a Beyonce mix, I feel as though that was the only thing pushing us. Everyone had blank stares and looks of confusion. It wasn't that the dance was hard I think it was overload mentally and physically.  I feel as though this was our moment of bonding. We had to push one another to remember what was going on and keep it moving. When 10:00 p.m. rolled around Maria and Ron walked into the room to watch the final product of pregame. All of us had to dig deep to find the energy to complete this mission.  Of course we completed it with flying colors. Drenched in sweat we headed out of our first practice with a our group photo in hand and an itinerary for the following day.
My roommate and I freshened up a little and went down stairs to eat something before we went to bed.
We started our day off at 6 a.m. for a call time of 8:30 a.m. We needed to be in full uniform workout attire at breakfast because we were headed to an hour an a half practice in uniform.  At breakfast we all received a new pair of Reebok shoes to practice in! Three more ladies introduced themselves to the group and we received a few new fun facts. (Fun facts are things that someone in our group has done and we have to guess who did it).  After practice we had an hour and a half to eat and spend however you chose. A group of us ate quickly then went and relaxed for an hour. The AFC2 headed to Aliamanu Military Reservation (AMR) at 2 p.m.  I introduced AFC2 (to the crowd) and each lady performed an eight-count freestyle, then we performed two numbers. After our last performance I asked people to come up to the stage and receive signed photos of us. We were only there for an hour. After the event, we went to the locker room on base and showered to get ready for the NFL Welcome Party.
When you arrived to the NFL Party, you are greeted by the hula girls and given a lay. We mingled with people of the NFL, such as players' wives, sponsors, children, etc. We had a buffet of food to choose from, which I have to admit I tried everything - it was all great! Even the dessert! They had a show for us, and other little tents to venture out to. We stayed there till about 9:50 p.m. or so. We had to head back for our 10 p.m. meeting. At the meeting we discussed the next day and a few ladies gave introductions about themselves.
We woke up at 5:30 a.m. for breakfast time of 7:20 a.m. At breakfast we shared a few stories of our events from the night before, took pictures, shared fun facts, and a few women shared information about themselves. After breakfast we headed to the stadium for rehearsal. We ran pregame a few times and went through the entire game once. We had lunch at the stadium then we headed to go pick out our Pro Bowl ring.
They took us to a shop where every Pro Bowl cheerleader has visited and designed their Pro Bowl ring. Mr. Wong is the store owner; he keeps a hand-written order form in a spiral notebook of every Pro Bowl Cheerleader ever! I was able to scroll back and view past Raiderette orders and see their actual signature. After designing the ring we headed back to the hotel.
We changed into our uniforms where we filmed footage for NBC. That was from 1:30-4 p.m.
We had a few hours until dinner so we decided to hit up the international market.
At 7:30 p.m. we headed out for a team dinner.
After dinner we headed out. It was nice to see my friends and family who came out to Hawaii. After a long night out we headed back to the hotel to sleep for a few hours.
We woke up at 6:45 a.m. for our call time of 7:50 a.m. We had our breakfast, meeting, fun facts, and introductions.
AFC 2 had free time till 1 p.m.  We dressed in our team uniforms and headed to the Football Festival Rally. We performed twice and the cheerleaders called up our team fans and gave them a few questions to answer. We created the questions for our fans.
Then we headed to Sunset on the Beach where we did the same show from earlier that day. Everyone came down to watch the sunset then watched AFC 2 perform. We returned home around 7:45 p.m.
We had dinner on our own, so a group of us got together and headed out for dinner.  We socialized and hung out for a few hours and then headed back to our rooms. We attempted to go out that night but for some reason our bodies said NO. So I listened to mine and socialized with my roommate until we fell asleep.
We awoke at 5:30 a.m. for our 7:15 a.m. call time. We ate breakfast, shared stories, and a few women spoke about themselves. We received more items today, a few pairs of shorts and a Pro Bowl t-shirt.  We left for the stadium at 7:45 a.m.
Ohana (Family) Day is a free event to the public and is designed to give the fans a sneak peek and an up close look at the players, cheerleaders and game entertainment before the big game. This event is like a dress rehearsal for the game. The cheerleaders will perform sideline routines, the pre-game routine and participate in some fun and exciting contests.
We had lunch at the stadium after Ohana Day.
After Ohana Day we had rehearsal on the field to work out a few things.
We picked up our rings on the way back to the hotel. This event will never happen again unless they return the Pro Bowl back to Hawaii.
We returned back to the hotel around 3 p.m.
We went back to the hotel and changed into our uniforms for the NFL VIP/Sponsor Party. AFC2 and NFC2 performed twice and signed autographs
Then we headed directly to the Pro Bowl All-Star Block Party where we performed, interviewed, played trivia games, and signed autographs.
We returned back to hotel for our 10 p.m. team meeting.
The official day and what we worked so hard to do - Pro Bowl game time!
Our call time for breakfast was 7:00 a.m., which meant 5:30 a.m. for my roommate and I. We received more free gifts; this time it was a messenger bag full of big sexy hair product including a flat iron. We listened to a few girls give their introduction/story or answer questions from Ron. Then we headed to Aloha Stadium.
We had police escorts to the game to bypass the traffic, which was awful.
We checked into our locker room, put our stuff down quickly because we needed to be on the field by 8:30 a.m. for a quick run through of pre-game. After our quick practice we ran back into the locker room to change into our uniforms and eat something quick. We headed to the Tailgate Party, which was a 20-minute walk from our locker room one-way. Once we arrived we signed autographs and posed for pictures. We performed on the main stage in our conference groups and all the ladies were brought onto the stage and introduced individually.
After the Tailgate Party we headed back to the stadium where we went straight into the game. We didn't get a chance to hit the locker room one last time before we hit the field.
Once we were on the field we hit the ground running. We performed pre-game to a Beyonce mix. It was a fabulous mix! Then we ran off the field towards the front and created two lines for player tunnels. As our team was introduced each cheerleader stepped forward out of the line to cheer for their team. After player tunnels we ran to position ourselves for the National Anthem.
David Archuleta performed the anthem. The stands behind us were converted into the flag (by pulling down fabric over the seats) that led to the stage on the middle of the field. AFC and NFC were the outline connecting the stage to the flag. Towards the end we had a few helicopters fly over and the tears fell down my face. Tears of joy and excitement all wrapped into one!
The game began and we created our sideline lines. It was extremely hot and the turf was burning our feet; so we kept moving around to avoid the pain. Once the first fan called us over the game flew by. I didn't get to watch the actual game; we were talking to fans and dancing. It was the best feeling in the world. My line and I took in the moment and enjoyed every second of it.
After the game we went back to our locker room and changed into dry clothes. We ate a little bit of food and then had a recap session. Ron started it off by asking people to share there experience of the game, which turned it a turning point in some of our lives, that went into a life-changing moment/realization. We left that session with tears in our eyes and overwhelmed with love for one another.
We went back to the hotel for our meeting / Project Runway act. Each line had to create a Project Runway skit. It was hilarious. We took things we learned about different people and put it into the story line. Even our director and staff put together a skit and ended it with giving us another bag full of goodies.
After the skits, we went out for our last team dinner! We socialized, took pictures, and [hugged] each other knowing this would be the last time we would all be together. After dinner we headed out to hang out with our friends and families.
We had our last breakfast together at 8 a.m.; we all wore our pajamas and zero make-up. We exchanged calendars, team posters, and other memorabilia. We took lots of pics and just relived the past eight days all over again. It was a bittersweet goodbye. We are planning our group trip in six months.