HENDERSON, Nev. – The Raiderettes are once again giving back to the community and the region, this time traveling to Salt Lake City, Utah to engage children at Intermountain Primary Children's Hospital. Raiderettes Danielle, Kennedy, Kristina, and Kylee were joined by Raiders Alumnus and Utah native Barry Sims in recently visiting the hospital and lift spirits of its young patients while delivering gifts that Football's Fabulous Females collected during a month-long toy drive with Raiderettes-The Studio serving as the primary drop-off location that also included Las Vegas area businesses A Spray of Sunshine, Kalologie and Foodie Fit.
The Raiderettes and Sims also played games and made crafts alongside the children during their visit to the 289-bed facility in Salt Lake City which provides more than 60 medical and surgical pediatric specialties with more than 800 physicians and 3,000 caregivers.
Primary Children's Hospital is a not-for-profit, free-standing children's hospital providing quality healthcare for children with the most complex injuries and illnesses, including those who require heart, liver, kidney and bone marrow transplants. Primary Children's is part of Intermountain Healthcare, a nationally-recognized not-for-profit healthcare system based in Utah and serves as the pediatric specialty teaching hospital for University of Utah Health, combining research, training and excellent care to provide the best health care for children.
The Raiders and Raiderettes are the latest to visit the hospital, joining world-renown actors, artists, athletes, and leaders, including President George H. W. Bush, Jennifer Garner, Farah Fawcett, Arnold Palmer, Mickey Mouse, Robert Redford, the Dalai Lama, Star Wars' BB-8, and Sabrina Carpenter, who have stopped by to cheer patients during their hospital stay.
This activity comes on the heels of the Raiderettes last week supporting Raiders punter AJ Cole, the Silver and Black's nominee for this year's WALTER PAYTON NFL MAN OF THE YEAR AWARD PRESENTED BY NATIONWIDE when he hosted a community flag football game with his charity of choice, Special Olympics Nevada. Later that same day, other Raiderettes were on hand to assist select Las Vegas families fulfill their wish list during a "Holiday Huddle" shopping spree the Smith's Marketplace in Henderson.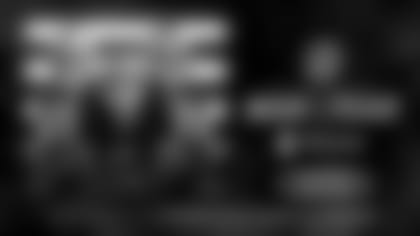 Walter Payton Man of the Year
Vote AJ Cole for Walter Payton Man of the Year. Tweet #WPMOYCHALLENGE @AJCOLE90
Additionally, the Raiderettes, who are staples in supporting the organization's community relations as well as corporate endeavors, recently spent time with students C.T. Sewell Elementary in Henderson during a Christmas Shoe and Toy Drive, where they handed out shoes, toys, and Raiders themed items. That same week, another contingent of Raiderettes hosted a pep rally at Linda Rankin Givens Elementary School in Las Vegas and engaged with the school's cheer team in celebration of the holiday season.
The Raiderettes visited the 9th Annual Fill the Bus Toy Drive conducted by the Las Vegas Metropolitan Police Department to help load toys donated to youth around the valley onto the bus. Members also took part in the Winterfest Light Parade on Water Street in Henderson in celebration of the holidays.
The Raiderettes also assisted Las Vegas residents during Thanksgiving. The squad assisted the Raiders offensive line with distributing 600 meal boxes that included turkeys, complete fixings and fresh vegetables during a drive-through event at Allegiant Stadium that was facilitated by Three Square Food Bank.
On Thanksgiving morning, the Raiderettes teamed up with Smith's to produce meals that members distributed to the less fortunate in downtown Las Vegas. The Raiderettes also passed out toiletries, blankets and clothes that they collected during a donation drive.
During the Salute to Service commemoration, the Raiderettes joined with Silver and Black players, Raiders President Sandra Douglass Morgan and front office staff in making an hour-plus trip to Creech Air Force Base in Indian Springs to engage active service members and thank them for their service to our country.