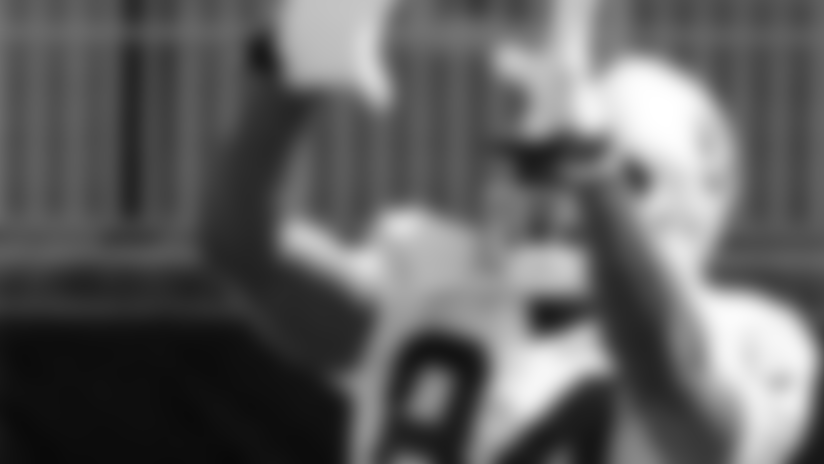 WR Javon Walker was activated from the Physically Unable to Perform list this past week. -Allan Yuan
On Thursday, the Oakland Raiders bid farewell to their Napa Valley Training Facility accomplishing a lot of the things Head Coach Tom Cable wanted to accomplish at the onset of camp.  The team heads back to their Alameda facility for the rest of pre-season.
This years' training camp was a grueling 33 practices over 31 days and focused on improvements on and off the field.  Going into camp, Coach Cable wanted to instill a different atmosphere among the players.
"The most important thing we set out to do was become a closer team.  You have to really be in it for each other and be about each other.  I'm very pleased," Cable said.  "We're making some tremendous progress that way.  We seem to take care of each other.  I'm looking forward to us becoming a good team."
On the field, Coach Cable recognizes the improvements the offense has made under passing game coordinator Ted Tollner.
"We're getting there.  We're getting closer.  That's the best way to look at it.  As I've said before, now I want to see us come out in the morning and do the same thing and build some consistency.  I think when we've had a good practice or two…So I want to see us keep it at a high level.  It's getting there," Cable explained.
Specifically, Coach Cable sees the improvement that rookie WR Darrius Heyward- Bey has made since the start of camp.  Heyward-Bey caught a ball thrown behind him before falling to the ground during the final camp practice.
"Right after he caught it, I told him the mistake was now he's shown me he can do that, so the expectation goes up.  He had a great day catching the ball though and that catch would have been tough for anybody.  We're just telling him, 'you can make that play, that's who you are.  That's what you're capable of,'' Cable said.
QB JaMarcus Russell agrees with Coach Cable and hopes to carry all the improvements the team has made into the regular season.
"I think we had a good camp, now we just got to carry it over.  You have guys that are attacking the ball. Guys that are making the catch look easier so I think everybody is doing a great job of that, staying focused on the ball coming to them and running and turning," Russell said.
With the return of eight-year veteran wide receiver Javon Walker from offseason knee surgery, Russell has an added weapon.
"He is a key guy that I know for a fact that you have to gameplan for him just like the rest of the guys. I think he is going to do well out there; he's looked good in practice. He is running better and every time he catches it," Russell added.
Walker hopes to bounce back strong in 2009.  
"When you are out there, and nothing is bothering you, you can get back to playing the way you did when you were in high school and college. It feels good and that's exactly what I am doing," Walker stated.
With the additions of rookies Heyward-Bey, Louis Murphy, and Nick Miller, Walker has tried to educate the first-year receivers of the intricacies of the position.
"I would try to express to them verbally if they are running a route and I see something, I'll tell them this is what you have to be looking for on certain routes and certain patterns,"  Walker explained.
Walker is also excited to build on the relationship he and Russell started last year.  Like Coach Cable, Walker has seen the progression Russell has made.  "Yeah, the confidence..obviously, the longer you progress in this league, the more confidence you get. The thing about JaMarcus is that he is getting older," Walker said.
Walker hopes to again reach that 1,000-yard mark that he achieved previously in his career.  He feels he and JaMarcus have the tools and the rapport to make it happen.
"So every time I'm lined up out there at wide receiver reading the defense, if I see a move that the guy makes, I'm licking my chops because I know the quarterback is seeing the same thing. You go out and score," Walker said.