DE Andre Carter helps cut the ribbon to officially open the Madison/Sobrante Park Field. Photo by Tony Gonzales
The Oakland Raiders teamed up with the NFL Youth Football Fund, Local Initiatives Support Corporation (LISC), and the Oakland Unified School District (OUSD) to help build a new sports field behind James Madison Middle School in the Sobrante Park area of East Oakland. Tuesday, a ribbon cutting ceremony was held to officially open the Madison/Sobrante Park Field.
LISC and the Raiders have been instrumental in building sports fields throughout the East Bay. In May 2011, the Raiders attended the grand opening of Dr. Martin Luther King Jr. Park in Richmond, Calif., after providing a grant in 2009. "We're a non-profit organization and we help communities create great places to live, work and play," said Stephanie Forbes, executive director of Bay Area LISC. "We're a little behind the scenes. Our job is to help build the capacity and bring resources to organizations, schools, and help build parks, help build schools, help build affordable housing, and all the key ingredients that make for a quality of life for everybody."
In order to obtain the funds necessary to build the new field, many different organizations and people worked together. Ken Lupoff, executive director of Friends of Oakland Parks and Recreation, was thrilled to see the hard work of so many dedicated individuals pay off. "We helped with the initial stages of fundraising," said Lupoff, while addressing the crowd. "We administered the LISC NFL grant and made sure that the money was channeled to OUSD and used to help seed this field. I want to thank everybody who participated in this. It's been an honor and a privilege to play a role in building this fantastic field for this neighborhood and I hope you kids use it every day of the year and have a lot of fun with it."
The new field takes the place of a surface that was filled with weeds, debris, crime, and was a generally unsafe environment. "I said to a lot of individuals that came out today, you really have no context if you were not here when you saw the field before this amazing field," said James Madison Middle School Principal Dr. Lucinda Taylor. "When you talk about weeds and trash and debris and cars set on fire, kids afraid to come at the back of the school, to now just kind of a resurgence of energy and excitement and game play and just protection, it's just amazing. Not just physically different for the kids, they've internalized also some appreciation for themselves."
The sports field not only changes the area aesthetically, but improves the safety and morale of the area. "Years and years ago, this area was once called the 'killing fields,'" explained Councilman Larry Reid. "When you drove into Sobrante Park, you'll see that there's a park that's there that's fenced off and there's a reason why it's fenced off. About 10 years ago, it was not a safe place for families to come at and enjoy. Well since we've fenced off that park, there really hasn't been a place for young people and for families to come out and enjoy themselves. Now, this beautiful facility takes the place of that park up there this place is no longer called the 'killing fields of Oakland.' It's a place where families are trying to raise their children and this incredible education institution, Madison Middle School, is preparing some of the most incredible young people for their future."
Forbes reiterated the importance of the field in Sobrante Park. "I think a lot of people don't necessarily know the full impact a field can have on a community and on a neighborhood," explained Forbes. "It means not just a place to play, it means that there's a place where one can go and be with others and help feel like your community is safe, your community is a great place to be. We've seen tremendous change not just here in Oakland, but around the East Bay, because of the Raiders investment in fields in Richmond and elsewhere in Oakland. It's meant that families are out there every weekend, in fact every day. It's meant that there's a sense that this is our community for us to be in all the time and be safe. That's huge."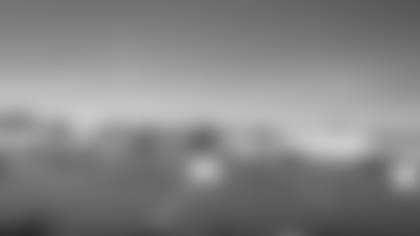 A Raiders Gatorade Jr. Training Camp is held on the new field. Photo by Anthony Mayo
The event Tuesday was a chance to celebrate the creation of the field, thank those involved in the project, and kick off a new and improved environment in the area surrounding James Madison Middle School. "It was actually very emotional," said Forbes. "The kids were so excited. To me, what inspires me and I think what inspires a lot of the people that help make this possible, is seeing them out here happy to be on a brand new field and so happy to be playing. There's a lot of leadership and team building that goes along with sports, but frankly, just to see them happy out on the field was plenty."
Raiders DE Andre Carter was on hand to help cut the ribbon and officially open the Madison/Sobrante Park Field. "It was great," said Carter. "It was just something special. As you see the men and women that dedicated themselves to providing a great opportunity for the youth from elementary to high school, you could see how excited the kids were."
The community partners were excited to have Carter, who grew up in the Bay Area and attended University of California, Berkeley, in attendance. "Andre is just a phenomenal football player," said Principal Taylor. "All of the kids here at school know who he is. They've watched him play on Sunday so to see him take time out of his schedule to come to their neck of the woods and kind of celebrate what's happened here, it goes without saying, they're excited. They wouldn't let him go."
Carter's presence was significant for the students. "It means for these kids and frankly for everybody here that this school and these kids are part of a sense of, not only achieving and achieving excellence, but being part of a bigger team in the East Bay that the Raiders are part of too," added Forbes.
The Raiders work in the community was recognized by Councilman Reid. "You really don't understand the importance of this field and certainly without the Raiders and without the partnership, it wouldn't have happened," said Councilman Reid. "I have a deep sense of gratitude to the Oakland Raiders organization because they not only invested in this incredible field, but they've invested in three other fields in my council district to give kids and families a place to go and really enjoy and enhance their quality of life. The Raiders organization is a part of the change that's taking place, not just out here in East Oakland, but throughout the city of Oakland. This city is deeply grateful for everything the Raiders organization has done for the city of Oakland and our young people."
The day after the ceremony, the Raiders held one of their Gatorade Junior Training Camps on the new field. Students from Sobrante Park Elementary and the 6th graders from Madison Middle School used the field for exactly what it was created for – to run around, interact with others and have a good time.