The Oakland Raiders participated in the We Day California Launch event at Phillip and Sala Burton Academic High School in San Francisco. Students from 30 Bay Area schools came together to kick off We Day California, which is scheduled for March 26 at Oracle Arena in Oakland. CB Taiwan Jones and LS Jon Condo represented the Raiders and joined a handful of speakers to motivate the students to earn their way into We Day.
We Day is an inspirational event to celebrate youth giving back to their local, national and global communities. A product of the Free the Children organization, We Day, according to the official website, "is the movement of our time, empowering a generation of young global citizens through an inspirational event and a year-long educational initiative called We Act, which offers curricular resources, campaigns and materials to help turn the day's inspiration into sustained activation."
We Day California will bring together nearly 18,000 students from throughout California to recognize their commitment to global change. "We like to jokingly say it's the Super Bowl of doing good," said Free the Children co-founder Craig Kielburger. "You're going to be in a room with young people who have all earned their way through helping local and global service actions."
The Raiders will have a presence at the event and will join guests such as inspirational speaker Martin Luther King III, actors, musicians and local philanthropists.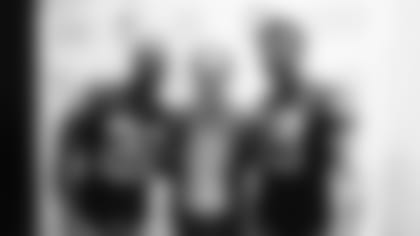 CB Taiwan Jones and LS Jon Condo pose for a photo with Free the Children co-founder Craig Kielburger. Photo by Tony Gonzales
The launch event was an opportunity to provide 900 students with a glimpse of the upcoming We Day event. Those students were excited for Condo and Jones to take the stage.  "When we had Jon and Taiwan on stage, and the excitement, the energy, the cheers, seeing them in the audience was amazing being mobbed by students, tossing out the footballs," said Kielburger. "The students cheer on players throughout the year. What's so awesome about We Day is when those players go on stage, they get to thank the students. They get to cheer them on for their incredible service. It's that amazing community spirit."
Jones could not believe the reception they received and were blown away by the students' passion for community service. "I was just excited. We weren't expecting it, we didn't know how the crowd was going to react, but the moment they announced our names and we walked out there, the energy was just awesome," said Jones. "I think it's just awesome to see this young generation want to help out and be part of something great and just going and being involved in the community. It's mind blowing to see that."
Condo understood the power of Free the Children's message and the way We Day could impact youth. "To have the kids take responsibility in their own hands, to reach out to make the community a lot better of a place, it's unbelievable," said Condo. "When the kids start taking it into their own hands and doing it, it's going to rub off on other people. If we can all start acting together and being together to make this country, this state, this world [a better place], it'll just be an unbelievable experience for everyone."
Glee star, Jacob Artist, was on hand to get the students pumped up for their first We Day experience. "The response was great," said Artist. "They're all incredible being part of We Day. It's so inspiring and fun so I'm lucky to be here. We Day is all about inspiring a generation to act so it's just kids helping kids and that's what it's all about and that's as simple as it really is, too."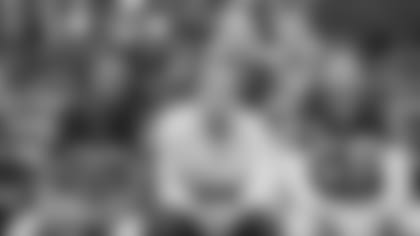 CB Taiwan Jones, LS Jon Condo and Glee actor Jacob Artist with students as part of We Day California. Photo by Tony Gonzales
The speakers had impactful messages for the students to inspire them to continue to service their communities.
Former San Francisco Mayor and current Lieutenant Governor of California, Gavin Newsome, thanked the students for their great work. "You're not just dreamers, you're doers. You're folks that are stepping up and stepping in," said Newsome. "In a world with so much cynicism, in a world with so much negativity, and folks talking about we coulda, woulda, shoulda…you guys are on the front lines of giving people hope, giving people a sense of possibility, giving people a sense of faith that we can solve big problems. Thank you guys for not submitting to that cynicism. Thank you for stepping up."
Newsome made a profound point on change – he referenced the likes of Nelson Mandela, Mother Theresa, Gandhi and Martin Luther King Jr. – and said, "They all shared the same thing you share – they exercise their moral authority. They didn't wait to be something to do something. You don't have to have a title in front of your name to change the world. All of you have the capacity to flow with the forces of life to become truly expressive. Each and every one of you have that same capacity those transformative leaders had."
He made it clear that no matter who you are, you can make a difference. That same message was magnified when 17-year-old Drew, a junior from Bellarmine Preparatory School in San Jose, took the microphone and shared his Free the Children and We Day experiences. The young man proved that youth can be an instrument of global change. Since learning about Free the Children, Drew has helped raise money to build a school in Sierra Leone while in elementary school, helped provide a well to Mwangaza, Kenya, for clean water while attending middle school, and has organized numerous drives as a high school student.
The community created by Free the Children and We Day has inspired Drew to make a difference for the past six years. "I've realized how much more interconnected and interdependent our world is on a global scale, more than I could have ever imagined," said Drew. "I've learned the power of 'we'…This attitude for action is incredibly powerful when multiplied by every person in this room and then by the 16,000 that's going to take place in We Day California and 185,000 around North America and the UK. It is evidence that we have incredible potential to impact radical change in our world."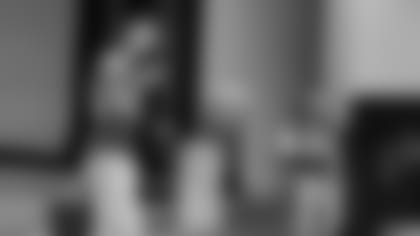 CB Taiwan Jones and LS Jon Condo speak to the crowd during the We Day California Launch. Photo by Tony Gonzales
For Drew, who has been a part of a We Day in the past, the best part of the whole experience is what happens at the conclusion of event. "What I'm most excited about is the end, the moment as all of us are pouring out of Oracle Arena, ready to make a difference because the end is just the beginning of what We Day is actually all about – moving from 'me' to 'we' to change the world," he said.
Drew's passion for changing the world is exactly what Kielburger hoped for when he co-founded Free the Children. "That's the reason why we do the program is young people like Drew who have literally grown up in the program and that's why we're so excited to make an annual commitment that we come back to California every year," said Kielburger. "Every single year we'll be back so that young people like Drew find their cause, find their passion, and that's who they are. They make great, positive life choices. They have great mentors in their life, they keep giving back, that helps others, but it helps their own life in such great ways."
Participating in the launch event, not only inspired the students, it also motivated Condo and Jones. "To see such young kids that are so enthusiastic and excited about getting out there and helping others, it makes you want to do a little bit more," said Jones. "Being on a bigger stage, it encourages me to get more involved and get others more involved. The fact that the kids are stepping up and doing it on their own, that's amazing to see."
"Being a Raider, we know people look at us in all aspects of life," added Condo. "We're role models whether we want to be or not. We do our best to get out into the community and let the kids know, 'hey, we're here for you.' We like reaching out, being part of the community, because they're always out on Sundays supporting us and it's the least we can do to give back to the community and do good things to make this a better place."
The Raiders will be in attendance at We Day at Oracle Arena on March 26. "Looking at other We Days across the country, it's going to be an unbelievable, crazy event," said Condo.