Raiders LB Sam Williams poses for a photo with ATLAS & ATHENA program participants in the auditorium at the Raiders Alameda, Calif., facility. Photo by Tony Gonzales.
Recently, The Oakland Raiders hosted 100 area high school student athletes in the ATLAS (Adolescents Training and Learning to Avoid Steroids) and ATHENA (Athletes Targeting Healthy Exercise and Nutrition Alternatives) programs sponsored by an NFL Youth Football Fund grant. Students gained tools to develop programs for their schools to help prevent steroid abuse, performance enhancing drug and supplement use, and other alcohol and drug use. The program culminated with a visit from Raiders LB Sam Williams and Raiders Strength and Conditioning Coach Brad Roll. The special guests spoke to the students about the importance of living healthy lives and having the heart and drive to accomplish goals.
ATLAS and ATHENA were designed by Linn Goldberg, M.D., and Diane Elliot, M.D., of the Oregon Health and Science University School of Medicine in Portland, Ore. "We found that we could cut steroid use, alcohol, illicit drug use, supplement use by about 50 percent," explained Goldberg. "From that time, we've implemented it in about 40 states. The National Football League has sponsored over 30,000 kids and 750 coaches so far [with] 14 of their franchises. This is the second time we've done training with The Oakland Raiders, but the third year we've been involved with them."
The program is designed to teach the students, chosen by their athletic directors and coaches, how to be squad leaders and bring their new knowledge back to their classmates and teammates. "They're going to develop some campaigns that they're going to show each other and then they'll go back to their schools and during the sport season they will help implement the program with their teams," said Goldberg. "[The program] teaches healthy sports nutrition, strength training, how to get bigger, stronger, faster, or healthier the right way, without resorting to supplements or drugs."
Williams and Coach Roll added to the topics the students discussed earlier in the day, in order to solidify the importance of healthy exercise, healthy nutrition and avoiding steroids. "We talked about macronutrients as far as the breaking down of the fats, proteins, and carbohydrates of the foods," said Coach Roll in regards to nutrition. "We talked about the differences between comfort foods as opposed to performance-fuel foods. You can make better decisions when you're thinking clear and you're not hungry and you have good energy levels." Williams shared his daily routine revolving around his nutrition guidelines. "They don't realize that our whole days are spent on preparing for that one day [Sunday] and it's a real job and it's a time commitment," said Williams. "They don't get to see that so I got to share my nutrition facts that I use and kind of what my day consists of."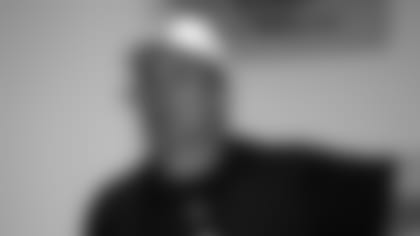 Raiders Strength and Conditioning Coach Brad Roll offers his expertise to ATLAS and ATHENA program students. Photo by Tony Gonzales.
Coach Roll also focused on the negative effects steroids can have on the body. "We talked a little about the hazardous effects from doing something that is chemically unsound in your body that sets off a negative reaction in your body, to your central nervous system, to your skeletal system. [I wanted] them to realize that you can't put a pill in your mouth or take a shot to give you courage. That needs to come from the heart," said Coach Roll. "So it's a false sense of security that has extremely adverse side effects."
After going through the ATLAS and ATHENA topics, Coach Roll also stressed his own messages. "My message to the kids yesterday was if they could walk away with one thing it would be that life favors the prepared," said Coach Roll. "It's almost like a check list of being prepared and understanding what your short term objectives are and hopefully create long range goals due to making good decisions about every day issues in life."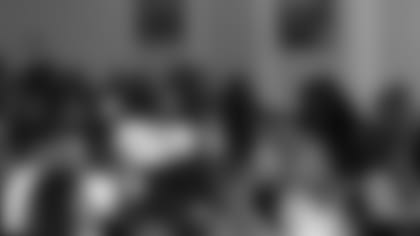 One hundred student-athletes participated in the ATLAS and ATHENA seminar at the Raiders Alameda, Calif., facility. Photo by Tony Gonzales.
Williams was excited to be a part of the program at the Raiders training facility and to share his experiences and knowledge with the students. "Any time I have a chance to talk to the kids out here in the Bay Area, I want to share my experiences with them and give them some guidance," said Williams. "There are a lot of temptations here in the Bay Area that these kids are going to be going through and dealing with. I want to share with them what I had to do to separate myself to make it to the NFL. I hope that they continue to set their goals and believe in themselves because if they believe in themselves and not what other people think about them, the sky is the limit."
The 100 student-athletes can take their new knowledge, ideas, and inspiration back to their high school teammates. Coach Roll and Williams hope that sharing their experiences helps motivate the students to make positive decisions to maintain a healthy and drug-free lifestyle.