G Mike Brisiel leads a tour of the Raiders facility. Photo by Tony Gonzales
Recently, the Oakland Raiders hosted the California National Guard's Center of Influence event at the team's Alameda, Calif., facility. Assistant special teams coach Chris Boniol spoke with the National Guard servicemen and women, as well as local teachers and administrators, about his respect and admiration for military families and the work of educators. Veteran G Mike Brisiel also visited with the guests, posing for photos and acting as tour guide of the Raiders facility.
| | |
| --- | --- |
| | |
| Brisiel and Major Mike Franklin.Photo by Tony Gonzales | |
| | |
"We're with recruiting command and one of the great things we get to do is partner up with our high schools  and some of our community colleges and invite some of the folks that work there out to events such as this," said Major Mike Franklin of the California Army National Guard. "Getting an opportunity to really give back to our high schools and our community colleges, it's a phenomenal opportunity."
The guests listened to speakers from both the Raiders, including Coach Boniol, and the National Guard in the team auditorium. "I appreciate the military, your service and your sacrifice, because I'm sure it's hard sometimes on you and your family," said Boniol. "As educators, I appreciate you and respect you because that's the life I grew up knowing and I wouldn't be here coaching if it weren't for teaching. Education makes our country better. Military makes our country better because of the qualities that you have to have to live this life of being in the military, being a public servant. It challenges young people to become more disciplined, hard workers, which therefore makes them better people in the community."
Major Franklin appreciated Boniol's ability to tie the military, education and the Raiders together. "Chris being a Super Bowl kicker and just being a very proven guy that was raised by educators, it really resonates the message that the NFL and the National Guard has interests in our youth and really developing those folks so they can have a successful adulthood," said Major Franklin.
The guests were treated to lunch, where they had an opportunity to sit down with Brisiel. WR Rod Streater and P Marquette King also made a surprise visit. The group then took a tour of the Raiders facility led by Brisiel and members of the Raiders staff. "It was just fun. Those guys are avid football fans and it's super fun to be out there and get them the opportunity to walk through the facility," said Brisiel. "Just basically be around them and give them a break from their everyday lives and get a look into our everyday lives. It's real cool and I was glad to be a part of it."
Brisiel wanted to be a part of the event because of his respect for servicemen and women. "There's just something you have to respect about these guys and just the unity that they bring," said Brisiel. "It's what the team strives for, the organization strives for. You see it in them. They lay it out there on the line all the time and it's just very respectable. I respect them a lot as people."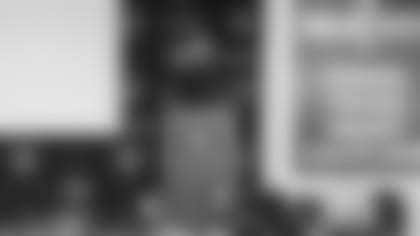 Assistant special teams coach Chris Boniol addresses the guests. Photo by Tony Gonzales
The National Guard was one of the Raiders sponsors during the 2013 season, participating in game day activities and the High School Coach of the Week program. "For the National Guard it's a phenomenal opportunity to co-brand the National Guard with the Raiders organization," said Major Franklin. "The Raiders organization is a storied organization of pioneers and really just an organization that really just keeps reloading and retooling and it's just absolutely a resilient organization."
One of the game day activations was the chance for high school ROTC members to participate as color guard. "One of my favorite opportunities I had was to get Ripon High School's Junior ROTC, a bunch of high schoolers, in front of 65,000 screaming Raiders fans to do the color guard," said Major Franklin. "They went out there with the flags. They just did an absolutely flawless execution of the color guard. Just to see 16-, 17-, 18-year olds do that, it just makes me feel really good about the partnership."
The Raiders were happy to work with the California National Guard. Supporting the military is an important pillar of the NFL and the Silver and Black. "It's something special. You have to love the people putting it on the line every day for America," said Brisiel. "It's such a respectable deal. I don't know, sometimes I think that gets overlooked and I know the NFL is doing a great job supporting our troops. I think we couldn't have asked for a better sponsor."