QB Terrelle Pryor works with the quarterbacks. Photo by Tony Gonzales
Recently, Oakland Raiders QB Terrelle Pryor, offensive lineman Stefen Wisniewski and RB Taiwan Jones worked with football players during NFL High School Player Development (H.S.P.D.) programs. Pryor and Wisniewski spent time with young football players from several different high schools at Laney College in Oakland and Jones worked with students at Freedom High School in Oakley, Calif.
"The NFL and the High School Player Development program is very big on NFL players and the development and the fundamentals they can bring to the table," said NFL H.S.P.D. Regional Director Ryan Myers. "So when you have the Raiders and all these high schools right in the Raiders backyard, the ability to bring Raiders players out and be able to work with the kids directly, it just makes it that much better. And the kids, this is something they will never forget."
Pryor worked with the quarterbacks and Wisniewski worked with the offensive linemen.  "It was a lot of fun," said Wisniewski. "The O-line I was working with, they were real eager to learn. They were all paying attention, 'yes sir, no sir.' If I told them to say something, they said it. They were working real hard and you can see there's a lot of talent out here, a lot of good kids."
The quarterbacks had the opportunity to chat with and learn from Pryor. "It's a great experience, not just for me, but for all the players that are here right now here," said Steven, a local high school quarterback. "I really appreciate him coming out and taking his time to come out and talk to us."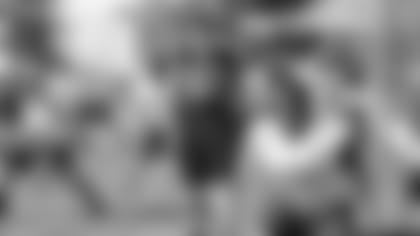 OL Stefen Wisniewski coaches up the offensive linemen. Photo by Tony Gonzales
The second-year quarterback out of Ohio State remembers his high school football days. "I think it's important because I think the main thing is, and the most important thing is, I was them a long time ago," said Pryor. "I was them years ago and so much information and knowledge that I know now, [I want to] show them the little that I know. It's just great to get out here and see all the kids work and just get back with the kids."
Jones visited H.S.P.D. at Freedom High School on a field he is very familiar with. "I grew up in the Bay Area. I went to high school at Deer Valley High, so I'm very familiar with this area. I played against Freedom for the playoffs for my last year in '07," said Jones. "Today I just came back to my old stomping grounds, talking to a couple of teams about fundamentals, about respect, and some of the things it will take to get to where I am today."
The Eastern Washington product worked with the running backs and then spoke to the kids about the importance of respect. "I feel like respect, it'll take you a long way in life," said Jones. "Just as much as my talent, I feel like the way I carry myself and as much respect as I have for my elders, it got to where I am today. You never know who's watching you, who's listening to you, so you always want to carry yourself in a respectful manner."
Wisniewski spoke to his group of student-athletes about character. "I just wanted to talk about character," said Wisniewski. "I feel like our culture today, there are a lot of bad influences on what we're supposed to do and there are a lot of messages about doing the right thing that kids this age need to hear."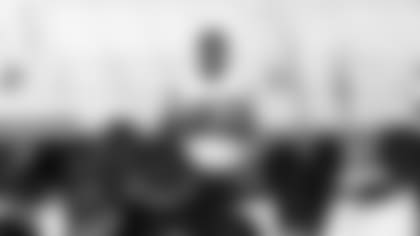 RB Taiwan Jones speaks to the high school football players. Photo by Tony Gonzales
Pryor added on to Wisniewski's message by emphasizing time management. "My biggest thing was time management, doing the right thing," said Pryor. "I just think being on time, being early, I think if they start now and they're five minutes early, two minutes early, as long as you're early, as you get older, whether you're in the NFL or doing anything in business, it's going to set the tone."
All three of the players believe their football tips and messages were heard by the high school football players. "You can kind of see it in their eyes," said Wisniewski on the Raiders players' impact. "They don't get to meet NFL players too often and they're out here working and it's nice that we can be an encouragement to them."
Jones remembers the impact Jeremy Newberry had on him when the former NFL center came to speak to Jones's team and hopes he has the same influence on the next group of athletes. "It meant to them what it meant to me – it means a lot," said Jones. "It's not every day you get to meet someone in the NFL and the fact that they take some of the time, their time, to come back there and talk to you and give you words of wisdom, it's definitely exciting and a grateful feeling."
The three second-year players felt honored to have a chance to inspire students. "I think it's very important; the community is everything," said Jones. "A lot of these kids need role models and words of wisdom can help them through their days. I'm glad I got the opportunity to be that guy today."