Raiderette Brandi, WR Travionte Session, LB Aaron Curry, LB Carl Ihenacho, LB Kaelin Burnett and Raiderette Natalie participated in a Gatorade Junior Training Camp. Photo by Tony Gonzales

To kickoff the NFL's Hispanic Heritage Month, four Raiders players and two Raiderettes participated in a Gatorade Junior Training Camp with Playworks at Think College Now Elementary School in Oakland. Linebackers Carl Ihenacho, Aaron Curry, Kaelin Burnett and wide receiver Travionte Session led the fourth and fifth grade students in football drills, while Raiderettes Natalie and Brandi cheered them on.
The Raiders teamed up with Playworks, a national non-profit organization that supports learning by providing safe, healthy and inclusive play and physical activity to low-income schools. The two organizations put on the Junior Training Camp and in the spirit of the NFL's Play 60 program, the students spent 60 minutes outside enjoying football drills with the Raiders and Raiderettes.
"The Raiders were here doing activities with the kids," said Allison Henkel, Think College Now Elementary School's after school program coordinator. "They were participating with them, showing them about passing, tackling, and they were just being active and having fun with the kids."
Henkel could immediately see the impact the Raiders visit had on the kids. "I think the kids were so excited about it," said Henkel. "They're always talking about the Raiders. There was a home game last week on Monday Night Football and the kids were excited, talking about their families going to the games, so for them to actually be able to see the Raiders and, even more than that, have them actually play with them, I think really meant the world to the kids."
The school's principal, Ruben Olivares, was appreciative of the players' interaction with the kids. "The importance of having the Raiders out here today is for one, it's physical activity for our students," said Olivares. "In our after school program, our students have ample opportunities to work out physically. Besides that, many of our students look up to these players. I know me, growing up a Raider fan, I know I looked up to the old-school Raiders."
As excited as the students were to participate in the Junior Training Camp, the players and Raiderettes were just as happy to take part. "It was awesome," said Curry. "It was great to see all the kids and see them smiling and having fun and enjoying the sunny day and getting out and playing with the Raiders."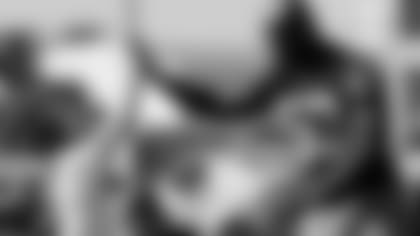 LB Carl Ihenacho encourages a student during the Jr. Training Camp.Photo by Tony Gonzales
Ihenacho wished he had the opportunity for player visits when he was growing up. "That's something that growing up I wish I had more of and more of a role model or athlete or somebody older come to us when we were kids and preach the importance of exercise and sports in general," said Ihenacho. "They enjoyed themselves. A lot of energy and enthusiasm; it was fun."
 The Raiders led drills, encouraged the students and, most importantly, got the kids active for a full 60 minutes. "It was so much fun," said Raiderette Brandi. "They were so excited, so much energy, got to come out here and meet the players. It was a great time."
The members of the Silver and Black recognize the importance of giving back to the community. "Just show them that we're here for them," said Session. "We're not just here to play a sport and go home and take a paycheck. To come here and show these kids that we really want to give back to the community is something special."
Curry echoed Session. "I think life is a lot bigger than just playing football on Sundays," said Curry. "I think life is always about impacting lives of somebody else, somebody outside your comfort circle. I think it's very important to be out in the community so they can put faces with the names and put a person with the player so they're seeing more than just athletes on Sundays."
On their day off, the players were able to impact a large group of kids. "It was real fun. I got the chance to just run around with the kids," said Burnett. "It was nice seeing all these kids and putting a smile on their faces and seeing how amazed they looked when we were giving autographs. I was once a kid and I loved getting autographs from professional players and now I'm a professional player actually giving the autographs. I just want to make these kids' day."
"I think being involved in any kind of event where physical activity is promoted for kids these days is so important," added Raiderette Natalie. "I think being role models in the community, it really helps kids be motivated and be physical in their own daily life."
The principal believed the visit will resonate with the kids for a long time to come. "The kids were super excited to have them out here today, you could tell," said Olivares. "I know one kid earlier said, 'Mr. Olivares, this is the best day of my life.' Imagine that, that tells you a lot."