Raiderettes Jennifer and Sasha, LB Miles Burris, RB Darren McFadden, FB Marcel Reece, RB Taiwan Jones and TE Brandon Myers pose for a photo with the U.S. Marines at Toys for Tots. Photo by Tony Gonzales


The Oakland Raiders teamed up with the U.S. Marines for the second Toys for Tots event of the season at The Raider Image at Southland Mall in Hayward. RBs Darren McFadden and Taiwan Jones, FB Marcel Reece, TE Brandon Myers and LB Miles Burris signed autographs in exchange for a new toy that the Marines will distribute to organizations throughout the Bay Area. Raiderettes Jennifer and Sasha were also in attendance, posing for photos and welcoming Raider Nation to the event.
The goals of Toys for Tots are "to help less fortunate children throughout the United States experience the joy of Christmas; to play an active role in the development of one of our nation's most valuable resources – our children; to unite all members of local communities in a common cause for three months each year during the annual toy collection and distribution campaign; and to contribute to better communities in the future," the Toys for Tots website states.
The Marines are passionate about their Toys for Tots program. "Toys for Tots is a brand that everyone knows and for the Marines to be a part of it, it shows that we want to give back to the community," said Marine Staff Sergeant Allan Pena. "We're the only D.O.D. [Department of Defense] out there that has a foundation that collects toys this time of year and it's something that the Marines take pride in."
The players were excited to be able to take part in Toys for Tots and give back during the holiday season. "I just feel like it's a great thing to come out and do and just give back to the community," said McFadden. "To be able to come out and support children, I'm just happy to help them out for the holidays."
The Raiderettes were also thrilled to help collect toys and donations for local children. "I just think it's just so important to give back, especially around the holidays," said Raiderette Jennifer. "A lot of kids don't have a Christmas, maybe their parents can't afford to give them gifts, so this is a great way for us to all chip in and make sure everyone has an amazing Christmas."
Reece participated in Toys for Tots for the fifth straight year. "It's just fun for me to come out here and interact with the fans and know it's for a good cause," said Reece. "All kids love Christmas; they love Santa Claus and they love toys. They want to open up something, so it's always good to see fans that want to see us and want to interact with us, but also want to [be part of] a good cause and bring toys."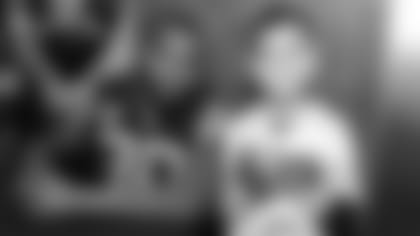 RB Darren McFadden poses with a young McFadden fan. Photo by Tony Gonzales
Having big names like McFadden and Reece at The Raider Image was instrumental in collecting toys. "It's huge because everybody wants to see the superstars of the team and tonight the Raiders definitely provided for us," said Pena. "We were looking at the warehouse and it was kind of thin today and we were hoping we would get a turnout today. When we pulled up to the parking lot it blew our minds [to see a line around the corner] and that these guys would do this for the community."
This was the first time Myers had been part of something like Toys for Tots. "I'm excited," said Myers. "I've never really done anything like this, so I've seen the line was out the door and I'm just excited."
Myers was particularly motivated by the Marines involvement in the event. "Whenever you think of the Marines, you just think of us being able to do the things like what we want to do, like on Sunday going out there and having the fans come," said Myers. "They protect our freedom, so it means a lot to be able to help support them in something that they're doing for Toys for Tots and be able to interact with our fans of Raider Nation."
All of the players were enthusiastic about teaming up with the Marines. "They put their lives on the line every day and we definitely have to take notice and show them that we appreciate what they do," said Jones. "The fact that they can do something like this and we can be a part of it is a blessing."
Jones, not originally slated to attend Toys for Tots this year, asked to join the festivities. "I try to be a part of anything when it's giving back to the community," said Jones. "Seeing that it's the holidays and the tragedy that happened in Connecticut, I thought it was only right to come out and get some toys for the kids."
Burris wanted to help collect toys for the kids, but also wanted the opportunity to work with the Marines and meet some of Raider Nation. "It's just a way to give back and show the Raider Nation family and the people that support us a little support back," said Burris. "It's the least we can do and we're happy to do it. It's all of us coming together to support the kids. It feels good to be able to come together with other people for one common goal."
Over 500 people showed up to donate and meet the players and the Raiderettes. "It was amazing as usual," said Raiderette Jennifer. "Everybody is always so passionate about, not only the Raiders, but the community and helping out, especially around the holidays. And everyone was just so excited to be here and meet the players and take pictures with us. It was just really exciting to meet everyone."
McFadden enjoyed spending time with the fans. "It's always great to interact with the Raider Nation," said McFadden. "Those guys come out and support us every Sunday and we just love to give back to them."
The Raiders were able to help the Marines collect over 3,000 toys and nearly $3,000 in donations between the Raiders vs. Chiefs game on December 16 and the two Toys for Tots events at The Raider Image.