FS Michael Huff helps out during a junior training camp drill.
The scene on the playground of Treeview Elementary School in Hayward, Calif., Tuesday was one of kids participating in various football related drills from throwing and catching passes to jumping hurdles.
The Oakland Raiders and Nickelodeon have teamed up to promote healthy lifestyles for children. To show their Commitment to Community and to Bay Area youth, two Raiders players visited the students and taught them the importance of living a healthy and active lifestyle.
CB Nnamdi Asomugha and safety Michael Huff surprised the crowd of roughly 200 which was comprised of third, fourth, fifth, and sixth graders.
Treeview Elementary School Principal William Derek Grasty knew that the players would be coming but wanted to keep the surprise for the kids.
"We appreciate the players. It is very inspiring for the kids. They are very excited about seeing the players. They were hopeful, so when the two players showed up they were very excited," Grasty said.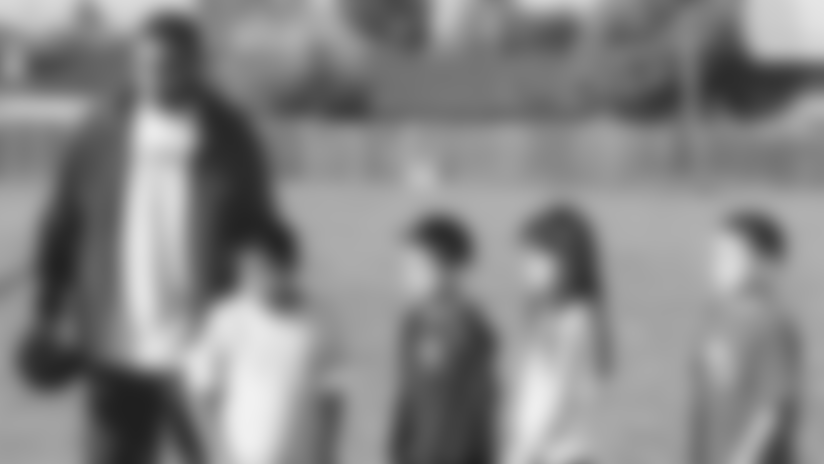 CB Nnamdi Asomugha gets ready to lead the kids through a drill.Photo by Tony Gonzales.
The Raiders hosted a junior training camp at Treeview Elementary to show their commitment to health and fitness and to promote Nickelodeon's upcoming Worldwide Day of Play (WWDP), which takes place Saturday, September 26.
Michael Huff was reminded of the days when he was a child staying active and playing with friends.
"I got to stay out until the street lights came on. My mom let me run around and play with my friends but as soon as the street lights came on it was time to get into the house," Huff recalled.
Admitting that "he is just a big kid at heart," Huff hopes the message gets across to the kids. "We just want to tell the kids to run around, get some exercise, and be out and about. I think this is a great cause."
Asomugha hopes that the kids also learn about teamwork and getting through adversity.
"Anytime you can have a friend around it makes things a lot easier. All we are teaching is competition and healthy living," Asomugha explained. "You have teammates that are always encouraging you. Bad things can happen. You can slip and fall but you have to get back up. You have to keep going and that is what we are also trying to teach these kids."
One particular student, Anthony Perez, took what the players were saying to heart and appreciated their surprise appearance. "It feels kind of good to shake somebody's hand and see a famous person," Perez expressed.
After completing passing drills, Perez said, "Being active feels way better. Just turn off the TV and come out and go play. Just be active. It's good having friends to hang out with and doing things you all like together."
Some of the students' parents also were in attendance. Joe Zamora of Oakland grew up in the Bay Area and was reminded of when Raiders Hall of Famer, the late Gene Upshaw, visited his elementary school. "I met Gene Upshaw when I was a youngster and that just motivated me to play football and stay active," Zamora said. "This is nostalgic coming back and seeing my kids doing the same things that I used to do when I was a youngster growing up."
Now a parent of two, Zamora is appreciative of the players coming out and motivating the kids.
"That shows a little consideration as far as from a players standpoint. I know they have busy schedules and different things going on. For them to take the time out and do this is highly appreciated," Zamora added. " It gives the kids something to look forward to, seeing people in that spectrum to come back and give them some encouragement. It helps a lot."
Sue Echols, a physical education teacher at the school, echoed Zamora's thoughts.
"I think it is fabulous. I am so glad that they are here. They are such great role models for our kids. Hopefully it will teach them that it is great to stay healthy." Echols said.
Established as a day focused entirely on active play, WWDP aligns with NFL PLAY 60, a campaign aimed at getting children active for at least 60 minutes a day. More than 250,000 kids in more than six countries and in every U.S. state are expected to participate in Nickelodeon's sixth annual WWDP on September 26, and more than 1,000 local events are scheduled worldwide.
To celebrate WWDP, Nickelodeon will go dark from 12 to 3 p.m. ET/PT on Saturday to encourage kids to get up, go outside and be active. The Oakland Raiders' kids website, www.raidersforkids.com, will also go dark during this time.