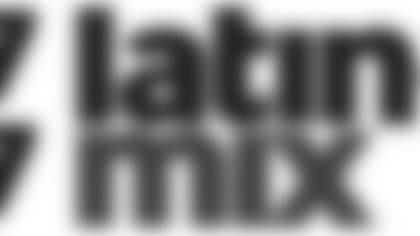 Fans who wish to follow the Oakland Raiders in Spanish can tune into Univision Radio, the leading radio network serving Hispanic America, which will broadcast every regular season game beginning with the September 10 Monday Night opener versus the San Diego Chargers in Oakland. Games will air in Spanish in the Bay Area on Univision Radio's KVVZ-105.7 FM (San Francisco) and KVVF-100.7 FM (San Jose).

"We are delighted to continue broadcasting Raiders games in Spanish as part of our long standing commitment to our multicultural fan base," said Raiders Chief Executive Amy Trask.
The Silver and Black maintains a global presence and communicates with the worldwide Raider Nation through the team's official web sites which feature original and translated content in six different languages - Tagalog, Japanese, German, Chinese, Spanish and English. In addition, the Raiders have also aired games in Navajo for the past seven seasons.
"Univision Radio is pleased to join forces with the Oakland Raiders to provide in-language football commentary to the growing Hispanic fan-base in San Francisco," said Jose Valle, president, Univision Radio.
Veteran Bay Area broadcasters Ambrosio Rico and Fernando Arias return to announce Raiders games in Spanish.  Spanish broadcasts of Raiders games can also be heard on the Spanish Radio Network, which includes Univision Radio's KTNQ 1020 AM in Los Angeles and KLLE 107.5 FM in Fresno.
About Univision Radio Inc. Univision Radio, Inc. is the radio arm of Univision Communications Inc. (UCI), the leading media company serving Hispanic America. Univision Radio is the #1 Spanish radio network in the country reaching 16.5 million listeners per week; and in major markets, it is home to stations that rank Top 5 in any language. Univision Radio's portfolio includes 69 owned and operated stations in 16 markets, including all top 10 Hispanic markets.  Univision Communications Inc. also owns and operates Univision Network, one of the top five networks in the U.S. regardless of language and the most-watched Spanish-language broadcast television network in the country reaching 96% of U.S. Hispanic households; TeleFutura Network, a general-interest Spanish-language broadcast television network reaching 88% of U.S. Hispanic households; Univision Cable Networks, including Galavisión, the country's leading Spanish-language cable network, as well as Univision tlnovelas, a new 24-hour cable network dedicated to novelas, Univision Deportes Network, a new 24-hour cable network dedicated to sports and a suite of six cable offerings - De Película, De Película Clásico, Bandamax, Ritmoson, Telehit and Clásico TV; Univision Studios, which produces and co-produces reality shows, dramatic series and other programming formats for the Company's platforms; Univision Local Media, which owns and/or operates 62 television stations in major U.S. Hispanic markets and Puerto Rico; Univision Interactive Media, a network of national and local online and mobile sites including *Univision.com, which continues to be the #1 most-visited Spanish-language website among U.S. online Hispanics, Univision Móvil, a longstanding industry-leader with unique, relevant mobile products and services, and Univision Partner Group, a specialized advertising and publisher network; and TuTv, U.S. outlet for pay television channels of Mexico-based Grupo Televisa. Headquartered in New York City, UCI has television network operations in Miami and television and radio stations and sales offices in major cities throughout the United States. For more information, please visit Univision.net.*