Head Coach Hue Jackson and Raiderettes Mallorie and Maureen visit with one of the patients at Children's Hospital & Research Center Oakland. Photo by Tony Gonzales.

This morning, The Oakland Raiders visited kids and their families at Children's Hospital & Research Center Oakland. Head Coach Hue Jackson, offensive coordinator Al Saunders, tight end coach Adam Henry, wide receiver coach Sanjay Lal, special teams coach John Fassel, and running backs coach Kelly Skipper, along with six Raiderettes, interacted with the children on different floors of the hospital, handing out Raiders gear and putting smiles on patients' faces.
Raiders Chief Executive Amy Trask joined the coaches and cheerleaders during their visit. "It is always a privilege for representatives of the Raider organization to visit the Children's Hospital – we are honored to meet and interact with such terrific young people and those who care for them."
As the coaches and Raiderettes moved from room to room, they could see the joy they were able to bring to the children and their families. "The kids were kind of shy, but also excited that someone outside their immediate family cared enough to come into their surroundings to try to do everything to brighten their day," said Coach Jackson. "I think for myself, the rest of the staff, and our organization, it's a feeling that there is another game going on outside of the walls that we live in every day, and it's the game of life. Sometimes we get concerned about all the problems that we deal with, but there's a whole different game that's more important that's going on, on a daily basis, and it just puts everything back into perspective of the opportunities that we have in this life."
The patients were happy to see the coaching staff and Football's Fabulous Females. "They were really excited," said Coach Saunders. "They see their own families, but to see other people, other friendly faces that are here to make you feel better, I think is a real warming thing for them. They certainly responded really well. They were really happy."
Coach Henry experienced the same reactions from the children as Coach Jackson and Coach Saunders. "It meant a lot to them because a lot of them were waking up and they got pleasant surprises and so they were really happy," said Coach Henry. "To see the smiles on their faces and the parents' faces is just a blessing. It was real good to see."
Many of the patients have been in the hospital for an extensive period of time with their families and to have representatives from the local team visit them was meaningful for them. "It was great to have the Raiders come visit today, most importantly for the kids, just so they feel remembered by the people outside and feel special and have something to brighten up their day," said Child Life Specialist Alexina Cather. "It's a little different distraction from all the medicine and procedures they have to go through – something fun just for them."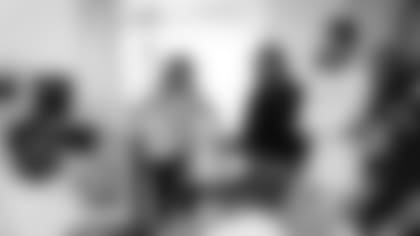 Raiders Chief Executive Amy Trask, the Raiders coaching staff, and the Raiderettes, chat about football with Children's Hospital patient, Alcee. Photo by Tony Gonzales.
The Raiders coaches were proud to represent the Silver and Black at the local children's hospital.  "Any professional sports franchise is the face of the community and certainly the Raiders are the face of the Oakland community so to represent the Oakland Raiders as a group and to represent each other individually is real special," said Coach Saunders.
"It means a lot because we have a Commitment to Excellence and we try to reach out and try to be proactive in the community and be effective in the community," said Coach Henry. "This is one of the things we like to do in the community. Any time we get a chance to do something, we get out here and do as much as possible."
The Raiders Commitment to Community revolves around giving back to the people of Oakland and the Bay Area, especially the youth. "It means that we care," said Coach Jackson. "We're willing to take our time away from what we all love and do, our passion, which is building this organization to be the best we can build it and go into the community, in a hospital setting, and see people who are a little less fortunate right now. It means we're willing to spend the time doing things that people don't think that we truly enjoy doing, which is making a difference in this community."
While the Raiders were able to put smiles on the faces of the kids, the kids were able to return the favor. "It was such a wonderful experience," said veteran Raiderette Tiphanie. "We met so many great kids that really touched our hearts and so many Raider fans here that are in our hospital still supporting the Raiders in our community. We're so honored and blessed to be here today."
"It was really a pleasure to meet the children and the families," said Coach Henry. "Just to give back and be out in the community is something that we like to do."
Coach Saunders was so moved by his time with the patients, he immediately planned his next visit. "It was terrific. They're just such wonderful kids," said Coach Saunders. "It was so much fun that I'm coming back tomorrow to visit. It's always so special, especially when you have children of your own, and you see kids who've fallen on unfortunate times, it's heart wrenching, but it's also really nice to know that maybe you took an opportunity to make a day a little happier for somebody who otherwise wouldn't have had visitors."
Coach Jackson was moved by his time at the hospital. "It's always special and always heart warming for me to see young kids who obviously are in the fight for their lives," said Coach Jackson. "To be able to go there with some people from our organization and just let them know that we care, that they're just as important as anyone in our organization or anywhere, is thrilling for me."
The Raiders trip to Children's Hospital & Research Center Oakland was a success as the coaches and Raiderettes were able to put smiles on the faces of the patients, parents and hospital staff. The Raider delegation left the hospital inspired by the strength and determination of those they visited.