The Raiders present Ascend with an NFL youth health and wellness grant. Photo by Tony Gonzales

Recently, the Oakland Raiders visited Ascend, the Play 60 Super School, in Oakland to present the school with a $10,000 NFL Play 60 grant and speak with the students about being healthy and active. "We are pleased to work with the Raiders to award Ascend School a $10,000 youth health and wellness grant and a NFL PLAY 60 Super School visit," said Peter O'Reilly, VP Fan Strategy & Marketing, NFL. "We applaud the school for their commitment to promoting healthy lifestyles for their students."
WR Darrius Heyward-Bey, FB Marcel Reece, TE Brandon Myers, DE Matt Shaughnessy, DT Desmond Bryant, DB Michael Huff, and SS Tyvon Branch spent time with the students, promoting the importance of Play 60 and rewarding them for their commitment to health and wellness.
According to the NFL, "schools were encouraged to participate in the NFL PLAY 60 Super School contest and submit three essays explaining how they planned to show their NFL team pride and incorporate football into their lesson plans. Schools were also asked to demonstrate their commitment to youth health and wellness by submitting essays on their school's physical education environment and how they teach their students about the importance of being active and eating right."
Kindergarten/first grade teacher Jayson Welden gave Ascend the chance to win the grant and a visit by the Raiders. "So Jayson, who is this amazing kindergarten and first grade teacher, and a huge Raiders fan, basically applied with his first graders," said Hae-Sin Kim Thomas, Founding Principal of Ascend School and CEO of Education for Change Public Schools. "I'm not entirely sure what was in the application, but they won. He is one of the most inspiring teachers here at Ascend and has been here for a long time so really excited to see that our first graders of all grade levels won this amazing contest."
Welden explained how and why he chose to apply for the grant. "I applied by submitting three short answer essay questions," said Welden. "I knew we would be doing a semester-long project emphasizing health and fitness. I did so because so much PE [physical education] is being cut out of schools. Last year I had a student who said he did not like to run. I thought that no kindergarten student should dislike running, but thought that some students need to be taught some basic PE skills to build confidence."
Thomas was proud to have Ascend named the Super School. "Ascend has been around since 2001. It was a brand new school in the Oakland Unified School District," explained Thomas. "It joined Education for Change Public Schools last year and it's been in this neighborhood, a beacon, for this neighborhood for about eight years. So exciting to see the Raiders and Ascend come together because the spirit of the Raiders and the spirit of Ascend I think are connected, warriors and fighters. The kids here are inspiring. More inspiring is actually the parents in some ways because this school actually came about because parents in this neighborhood fought for better education. Many of the schools in Fruitvale, this is one of the first ones, was the result of parents fighting for better schools for their children."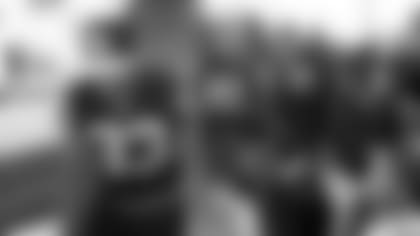 The players are greeted by the students at Ascend. Photo by Tony Gonzales
The Raiders were greeted by students cheering outside of the school and were met with even more cheers when they entered the assembly.  "It definitely [felt] like hometown heroes came into the building, like the kids were just so excited to see the front line of the Oakland Raiders walk through their cafeteria," said Thomas. "It was exciting to see seven of them. I thought we would see two or three players and to see seven first-rate players from the Raiders was inspiring. It just messaged a lot in respect to how the Raiders and the city of Oakland are connected."
The players wanted to come and reward the students of Ascend for their commitment to being healthy. "We just want to let them know that we support Play 60 and we know they support Play 60 and what Play 60 is all about, which is being healthy, eating healthy and always being active and exercising at least 60 minutes a day," said Reece.
The idea of the Play 60 movement is to encourage kids to be active every day. "Play 60 is to motivate kids to eat healthy, live right and get out there and exercise a little bit instead of sitting home and playing video games all day," said Huff. "They can get outside for an hour and just play, run around like kids are supposed to."
The presence of the Raiders helped emphasize the significance of students getting outside and playing every day. "A lot of them look up to us so they see us out in the community, out here, kind of promoting exercise, promoting being healthy, hopefully they'll go out and do it," said Huff. "They want to grow up to be like us, so hopefully they get out there and play like us."
"I would hope that the event inspires students to seek out physical activity. Really to play 60," added Welden. "The difficulty is that so many of our students lack resources to do so. It's not like they can go outside and just play due to our neighborhood. Hopefully, it will help students and families actively seek out opportunity to get their kids involved in an active and healthy lifestyle."
The Play 60 Super School event was an opportunity for the kids of Ascend to see that the Raiders and the local community care.  "The kids here work so hard and I think one of the amazing things about this school is they care deeply about the whole child," said Thomas. "It's not just about test results or reading, writing, arithmetic; it's about children, their spirit, community. It's about fitness, health, arts, and movement. So one of the things they care deeply about was children's health at this school, so I think they so deserve it. So it's an active goal of the Ascend community to have healthy, fit children."
Many of the students look up to the Raiders, so having their role models explain the importance of Play 60 was important for getting the point across. "They see us and they look up to us and it's always important to lead by example," said Reece. "Everyone doesn't always see what you're supposed to do, so if we go out there and show them that it's not just all about seeing us on TV on Sundays, but knowing that we're active every day, then they're likely to follow the same footsteps."
Heyward-Bey hoped they inspired the students to continue their healthy lifestyles. "I hope we just left them with something positive," said Heyward-Bey. "When they see role models like us and we want to be active, they want to do the exact same thing, so we just have to continue to be positive."
The students of Ascend enjoyed their opportunity to ask the players questions as well as participate in football-style drills after the assembly. "I just want them to have fun and show them it is fun to get outside and play," said Branch.
The Ascend staff was thrilled with how the players interacted with the students.  "I was really impressed with how each player carried themself and really conveyed a feeling of importance to all our students which they definitely deserve," said Welden. "It created a very magical day for us, and is a huge indication of the quality of character the Raiders players embody. I was so impressed with the players and wish we could have spent more time with them."
All the activities made for an exciting day with the Raiders. "I think it's so important for the kids to feel like the people they see on TV, who are these heroes, are accessible," said Thomas. "They're human beings who live in this community, many of them who grew up here, and so for the kids it was so exciting to see their heroes walk into the building, make jokes, be funny, I mean, they just loved it. They loved it."