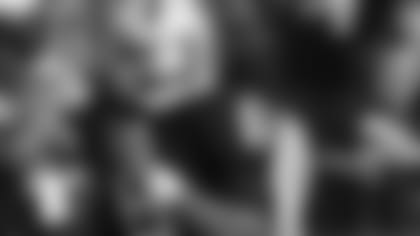 QB Terrelle Pryor threw for 137 yards and rushed for 90 yards.
Photo by Tony Gonzales
QB Carson Palmer completed 17 of 26 passes for 181 yards.
QB Terrelle Pryor completed three passes, two for touchdowns, and a total of 137 yards. He also rushed for 90 yards with a long of 59 as well as a 17-yard touchdown.
RB Taiwan Jones saw his first action of the preseason, carrying the ball 10 times for 50 yards.
RB Darren McFadden rushed nine times for 27 yards, including a 1-yard touchdown, and added two catches for 11 yards.
WR Juron Criner caught two passes, both for touchdowns, one for 76 yards, for a total of 115 yards.
WR Rod Streater upped his preseason total to 18 catches for 156 yards with his five catches for 56 yards against the Lions.
WR Darrius Heyward-Bey also had a nice night with two catches for 55 yards. One of his catches was in tight coverage for 41 yards from Palmer.
WR Travionte Session got in on the action with a catch of 22 yards.
DT/DE Lamarr Houston led the team in tackles with six.
DT Jamie Cumbie had the lone Raiders sack of the game.
DE Jack Crawford saw his first action of the preseason and recorded one tackle.
DE Christo Bilukidi recorded his first NFL interception after the pass was deflected by Cumbie.
K Eddy Carmona blasted a 56-yard field goal to end the half and was good on 3-of-3 extra points.
The Raiders recorded 27 first downs to the Lions 18.
The Raiders out-gained the Lions 513 total yards to 281 yards.