QB Tyler Wilson hands the ball off to RB Darren McFadden. Photo by Tony Gonzales
The Raiders completed Week 1 of Organized Team Activities (OTAs) of the 2013 off-season. The sessions marked the first time the veterans participated in on-field activities together and the first time the veterans and rookies were on the field at the same time. Both the veterans and rookies were pleased with the work.  
"I'd say it definitely went well," said LB Nick Roach. "You could tell that the guys felt good about getting back to practice, getting back together. Most of us were together for the first time, working together. It was fun just to be back to football and get a look at what the schemes look like full speed. It was good to see for me."
WR Denarius Moore, who is participating in his third OTAs in Silver and Black, felt like the team accomplished a lot in Week 1. "It went pretty good," said Moore. "Team organization, coming together as a team, getting to learn each other, getting to learn the coaches, showing the coaches what we can do, and then showing our teammates what we're capable of doing."
The week of work was a learning process for the rookies, but a big step in their development as they worked with the veterans. "A lot of learning, a lot like mini-camp as far as the installations, so kind of a repeat from what we did a week ago," said rookie QB Tyler Wilson. "So that was good to relearn a lot of things and kind of build relationships with a lot of the older guys and veterans here too and be out on the field with them for the first time. There's a reason why [the veterans are] around here and they're good players. They know how to come to work and prepare every single day and I think that's what's unique and that's what separates the guys. I think it's good to be with those guys and learn from them and benefit from what they have."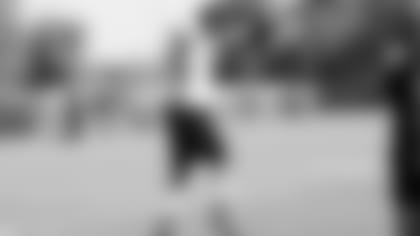 WR Denarius Moore goes up to make the catch. Photo by Tony Gonzales
The veterans are doing their best to help the rookies out on the field. "It's always fun with the rookies because it's so easy to tell," said Roach. "Then, for me, I always think back to when I was a rookie, how I was feeling at this time of year and just what it's like when you're going through everything being new, not knowing anybody and not really knowing, yourself, what you can do. It's kind of a brain scramble type of time, but the biggest thing I can offer to them is just to live in what you can control and not let it get you down too much because it can feel like you're in over your head sometimes."
As the players take a short break before heading into OTAs Week 2, they recognized the base they laid for the rest of the off-season. "I think the energy out there was really good," said Wilson. "I thought the guys wanted to come out and work and get better. It wasn't just an off-season workout, it was a building block for us to be as good as we can possibly be and achieve a lot of goals this season."
Roach could tell everyone came to OTAs ready to do work. "[The biggest Week 1 accomplishment], I would say, is just everybody getting together and seeing that everybody wants to work," said Roach. "It's not an attitude of going through the motions or anything like that; people genuinely want to be out there and want to get reps so that we can get better and get as much chemistry going as we can before camps."
The team will return to the field for OTAs Week 2 next Tuesday after the Memorial Day holiday. "Everything is going to be faster," said Moore. "We're going to understand the offense. We're going to understand the defense better; what they're trying to do versus our scheme. And just learning the offense and prepping each other to get better each day."