Anthony Robles poses for a photo with Head Coach Hue Jackson. Photo by Tony Gonzales

Raiders.com first spoke to Anthony Robles in March 2011, after the long-time Raiders fan with a Raiders shield tattoo on his arm, won the NCAA National Wrestling Championship. And he won the title with only one leg. Since March, Robles has been busy, earning two ESPY awards - the Jimmy V Award for Perseverance and Best Male Athlete with a Disability – and traveling all over the country as a motivational speaker.
"It's been amazing," said Robles. "I can remember winning my national title and I was thinking, 'okay, now I have to go home, graduate, and try to find a job.' But I've been living a dream since Nationals. I'm doing a lot of speaking with the Washington Speakers Bureau and we're currently working on a book too, which should be out next spring."
The Robles family watches every Raiders game from their home in Arizona, but had never attended a game at O.co Coliseum – until this past weekend. The Oakland Raiders gave Robles and his family the opportunity to not only come to a game in Oakland, but to also meet and spend time with the players.
"As soon as we got off the plane, we got picked up and taken to the facility," said Robles. "We took the tour and I was fortunate enough to be able to bring my family with me and it was just a dream. We love the Raiders, got to meet all the players, had dinner with them, and I got to speak to them. It's been a huge honor – a dream come true for us."
On Saturday, Robles and his family visited the Raiders headquarters and met Head Coach Hue Jackson, much of his staff, and many of the players. That evening, Robles spoke to the team, offering motivational words to the players and coaches before taking the field against the Chicago Bears on Sunday.
"I just shared with them my story and there's a word I like to use, it's being unstoppable," said Robles. "I shared with them that we all have challenges we have to deal with in our lives, but the main thing is to just focus on the next step in front of you - not to dwell on what's behind you, just focus on what's in front and going after what you want and being unstoppable."
Robles' words resonated with the players. "I got to meet Anthony Robles," said SS Tyvon Branch via Twitter. "He's outstanding, inspired me so much, what a guy! And he's a lifelong raider fan!"
"Just met [Anthony Robles] and his family...Huge inspiration to all athletes and fans...great fam," said FB Marcel Reece via Twitter.
After speaking to the team on Saturday night, Robles joined the Raiders the following morning as they headed to O.co Coliseum. Robles and his family had the opportunity to interact with the players and coaches during pregame and take in a game in Oakland for the first time.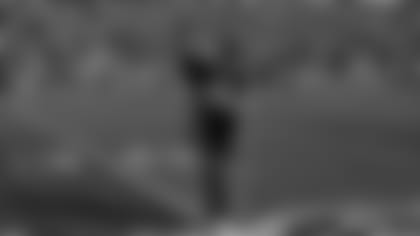 Robles is introduced to the crowd during the Raiders vs. Bears game and is received with a standing ovation. Photo by Tony Gonzales
"I'm just going to soak in the atmosphere, just be able to see the Black Hole in person, being here in the Raiders stadium, seeing that shield in the center, it's going to be amazing for us just to see it," said Robles prior to kickoff. "It's a once in a lifetime opportunity for us. It's been amazing because all the players have been so cool and the coaches have been so nice to us and really just brought us in to the family."
Robles was honored on the field and received a standing ovation from Raider Nation. "This has been amazing," said Robles. "I've been fortunate to meet a lot of people in these past few months, but we love the Raiders. I've had my tattoo since I was 16. We watch every game, so just being here with my family, I can't think of anything to top it."