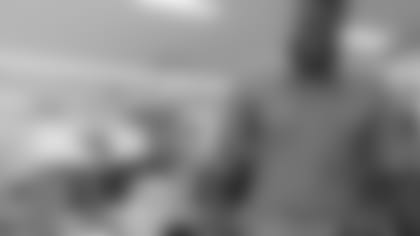 LB Kamerion Wimbley hosted Shop with a Jock 2011.
Photo by Tony Gonzales
Recently, Oakland Raiders LB Kamerion Wimbley hosted Shop with a Jock, providing 50 children from the East Oakland Youth Development Center (EOYDC) with $100 gift cards in a local department store. Ten of Wimbley's teammates – WR Louis Murphy, RB Taiwan Jones, TEs David Ausberry and Richard Gordon, QB Jason Campbell, FB Marcel Reece,  DE Mason Brodine, LB Darryl Blackstock, CB DeMarcus Van Dyke, and former Raiders LB Sam Williams – joined Wimbley, helping the kids go shopping for the holiday season.
"This is an event that the kids look forward to all year long," said Regina Jackson, Executive Director of EYODC. "They have demonstrated good behavior which is what has qualified them for a place at the table to Shop with a Jock, to shop with their favorite team, The Oakland Raiders, the opportunity to walk side by side, to have some conversations, and to select Christmas gifts for themselves or their family members. It's a coveted spot at EOYDC."
EOYDC is a "national model youth development center that's focused on developing the social and leadership capacities of young people," explained Jackson. According to the program's website, "the East Oakland Youth Development Center is located in the Elmhurst District of Oakland, referred to as 'the killer corridor' (Moody, 2008) because of the high rates of violent crime and homicides in this neighborhood.  Nevertheless, EOYDC remains committed to attending to the emotional, physical, intellectual, and economic well-being of this community for the last 33 years.  EOYDC's mission is to equip East Oakland's youth with the skills, training, and values necessary to become dynamic leaders and responsible citizens."
The EOYDC has been participating in the Shop with a Jock event for several years and Wimbley was excited to be the catalyst to keep the program running. "I actually had a chance to experience this up in Cleveland with Willie McGinest and I always thought it was just great to give back," said Wimbley. "Then to see the expression on the kids' faces, to be able to be like Santa Claus to them, where a lot of these kids would go without for Christmas, now they get an opportunity to get the things that they've always wanted. I feel great about that and they love it."
Wimbley recently started a foundation, Kamerion Wimbley Foundation, in order to give back to the community and to host events like Shop with a Jock. "We started the foundation to do things just like this – to be able to go and give back to people who may not have been able to get these things in their situations that they're in," said Wimbley. "But it's just great to be blessed and to be able to give back and that's just what I enjoy doing."
Wimbley was impressed with the ease of getting all of the guys to join him for Shop with a Jock. "It was great, a lot of the guys, you don't have to ask them or anything," said Wimbley. "They wanted to come out and they gave their time when they could be doing something else, so it was really big for me and it's even more important for the kids."
"I mean, whenever I have a chance to help somebody out then I'm willing," said Jones. "And seeing that Kamerion put something as great as this together, I'm always going to be there.
Campbell wanted to come out to support Wimbley and the great thing he was doing for the community. "I came out here today because Kamerion Wimbley is a great teammate of mine and he's doing something great for the kids so it gives us an opportunity to give back to the community," said Campbell. "Christmas is always a time for giving for us. It's better to give than receive because we're in a position where we're highly grateful and to be blessed to do what we do and we know how fortunate we are. So it's very big to be out here with the kids and participate with them."
Murphy agreed with Campbell. "[I came out] for the kids and for the holidays and just being a help to the city and bring a different culture to the Oakland area," said Murphy. "I know there's been stuff done in the past, but we just want to do more. That's what Coach Jackson is about and what Kam's about so that's what we want to do. I was without hesitation to come out."
The kids were excited and grateful that Wimbley and his teammates came out to give them wonderful gifts during the holidays. "They're [The Oakland Raiders] great role models," said Dominique, one of the EOYDC students. "I think they should do this for everybody in the world because they get their hopes up and then they could get what they want for Christmas because not everybody gets gifts for Christmas."
Not only did the students take away gifts for themselves and their families, but they took away an important message about giving back. "Basically, they're showing us that, when we get older, to help other kids like us, young, small, wishing for something and letting them be able to go out and choose it," said EOYDC participant, JT.
All of the kids were matched up with the 11 Raiders players and made their way through the store, shopping, talking, and learning about each other. "It's been fun just walking around the store," said Jones. "You can tell they're just happy that they have somebody to talk to and be around. The focus was on me more than the gifts that they wanted, so it's a good feeling and I'm glad I was able to do this."
Jackson saw the event as a mentoring opportunity as much as a chance for the kids to receive Christmas gifts. "Oakland Raiders are role models," said Jackson. "These young people watch them on their TVs if they have them, sometimes we get to go to the games. And the opportunity to stand side by side and talk to them and hear what they have to say is a mentoring opportunity that kids their age, kids with their background, rarely get, so that's exceptional. But when you think about the fact that most of them won't have a Christmas, but for this event, it takes on another very, very important piece. The parents are so appreciative because it lightens their burden."
Blackstock embraced the chance to provide the young people with guidance. "It was wonderful," said Blackstock. "I think getting out with these kids, especially the younger ones, that needed to see that an athlete can give them a little bit of advice about life, I think it's great to get out into the community with the kids and give back. I wish we had this stuff when we were growing up. They were excited and I had a good time. Everybody has a smile on their face."
Laronda, another young EOYDC participant, looks up to the players on and off the field. "They encourage other people to try your best and not to fail and do all you can to try to pass," said Laronda. "And when I fall down I just get back up. Not a lot of people get it. This is special for me because not a lot of people get it, and I would like to share some stuff that I probably won't need."
The 11 teammates were just happy to be able to see the happiness on the kids' faces. Reece came out to the event to give the kids a joyful holiday. "Just helping them out and putting a smile on their faces for Christmas because every kid deserves this amount of fun, to have some toys, and to be able to open something up and enjoy themselves for Christmas," said Reece.
Ausberry enjoyed the time he spent with the kids of EOYDC. "It's always good to give back," said Ausberry. "A lot of kids don't get the pleasures of getting any toys like that because of the financial situation, but it's just a good cause. Got to meet some kids, hang out with some kids a little bit. They love football, they want to talk to us and ask us questions so not only for us, but these kids love it and will remember it for the rest of their lives."
The players were also inspired by the generosity of the EOYDC kids. "It's been great. They've been great," said Murphy. "It's been fun. They have really good hearts, really good spirits, all of them got something for their parents or their siblings, so it wasn't all about them so that really touched me. I thought, man, those are some good kids."
Jackson has experienced several events with the Raiders and continues to be impressed with the players' generosity and kindness. "As long as I've been running the Center, the Raiders have had involvement with EOYDC, so this is an added step of compassion, of sensitivity and of caring for young people," said Jackson. "The Oakland Raiders have always been a community service organization. It's always been with youth in mind and we're just so proud and fortunate and know the parents are always excited because whether we have Raiders coming by to tutor or sponsoring events like this, it's always a great opportunity to line up a professional person and a role model with our young people."
Wimbley and 10 of his teammates finished a successful holiday shopping trip with 50 children from EOYDC. One of the young EOYDC participants, Jasmine, summed up the mood at the conclusion of Shop with a Jock. "I love the Oakland Raiders and I'm happy to be shopping and I just love the Oakland Raiders," said Jasmine. "I hope we can do this next year. This is very, very fun. I love Oakland Raiders!"