Opening Statement: **"I thought it was a good practice today. I thought they responded better after the day off this time as opposed to the last day off. It's really our last day off before we start preseason games. It's right around the corner from us. We're excited about kicking this thing off in four days against Minnesota and we're kind of beginning to turn our attention that way. We've got a lot of getting better to do, but it's time to start playing preseason games."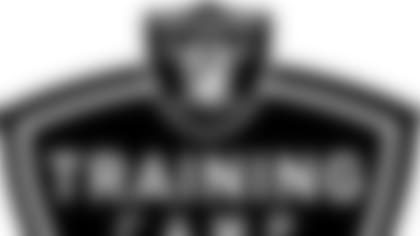 ](http://www.raiders.com/news/training-camp.html)Q: Are you into that game week routine yet?
Coach Allen:"We're not into the game week routine, but our focus over the next couple of days will start turning that way."
Q: How much significance would you attach to the first depth chart you put out for the Vikings game?
Coach Allen:"Not much. Everything that we've done so far has been put in pencil, so that will be determined as we continue through these preseason games, but wanted to give you guys something to write about." (laughing)
Q: Would it be an accurate barometer of where you think they are now?
Coach Allen:"Yeah, I think when you look at the depth chart, that's kind of about where we are right now, but some of those competitions are pretty tight, so a lot of that is still to be determined."
Q: David Ausberry missed practice today …
Coach Allen:"Got a little knee. We tried to work him out today but he wasn't quite ready to go. Hopefully he'll be back."
Q: Do you have a leader in that tight end battle?
Coach Allen:"Well Ausberry is kind of in the lead right now, but Mychal Rivera has done some really good things. Again, I've said before, they really kind of play two different positions, although they both line up as a tight end. Brian Leonhardt is a guy that has steadily improved and so I would say right now it would be Ausberry and Rivera and then Leonhardt probably right after that."
Q: How much has Denarius Moore developed from the time you got here to now?
Coach Allen:"Well I think when we've watched him out here. I've seen a lot of improvement out of him. I think one of the big topics has kind of been a little bit of the inconsistency in the past, but I think he's been a lot better in this camp. I'm excited about Denarius Moore. I'm really excited about the whole receiving corps really, because I think we've got a lot of young guys that have an opportunity to surprise some people. But, I do think Denarius is getting better as a football player and he has in this camp." ](http://www.pntra.com/t/R0BKRkpMSEBKTERGSEBISEtERw)
Q: Do you have a good gauge on how your defense is coming together with all the new pieces compared to where you were last year going into the first preseason game?
Coach Allen:"Well, we're ahead of where we were last year, there's no question about that but again, I'm going to reserve final judgment for when we start playing some of these preseason games, but I like where we're at defensively. We've still got a lot of things we've got to improve on but I think we're further ahead at this point now than really we've been in the last couple of years."
Q: How has Miles Burris been doing?
Coach Allen:"Miles has been doing well. I thought he had one of his better days the other day in the scrimmage, and then I thought he had a nice day practicing today. He's continued to improve. Unfortunately Sio Moore has got the rib that has held him out the last couple of days. Hopefully he can get back out here because I think that's a heck of a competition between those two guys for that Will linebacker spot."
Q: Is it still pretty even?
Coach Allen:"Yeah, it's very even. It's very close. So, I think these preseason games are going to go a long way in determining that."
Q: With Sio being out right now, do you make the decision now to go with Burris because he's available for the first preseason game?
Coach Allen:"Well, we'll see. We'll see what Sio is able to do over the next couple of days. We've obviously got to go with the guys that are healthy and out here and right now it's Miles Burris." ](http://www.pntra.com/t/R0BKSkdFREBKTERGSEBISEtERw)Q: Are any of the young linebackers starting to step up a little bit?
Coach Allen:"There have been some guys that have stepped up and done some good things, still a little bit inconsistent when you're looking at some of those guys. Kaelin Burnett, Bojay [Filimoeatu] some of those guys, Carlos Fields. I'm looking for more consistency out of those players, but I think it's a good, young group to work with."
Q: Was James Jones limited by anything today, it didn't seem like he was fully suited up?
Coach Allen:"No, he's fine."
Q: Andre Holmes is a guy who seemed to really show up time after time making big plays last year. We see him out here again making big plays. Has he surpassed what you were expecting when you guys first brought him aboard or is there still a lot for him to grow?
Coach Allen: "That's a good question. It's kind of a two-part question. No. 1, yes he has surpassed what we thought we were getting when we brought him in here, and there is still a lot that he can improve on. Yeah, I'm happy with what we're getting out of Andre Holmes. I think he is going to be a real factor for us this year."
Q: It seems like he has the ideal size and it seemed like last year he was doing a good job of positioning himself. Is that something that maybe stands out about him?
Coach Allen: "I think that the nature of the NFL now, and kind of the trend in the league is these bigger, physical receivers. He certainly fits that mold. So, a lot of times, he is going up against corners that don't meet his physical stature. It gives him an advantage in that way and he has done a nice job of understanding the type of receiver he is. Sometimes you get these big receivers that don't play big, but Andre is one of those guys that, not only does he have that physical stature, but he plays to that stature."
Q: Do you expect to see DJ Hayden before the end of the preseason, or is he a candidate for regular season PUP? Coach Allen: "I expect to see him before preseason [ends], but we'll have to wait and see. He is getting better, but he is not ready to be out here playing football yet."