Raiders all-time leading receiver Tim Brown gives a passionate speech during his enshrinement into the the Pro Football Hall of Fame. AP Photo.
ESPN's Chris Berman served as master of ceremonies for the Pro Football Hall of Fame (PFHOF) enshrinement at Tom Benson Hall of Fame Stadium adjacent to the PFHOF. He kicked things off by introducing the more than 100 members of the Pro Football Hall of Fame in attendance.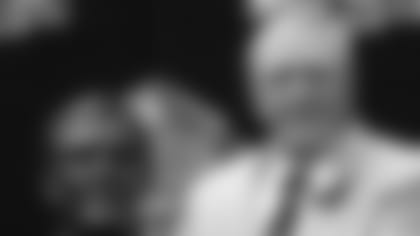 First up this evening, former Oakland Raiders scout and personnel executive Ron Wolf. Eliot Wolf, Ron's son, presented him for induction. "His ability to honest with himself, and his team, set him apart," Eliot Wolf said. "Even now when we go over to his house, he's got the clicker set up and he's watching film. It's my great honor to present my father Ron Wolf for enshrinement."
"I want to thank the Hall of Fame committee for bestowing this phenomenal honor upon me," Wolf said. "The goddess of victory comes about only once or twice during the course of a contest. There is that moment when a play is needed to be made. These gentlemen seized that moment and exhibited that ability throughout their careers. It is truly an honor for me now to be included in their company."
Wolf thanked Oakland Raiders owner Al Davis, who passed away in 2011, for the opportunity to work in professional football.
"I had the good fortune to begin my career working for the legendary Al Davis. Not only did he set a standard of excellence for five decades in the NFL, as commissioner of the American Football League, he brought about the merger between the two leagues," Wolf said. "I spent 24 seasons working for him and appreciate deeply all IO was able to learn. He was a remarkable teacher and I am forever in his debt for providing me with an opportunity to work in this extraordinary game."
Tim Brown's brother Donald Kelly presented the Raiders all-time leading receiver for enshrinement into the Pro Football Hall of Fame.
"You have to start with the fact that he could always catch the ball, he was absolutely confident in his ability to catch the ball," Kelly said. "You have to include the vision as well. He has demonstrated absolute consistency, he has been a producer, he was a person his team relied on. I am honored to present my brother Tim Brown for enshrinement into the Pro Football Hall of Fame."
When Tim Brown took the stage, after greeting the attending Hall of Famers, he led the Raider Nation in a "RAIDERS" chant. "I can't wait to enjoy this for the rest of my life," Brown said. "Mr. Ron Wolf actually drafted me into the NFL. The very first time I touched the ball in the NFL I returned a kick 97 yards for a touchdown. My football career was great, but this would not have happened if it wasn't for so many people."
Brown finished his Raiders career with 1,070 catches for 14,734 yards and 99 TD catches. He is the only player in Raiders history to score on a reception, rush, kickoff return and a punt return.
Congratulations to Tim Brown and Ron Wolf on their induction into the Pro Football Hall of Fame. They are now officially two of the 23 men who have proudly worn the Silver and Black to be so honored.