Recently hired offensive line coach/assistant head coach Tony Sparano spoke to Bay Area media Wednesday afternoon at the team's Alameda facility.
Q: How much of it was scheme that it takes guys on the line awhile to get used to it, certain guys that don't gravitate toward that, how much of it was the running back being able to read the holes, being able to cut back…
Sparano: I'm not going to get into second-guessing or critiquing, or doing any of those things, I think that at the end of the day there's a lot of ways to get things done. We're up there now kind of grinding through this as a coaching staff with what we want to get accomplished right now. I'm just really learning the players at this particular time, and not really concerned too much about what went on here in the past. I'm more concerned about what's about to go on here.
Q: You've had some pretty good left tackles in your career. Where do you see [T Jared Veldheer] and the type of player he is and where he can go?
Sparano: I spent a lot of time, coming out in the draft, spent a lot of time watching him at that point and of course watching him here. He's done some really good things with these guys here as a left tackle. You're right, obviously we drafted [T Jake Long, with Miami]. I had Flozell Adams in Dallas, and was lucky to have some good tackles, D'Brickashaw [Ferguson] down there in New York, I've been around some pretty good ones. This guy's done a nice job here for them last year. I think he's such a big, tall guy, with his length, the way he moves his feet, he's an effective player.
Q: You said you looked at cut ups and stuff from last year, did you look from two years ago when this was like a pretty good run blocking team?
Sparano: I absolutely did, I went back, watched it, they were #1 in the league. To be honest with you at that time I was in a different place, I was in Miami at that time. What you do in the offseason, you usually spend time studying other people and what they've done well and who's done what well, and at that time you were watching the Raiders run game. That was something that we spent time watching.
Q: Two years ago they had Stefen Wisniewski at left guard. Is there any consideration at all moving him back to left guard, or are you convinced he can be a center, what did you see on tape of him at center?
Sparano: Those are, right now, not decisions that I can make. That's something [Head Coach Dennis Allen] and [General Manager Reggie McKenzie] and that group of guys will make the final decision. We got a long way to go before any of those things happen. I did watch him, when you're watching film from two years ago you're seeing him play guard and then you're seeing him play center this past season. I've seen him play both, and I've seen him come out of college. The good news is to have a young player like that with flexibility. I think that's critical in any of the line positions to find guys with positional flex, because not knowing what Dennis will take to the games, what we'll have on a game-day roster. You get caught in some quicksand during the games, you know you end up having to play a bunch of those guys. I can remember a kid I had in Miami who had to play three positions in one game because we were down to five guys.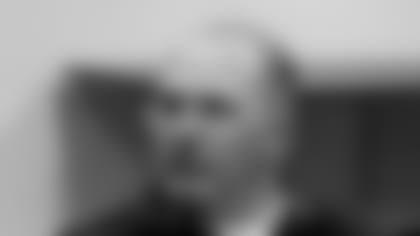 Q: How does RB Darren McFadden fit what you want to do?
Sparano: I think really good, I think he fits it really well. I'm excited about getting a chance to work with a player like that. I've known of McFadden for a long time. My quarterback coach at the time in Miami was a fella by the name of David Lee. And David Lee was at the time the coordinator at Arkansas when they were out there and they were running McFadden and Felix [Jones] and that group of guys, doing some different things with them. I don't want to say that word, you'll bring it up soon enough. They were doing some different things with him obviously, I got a chance to watch him and study him and get a chance to learn. He's a talented guy. What I was surprised of was his body weight, watching him when he runs the football. I was surprised he weighed what he weighed because to me he plays bigger than that.
Q: In your system, is it something the guys pick up quickly, or is it something that there's going to be a pretty big learning curve?
Sparano: I think like anything else when you come in and there's new terminology, it's [offensive coordinator Greg Olson's] system and I'm learning the terminology right now just as all the coaches here are learning the terminology. Greg and I, he's kind of learning some of my line calls, and I'm learning how he'll call things during the game. That's something we're all kind of going through right now. I think, when push comes to shove, I don't see this being something that the players will take a long time to grab and get a hold of. In fact I think it'll be something they'll be excited about and I think that'll be a really good thing as we get going here. All that being said, I've coached this position long enough, I've dealt with the questions long enough…this is probably the most difficult position to put together. It really is. You're getting five guys that need to play like one by the end of this whole thing. In training camps and those things, you could have moving parts, in and out, to see other people. To get them all to do the same thing really requires a little bit of time. When the time is right and we get into those phases down the road and we can get started with the players I don't think it will take long.
Q: What appealed to you about coming here to this place specifically?
Sparano: First of all the history here, I would say without a doubt, I'm a history buff. I had a chance to be with the Dolphins and be with the Cowboys, and be in some organizations that have tremendous history and I love this history here.  The other thing that appealed to me is quite honestly is Dennis Allen and Reggie, getting a chance to visit with them, our owner, getting a chance to visit with them and just understanding the vision that they had and what Dennis is trying to do, what Reggie is trying to do with this organization right now, and the direction that they're headed. I've been involved in a lot of different teams, too many to be quite honest with you. At the end of this whole thing I just wanted to be in a situation where I felt like everything was headed in the right direction. When I had a chance to visit with them it just immediately, I had a good feeling about it.
Q: How does Mike Brisiel fit?
Sparano: He's an interesting guy, he comes from a zone blocking scheme in Houston, he ended up coming here and they did a lot of zone blocking stuff, but he's a tough, physical guy. I really like those kind of players that are tough, physical, dependable guys, I think that a guy like him will fit in nicely with some of the things that we're doing, as well as some of the other players in that group. I hate singling out players. I honestly think that they have several good, young players here. We've talked about a couple of them already, Veldheer, Wisniewski, Brisiel and these type of people. I think he'll fit in well.
Q: Tony Bergstrom didn't get a whole lot of time, mostly at that extra tight end sort of spot. What were you able to see from him, did you look back at his college stuff, did you scout him coming out?
Sparano: I actually had him in, we had him in New York for our Top 30 visits. We brought him in, sat down and had a good conversation. The next time he sees me it won't be the first time he's seen me, it'll be the third or fourth time with the combine, and the interviews. Having him in the building when you bring a guy in for the visits is always a good thing. He's brilliant guy, really smart man, smart player, and I thought on tape really athletic type of a player when I watched him college. Obviously, didn't get a chance to see a whole lot of him here, he played in I want to say it was the last game of the season, he and Lucas [Nix] were in and out a little bit. It's good news to have a couple of young players coming through that you can spend time developing.
Q: You worked a long time under Bill Parcells. What impact has he had on your philosophy and how you approach the game?
Sparano: He's had probably the greatest impact on my philosophy and how I approach the game. Any time you have a chance to work under a coach like Bill Parcells…I've worked for Bill Parcells, Tom Coughlin, Marty Schottenheimer…been around a lot of outstanding coaches, Rex [Ryan]. At the end of this whole thing, to have a chance to coach under Bill and when I was the head coach at Miami, Bill was the owner's designee there and he was in charge of all football. That was one of those deals there which was helpful to me too. As a first time head coach to be able to go into a situation like that, when you have a problem, or you have something that pops up to bounce something off somebody with that type of experience. He's had a tremendous influence on me and my coaching career. I was really happy to see him get into the Hall of Fame, I'm very happy for him.
Q: Tony, you've been around the game long enough to see the evolution of offenses. There was a time, 30 years ago maybe, where quarterbacks who were athletic didn't get a lot of play, often they would move someplace else. Now it seems like the trend is going the other way, where it's actually an asset to have an athletic quarterback. What's your thought process on just the way the league is evolving in that direction?
Sparano: You can see it happening right now, obviously what just happened in San Francisco, and out in Seattle and Carolina, a lot of those places, you're starting to find that more and more teams are getting into some of that stuff. I think this league is about being able to make big plays. At the end of it all it's how you create chunk yardage that is going to matter. And whether or not you take care of the football well enough, and you can win football games, but chunk yardage and how you get it, whatever way you can do it I think is critical. I think these athletic quarterbacks that are coming out now, and what you're seeing coming out of some of these systems through college right now is starting to form kind of a new trend in the league. It's interesting because I remember the first time we ran out there with the Wildcat formation, it was Ronnie [Brown], and Ricky [Williams], Ronnie will tell you he was 75 percent, I think he was 3-for-4, he thinks he has the highest quarterback rating in the history of the game. The truth is now with these type of players being able to take every snap and you really don't know what they're going to do, because they're taking every snap and they can drop back and throw the football or they're taking every snap and they can run zone reads and run options or do some of these different things like [Colin] Kaepernick and these people are doing, some of the Russell Wilsons of the world. It just brings a complete different element for the defense to have to prepare for. You're just seeing more and more of these kids that maybe a while ago may have had to think about a position change where now everybody in the league is kind of saying, 'hey wait a minute here, you're going to study all of that stuff.' Everybody is going to look at the same things, it's interesting.