WR Rod Streater, RB Darren McFadden, P Marquette King, FB Marcel Reece, QB Terrelle Pryor, Raiderettes Brittany and Bess and Raider Rusher pose for a photo with the Marines. Photo by Tony Gonzales
The Oakland Raiders held the first of two Toys for Tots events at The Raider Image at Southland Mall in Hayward. QB Terrelle Pryor, RB Darren McFadden, FB Marcel Reece, WR Rod Streater and P Marquette King signed autographs in exchange for toys for the Toys for Tots program facilitated by the United States Marines. Raiderettes Bess and Brittany and community ambassador Raider Rusher were also on hand to visit with the fans and pose for photos.
"Toys for Tots is a foundation that was started by a Marine back in the early 40s, a reserve Marine, and his wife began making teddy bears for kids that didn't have toys and he'd go pass them out," explained Marine Sergeant Ryan Turnau. "What we're doing here is we're collecting toys for the Toys for Tots Foundation and we'll distribute them to Alameda County."
Raider Nation arrived early at Southland Mall and lined up to meet some of their favorite Raiders players. The line circled around half of the mall. "It's been insane. There was literally a line wrapped around the mall," said Raiderette Bess. "The fans have been totally awesome. Everyone here is a Raiders fan. Everybody has been really excited and really stoked to give their gifts and really excited to see us, take pictures and meet the players."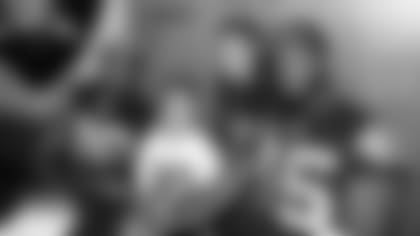 RB Darren McFadden and FB Marcel Reece with two young fans. Photo by Tony Gonzales
The Toys for Tots event allows the Raiders players to team up with the Marines, visit with Raider Nation and give back to the community. The opportunity is one Reece could not pass up. "It's a good thing because it's for charity where you just come out and donate toys and get to hang out with us and we get to hang out with you," said Reece. "So it's fun for us because we get to give back and we get to have fun with the rest of the fellas, the fans and just have a good time for a good cause."
Pryor looked forward to spending time with the fans. "The fans are great and anytime you get a chance to interact with them and give back and have a chance to speak to them whether it's for 10 seconds or 20 seconds or whatever the case may be it's a great time," said Pryor.
| | |
| --- | --- |
| | |
| QB Terrelle Pryor makes a friend at Toys for Tots. Photo by Tony Gonzales | |
| | |
Seeing the continued support from Raider Nation put smiles on all the players' faces. "It means everything in the world," said King. "I'm having a great time getting to see the people that support us a lot and stay positive."
"It felt great. The support is unreal," added Streater. "Just to see how many people come out to meet and greet with us, it's always great to be out here with Raider Nation."
While the players signed autographs, fans donated toys for children for the holidays. "It means a lot. A lot of these kids don't have a lot to appreciate so we like to donate something so that someone else can appreciate it," said long-time Raiders fan Manuel Hernandez.
Hernandez has been attending Toys for Tots for years and always brings his young children. "It feels great," said Hernandez. "I have my four-year-old. I started bringing him when he was one, and same with my little one here. We don't miss any of the games."
Giving back to the community is an important component of being a Raider and that was understood by the five players in attendance. "It's always a great thing to give back to the community to the people that really need it the most. It's a good feeling," said Streater.
McFadden was glad he was able to once again participate in Toys for Tots and give back during the holiday season. "We always love to be able to come out and help out the community, to help get gifts for them and help them have a Merry Christmas," said McFadden.
Another area of importance to the Raiders is supporting the military. Teaming up with the Marines every year for Toys for Tots allows the players and organization to show their support. "The military - that's one of the most important teams in the world, so to team up with those guys and actually do some work with those guys and give back, that's a great team to be a part of," said Pryor.
Reece admires what the military does for him and the country on a daily basis. "It's always an honor, for one, to be around Marines because they do so much for us to be able to live the free life that we live here," said Reece. "And we have the best country in the world. It's a great thing for us to just be able to team up with them and all for a great cause."
"It feels great. They go out there working hard just like we work hard and they try to perfect their craft just like we try to perfect our craft and it's just a blessing to be around them," added King.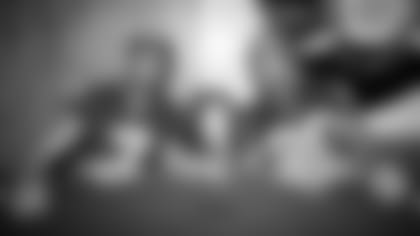 P Marquette King and WR Rod Streater smile for a photo with a young Raiders fan. Photo by Tony Gonzales
The Raiders recently held their Salute to Service game at O.co Coliseum, honoring the men and women who serve our country. "Any time we can give back to the community it's always special and always really great, but it's just really great to team up with such great people and really bring happiness to kids during the holidays," said Raiderette Bess.
The Raiders have been teaming up with the Marines and Toys for Tots for over 10 years. "It means a whole lot to me just being able to team up with them," said McFadden. "I have family in the Marines and in the Army so to be able to come out here and say hi to those guys is important. To be able to support them is a great deal."
"They're the real heroes of this country and just to be out here doing something special, it means a lot," said Streater.
The first Toys for Tots event was a success. A truckload of toys was donated and Raider Nation showed up in full force. "It's great. We have the best fans in the world," said McFadden. "They always come out and support us through thick and thin. Just to be able to come out here and interact with them, be able to let them see us off the field, is great."
The second Toys for Tots event will be held Monday, December 16 from 6-8:00 p.m. at The Raider Image at Southland Mall. DE Lamarr Houston, LB Nick Roach and CBs Tracy Porter and DJ Hayden will be signing in exchange for toy donations.