LB Nick Roach, CB Tracy Porter and S Tyvon Branch pose for a photo with young fans.Photo by Tony Gonzales
The Oakland Raiders held their second Toys for Tots event at The Raider Image at Southland Mall in Hayward. LBs Nick Roach and Sio Moore, CBs Tracy Porter and DJ Hayden, SS Tyvon Branch and Hall of Famer Willie Brown signed autographs in exchange for toys and donations, which will be distributed to children throughout Alameda County.
Raiders fans lined up early to meet the players. "It's a win-win because, one, you get to donate a toy to a needy child and, two, you get to get a signature, so it's cool," said young Raiders fan Rudy.
The players were motivated to participate in Toys for Tots because they wanted to give back to their community. "I like giving back to the kids," said Porter. "I had a real good experience with Play 60 and any opportunity I have to give back to the kids in some way, form or fashion, I'm all for it."
Brown has been out in the community his entire career with the Raiders, as a player, coach and staff member. "It's good because I've been doing it my whole career interacting with fans," said Brown. "It makes you appreciate them and them appreciate you and appreciate what we do as an organization in the community. I think it's good. Anything to do with helping the kids, particularly this time of year, coming out and making someone smile, that's all part of it."
Moore, enjoying his first Toys for Tots campaign, wanted to give back during the holiday season. "That's the best part about it because it's giving back to kids who don't have the ability to have toys or have things they need during Christmas time and it's about regaining that Christmas spirit," said Moore. "The last thing you want is a kid to go without a smile on Christmas day. I think the more and more you can do things like this and can empower kids and help families who aren't able to do it, the better we become as an entire community."
Being out in the community and giving back is imperative for the Raiderettes as well. "It's very important to us," said Raiderette Caitlin. "We want to make sure we're doing everything we can to help our community and Toys for Tots is a really great place for us to do that."
Hayden interacted with the fans as he signed autographs. "I love to give back because so much has been given to me," said Hayden. "The least I can do is to give back. I love doing stuff like this with the community, just getting out and seeing smiles on their faces."
Despite the team's loss to the Chiefs at home the day before, Raiders fans still came out in droves and showed their support for the Silver and Black. "It's a great feeling. It shows the loyalty of our fans," said Branch. "It's a tough season, but they still support us. They're helping to give back to the community as well."
"It's a great feeling to know we have so many supporters," added Porter. "That speaks volumes to us as players."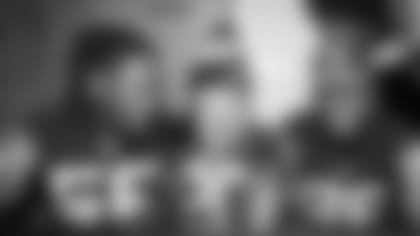 LB Sio Moore and CB DJ Hayden put on their game faces with a young Raiders fan. Photo by Tony Gonzales
It meant a great deal to the players to see all of the fans. "It's heartwarming because even though we're not doing as good this season, the fans are still coming out and showing their support and they really show how much they love the Raiders and how much they're Raiders fans," said Hayden. "I just appreciate all their support."
The players were helping gather toys to give back to the less fortunate, but they were also giving back by taking time out to spend with their fans. "I think anytime you can support the people that support you is really cool, especially around this time of year," said Roach.
The United States Marines were also on hand to collect the toys. Staff Sergeant Vittorio Garcia appreciated the Raiders helping to make their program a success. "It's great to take time off the field and help the local community  because these guys are heroes to a lot of people and to a lot of kids and it's great to see these kids light up as soon as they see them," said Garcia.
While the Marines thanked the Raiders, the players returned the admiration and support. "It means a lot because these guys do a tremendous job giving us the freedoms that we have that a lot of people take for granted," said Porter. "So to team up with these guys, to know that we put smiles on their faces, and to know we appreciate the things they do, and for us to come together for one common goal to give back to these kids and light their faces up around Christmas time, that's a great feeling for me."
Hayden agreed with Porter. "The Marines, they're the ones that should really be signing autographs," said Hayden. "It's great to see them because they've been fighting for our country, they've been putting their lives on the line for us so we can live in the nation we live in. and I feel honored to even be around them."
The Raiders, Raiderettes and Marines filled the Toys for Tots truck with gifts for local children. They know they were able to make some families' holiday much brighter and, in the process, put smiles on the faces of the Toys for Tots attendees. "One little girl went by and she was jumping up and down and smiling and you have to love the feeling of that," said Moore. "That's why we do this – for the kids."