CB Taiwan Jones and DE Justin Tuck attended the Wender Weis Foundation for Children's (WWFC) Holiday Heroes holiday extravaganza at AT&T Park on Monday Night, making holiday crafts and spending time with the event attendees.
| | |
| --- | --- |
| | |
| | Photo by Tony Gonzales |
| | |
Around 1,200 people attended the evening of fun and festive celebration, including 300 children from at-risk environments that we were treated to a memorable evening of holiday activities.
"It's kind of like a holiday wonderland for adults and kids," said Amy Elizabeth Wender-Hoch, President & Founder of the WWFC. "We have a candy station. We have a stuffed animal making station, holiday cookie decorating, just everything you can think of when it comes to the holidays. We just try to create a really special evening for everybody who's here."
Wender-Hoch grew up in New York City and attending football games with her father showed her the positive impact that sports and athletes can have on children's lives.
"Getting to meet a sports hero, just having them say something positive or something beneficial or something life affirming, and hopefully that would change their life for the better," she said. "It's kind of an idealistic thought, but that was the genesis of it and hopefully we've been able to make some sort of small difference."
Jones participated in the Holiday Heroes event last holiday season and was more than eager to return in 2014.
"I did this last year and it's a lot of kids that are underprivileged and have rough upbringings," Jones said. "To be able to come out here and have fun with us, and for me to see them smile and have fun, it's a fun experience for me. It gives me an excuse to be a kid again, so I'm just having fun."
Tuck has done extensive philanthropic work since he entered the NFL and is no stranger to the positive effects that even a simple act of kindness can have.
"I get the opportunity to work with a lot of kids around the country and the one thing I've realized is there's a lot of power in making kids smile," Tuck said. "Whether that goes to their self-esteem or that just goes to them feeling like they can accomplish whatever they want to accomplish their dreams."
The two-time All-Pro also knows the importance of giving back to the community, especially children.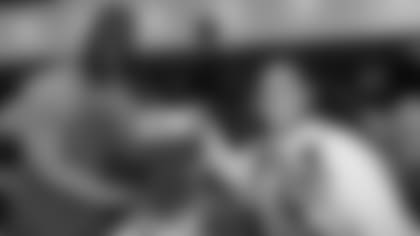 "Whenever you get the opportunity to give back, especially to kids, that's something that's very important and you shouldn't look at it like something you have to do, but something you want to do because the kids are our future."
He continued, "I know that saying is cliché, but it's very true. For me and my family and everyone around me, we always have been a part of making this world a better place and what better place to start than with the kids?"
Wender-Hoch agrees wholeheartedly with Tuck, and wanted the children at the event to realize that they were important.
"Just that people care about them," she said when talking about her message for the evening. "They can be part of a family, either their own family or a Holiday Heroes family, and just that people really do care and want to give back."