**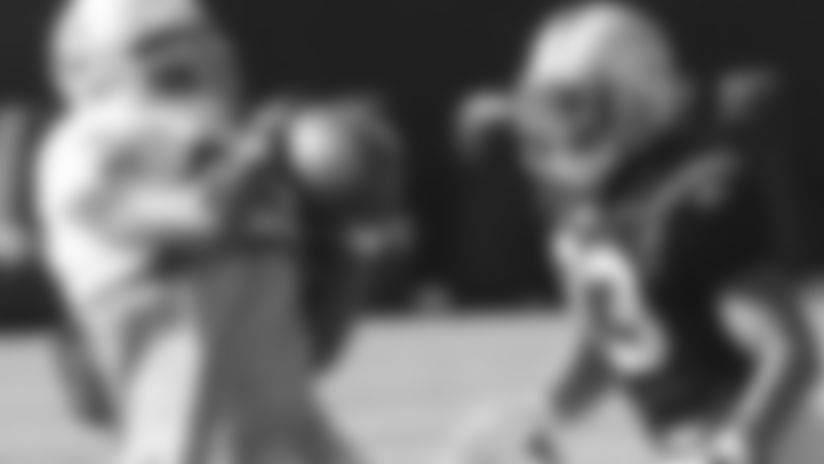 WR Samie Parker makes a catch in front of defensive back Tyvon Branch. - *Tony Gonzales*
Today marked the third padded practice for The Oakland Raiders.  There was an incredible sense of excitement and enthusiasm here at the Napa training facility as the team advanced through the early stages of training camp.  The players have been focused on progressing quickly as they attempt to master an extensive playbook, unique schemes, and complex techniques.
At times it can seem like there is so much to learn and so little time. This presents a particularly interesting challenge for new acquisitions who must catch on quickly.
Rookie Desmond Bryant, a defensive lineman, signed as an undrafted fee agent,out of Harvard, discussed his transition to the team and the relatively steep learning curve he's had to tackle thus far.  He also mentioned the assistance that the coaching staff and fellow teammates have offered throughout this taxing process.
Bryant says, "Some of the techniques are completely new so it's taking me a little while to get used to that. The coaching staff has been excellent I think. The veterans help out a lot too."
Away from the football field, Bryant's extra curricular activities are simple, "[I] just lay in bed with my playbook."
Fifth-year veteran and new Raiders wide receiver Samie Parker, who last played for Kansas City has relied on the wealth of knowledge acquired from his league travels to make him feel right at home.
"So far it's been pretty good. Just getting acclimated with the team and developing chemistry, stuff like that. The learning curve's not too steep for me. I kind of played in a similar offense before so it's not too steep for me so I catch on to things pretty easily," said Parker.
During his free time Parker likes to relax and talk to his soon to be two-year-old daughter, and listen to music.
Rookie LB David Nixon was excited about today's practice. Nixon is trying to get adjusted to training camp at the professional level.
"[The] playbook in the NFL is a lot more extensive than out of college but I feel like coach has been a great aid helping us learn and being patient. Me specifically.  And I think it's paid off and I had a good day of practice today.  And overall it's coming along. Definitely not there yet, still making mistakes, but it's getting better," said Nixon.
Nixon mentioned a certain veteran player has been influential to him. "No question, Thomas Howard, I've been watching how he plays.  Watching how he goes about his practice." Said Nixon.