After breaking down the top prospects at each position in the NFL Draft, Raiders.com columnist and 95.7 The Game host John Lund is back with What's Trending this Week.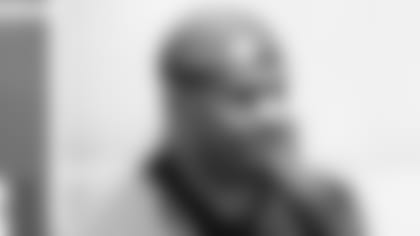 DE LaMarr Woodley joins the Raiders after several years with the Pittsburgh Steelers. Tony Gonzales

It's a well-known fact among anyone associated with or who is a fan of the Raiders, the team hasn't made the playoffs since Oakland played in the Super Bowl in San Diego in January of 2003.
In March, new defensive end LaMarr Woodley used playoffs and Raiders in the same sentence. Recently he explained why he said what he said about the 2014 edition of the Silver and Black.
"After going back and looking at Raiders games from last year, they were in a lot of close games and couldn't seal the deal," Woodley said. "You have to bring in guys from winning programs and let them lead. The Raiders have done that."
This is how much the Raiders have done that with 2014 veteran additions:
| | | |
| --- | --- | --- |
| PLAYER | CAREER PLAYOFF GAMES (W-L) | SUPER BOWLS (W-L) |
| Kevin Boothe | 5 (4-1) | 1 (1-0) |
| Tarell Brown | 8 (5-3) | 1 (0-1) |
| Maurice Jones-Drew | 2 (1-1) | 0 |
| James Jones | 11 (6-5) | 1 (1-0) |
| Donald Penn | 1 (0-1) | 0 |
| Carlos Rogers | 8 (4-4) | 1 (0-1) |
| Matt Schaub | 2 (1-1) | 0 |
| Antonio Smith | 8  (5-3) | 1 (0-1) |
| Justin Tuck | 6 (5-1) | 2 (2-0) |
| CJ Wilson | 8 (5-3) | 1 (1-0) |
| LaMarr Woodley | 8 (5-3) | 2 (1-1) |
| TOTALS: | 67 (41-26) | 10 (6-4) |
As many as 12 starters including special teams, could have playoff experience and as many as five with Super Bowl rings could be starting on the Raiders in 2014.
For a team trying to make the climb in the AFC West where every team but Oakland made the playoffs in 2013, this change of culture is one of the keys to a turnaround this season. ](http://www.pntrac.com/t/R0BKRkpMSEBKTERGSEBISEtERw)THE GAME THAT MADE KHALIL MACK A RAIDER
Playing college football in the MAC versus the likes of Western Michigan and Kent State will naturally give NFL scouts and personnel people pause about your level of competition in college and force a team to speculate if a player can make the big jump to the NFL.
When Raiders first-round pick, linebacker Khalil Mack, took the field on opening day vs The Ohio State University in 2013, the University of Buffalo stand-out went from 'on the radar' to 'bull's-eye top prospect.'
The final line: 9.5 tackles, 2.5 sacks and an interception, which he returned 45 yards for a touchdown.  In addition, a strip sack fumble by Buckeyes quarterback Braxton Miller on the Ohio State one-yard line was voided when Mack was called for a hands to the face penalty.
"I think the most significant tape for him was Ohio State, because it answers your direct question to level of competition," NFL draft analyst Mike Mayock of the NFL Network said before the 2014 draft.  "That was his chance for all the scouts to look at him against Ohio State and say wow, it doesn't get any better than that." Mayock said.
The tape clearly doesn't lie. Take a look at the game which made Mack a top five pick and a Raider.
"He's set an NCAA record for forced fumbles and tied an all-time record for tackles for loss, so he makes tons of plays," Quinn said.
Quinn also talked about the versatility of the Raiders first rounder.
"His pursuit, his energy, he can run man-to-man with tight ends, he can be at the point of attack, you can move him around. We had a lot of fun devising game plans driving offensive coordinators batty because they didn't know where he was going to be."
With Peyton Manning, Alex Smith and Philip Rivers in the AFC West, Mack's job description is clear: get to the quarterback.
According to data from Pro Football Focus, Oakland was last in the NFL with nine sacks when they did not bring the blitz in 2013. Because of this, the Raiders were forced to bring extra pass rushers on nearly 48 percent of passing defensive snaps, second in the NFL only to the Cardinals. Mack should be able to help remedy this issue and allow defensive coordinator Jason Tarver to take less chances this season by getting pressure with only the standard four man rush.
I've established this long ago on this blog. We talk about quarterbacks too much and you can't talk about them enough. Yes, that makes sense.
The latest proof is what's in my mailbag. Many Raiders fans want to know when Derek Carr will play. I don't need to go through the long list of the many quarterbacks to wear Silver and Black since Rich Gannon led the Raiders to the Super Bowl after the 2002 season. Raiders fans know the names under center in the recent past and how those names have impacted the team's record.
Former Texan Matt Schaub is very much the present but Derek Carr is clearly the future. You don't use the 36th overall pick in the draft on a player to hold the clipboard very long. First round picks are often rushed into starting right away ready or not, but when do second round picks generally get their shot?
The chart below shows quarterbacks drafted in the second round for 10 years from 2004 through 2013 and how long they waited to start:
| | | | |
| --- | --- | --- | --- |
| YEAR | PLAYER/PICK | TEAM | FIRST START |
| 2006 | Kellen Clemens (49) | Jets | Week 2, second season |
| 2006 | Travaris Jackson (64) | Vikings | Week 15, rookie season |
| 2007 | Kevin Kolb (36) | Eagles | Week 2, second season |
| 2007 | John Beck (40) | Dolphins | Opening day starter, rookie season |
| 2007 | Drew Stanton (43) | Lions | Week 15, third season |
| 2008 | Brian Brohm (56) | Packers | Week 15, second season (with Bills) |
| 2008 | Chad Henne (57) | Dolphins | Week 4, second season |
| 2009 | Pat White (44) | Dolphins | Never started an NFL game |
| 2010 | Jimmy Clausen (48) | Panthers | Week 3 rookie season |
| 2011 | Andy Dalton (35) | Bengals | Opening day starter, rookie season |
| 2011 | Colin Kaepernick (36) | 49ers | Week 10, second season |
| 2012 | Brock Osweiler (57) | Broncos | Has yet to start an NFL game |
12 Quarterbacks selected in the last 10 drafts before 2014.
Two started opening day of their rookie season: John Beck, Andy Dalton
Four started a game in rookie season: Beck, Dalton, Travaris Jackson and Jimmy Clausen.
Four made their first start in second season: Kellen Clemens, Kevin Kolb, Chad Henne, Colin Kaepernick.
One made their first start in third season: Drew Stanton
Two have never started an NFL game: Pat White, Brock Osweiler
One has made a Pro Bowl, Andy Dalton
One has played in a Super Bowl, Colin Kaepernick
In six of the 12 cases a QB was drafted in the second round, that team took a QB in the first round within five years.
So when will Carr start? The best-case scenario is for Schaub to be the starter for all 16 games this season. Carr would likely compete for the job next season. However, since Rich Gannon was the team's only starter in the Super Bowl season of 2002, the Raiders have started 18 different quarterbacks. The team has used at least two starting quarterbacks six times and three different starting quarterbacks in a season five times, including last season when Terrelle Pryor, Matt McGloin and Matt Flynn all started a game. If history is an indicator, Carr will get a shot at some point in 2014.
Raiders first round pick Khalil Mack is a guitarist and singer and says his "go to" song is something by Jason Mraz.
RELATED
---
The opinions, analysis and/or speculation expressed in John Lund's Wheel Route column represent those of John Lund, and unless quoted or clearly labeled as such, do not represent the opinions or policies of the Oakland Raiders organization, front office staff, coaches and executives. The author's views are formulated independently from any inside knowledge and/or conversations with Raiders officials, including the coaches and scouts, unless otherwise noted.