LB Sam Williams speaks to the students of Dewey Academy High School. Photo by Tony Gonzales. Recently, LB Sam Williams visited Dewey Academy High School in Oakland, Calif. to speak to the students about the importance of education and making smart life decisions. "A lot of times the students that I work with, their options are very slim and almost nonexistent," said Vice Principal Mekael Johnson during a Behind the Shield: Online interview in late 2007. "We have some students who are on probation and in and out of juvenile hall and they've been kicked out. Dewey is just a make up of all the students that are behind and are trying to catch up."

Many students at Dewey Academy have also experienced the loss of a close friend or family member. Williams explained to the students that they should use the loss as motivation to become a better person.  "Life is about choices. You have a choice to live the right way or the wrong way," said Williams. "If you do things the wrong way there will be negative consequences and you can end up shot or in jail."
Principal Hattie Tate believed the visit taught her students to believe they can accomplish anything. "Today was a big resource for our campus to hear from a local hero who has succeeded to give them some pointers on how to hang in there and succeed," said Tate. "We have a guest speaker program that happens all the time. Teachers are free to invite guests who have succeeded and to motivate the students of Dewey Academy High School, letting them know they can accomplish their dreams."
Williams emphasized the importance of goal setting and pursuing those goals. "The main objective is believing in themselves and that the students have a second chance with getting back on track," said Williams. "It is an honor to be their motivation in making them feel like they can accomplish whatever they want to if they set their mind to it. I really liked the fact the kids were really listening and they were paying attention to what I was saying and asking detailed questions in what goals I set and how I accomplised them. I feel like I created a relationship with these kids and will try to reward them in any way."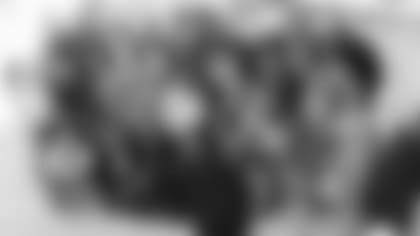 LB Sam Williams poses with students from Dewey Academy.Photo by Tony Gonzales.
"An NFL player works so hard to get where they are at," said Robert Dousa, Program Specialist-Health Education. "Sam talked about goal-setting and he was always coming back to explaining how he set goals, he wanted to achieve his goals, and just being around goal-oriented people helps students realize they can do it."
Williams understood the significance of being a positive role model for the students of Dewey Academy High School. Williams hopes he made a positive impact on the students' life decisions. Leaving the school's campus, however, Williams realized that the students had inspired him as much as he had impacted them.