Hall of Famer Willie Brown visited the Veterans Home of California, Yountville, during the Raiders 2014 Training Camp. This is the second year in a row the Raiders Legend has spent time with the veterans.
"It's a great pleasure for me to come out and visit with them again this year," said Brown. "They seem to be excited. They're all Raiders fans so it makes me excited just to know that they watch the games and know a lot of stats about my career and other players' stats also."
Brown connects with the veterans because of his family's military history. "I had six brothers who went into the service so it's easy for me to connect," said Brown. "I stayed in school instead of going into the service; my father didn't want me to go so I went on to college and they went into the service. So I think it's great because I know what they went through and how my family and mom and dad went through just by them being in the service."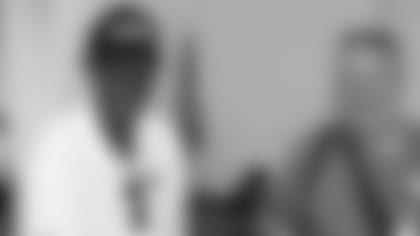 Photo by Tony Gonzales
The veterans look forward to the Raiders visit each year. "It's always very exciting for them when somebody will come visit here," said Terri Mejorado, Public Information Officer, Veterans Home of California, Yountville. "For a lot of them, this is their home 24/7, so when we can get people to come out here and visit with the veterans, it's really special. Then when you bring a Hall of Famer out here, it just takes the level up a little bit more. Veterans love being able to speak with their peers and a lot of them watched Willie play at one point, so for them to make that connection, it's a very special evening for them here, something that's very out of the ordinary and they're very appreciative of it."
Joyce Donegan, a former Marine who served during the Korean War, has been a life-long Raiders fan. She was glad the Raiders had a chance to meet and thank the wonderful veterans at the home in Yountville. "It swells my heart that you think enough of yourselves to come and visit old veterans; you may not be playing if it weren't for these old guys," said Donegan. "They're wonderful. They're magnificent. They have stories you would not believe."
Donegan had a story of her own about the Raiders.  "Let me start off with a story about John Madden," she said. "I've done many things. I'm educated. I taught school for 20 years. I was an athletic director. And then I decided to go out and see what I could do which is why I joined the Marine Corps to begin with. So I sold leather goods door to door to businesses. I went into John Madden's office…I didn't know [at the time]. Way in the far corner there's a man sitting at a desk. And I said, 'you look like John Madden.' And he said, 'I am John Madden.' I walked over to him, put my box down, shook his hand and said, 'You are the best coach since Vince Lombardi.' And he goes, 'Vince…Vince who?' He wasn't going to let me get away with that."
The Marine veteran has a deep respect for what the late Al Davis represented. "I love football but I especially like the Raiders. [Al] and Carol were the most knowledgeable people about football that this country ever spawned. They knew football. They watched it all the time. They watched it during the week for breakfast, for dinner, everything. They were good people," said Donegan.
Her deep appreciation for the Raiders made Brown's visit more impactful. "To me, my heart is so full I can hardly talk. I thank you all," said Donegan. "The support group the [Raiders] have, the people that love them...I'm glad to be counted among them."
This was the 13th consecutive year the Raiders have visited the Veterans Home of California, Yountville. The Raiders respect and value the military and are proud to show their appreciation each year during training camp and throughout the season.