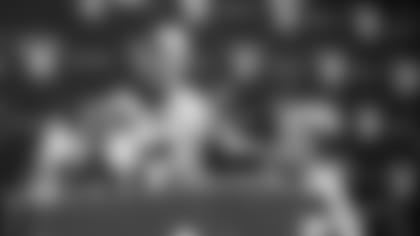 Jesse asks Head Coach Hue Jackson a question during the press conference. Photo by Tony Gonzales
The Oakland Raiders hosted 13-year old Raiders fan, Jesse, at Training Camp 2011. Jesse had the opportunity to watch the last practice of camp, interview RB Darren McFadden and Head Coach Hue Jackson, and learn the ins and outs of being a sports reporter. He then wrote about his experience visiting his favorite team as a kid reporter for NFLRUSH.com.
He earned the right to visit Raiders training camp by entering the NFL Play 60 Super Kid Contest. "I wrote a page about how much I love football and what I do to show I love football," said Jesse. "Apparently, it was good so now I'm here."
Jesse spent his first few hours at the Napa Valley Training Complex watching the Raiders final practice of training camp. "I was watching them run around," explained Jesse. "It was really cool to see how the NFL trains their players. It was really cool."
Following practice, Jesse met his favorite player, RB Darren McFadden, and practiced his reporting skills, asking McFadden a series of questions. "That was awesome," said Jesse. "Favorite Raiders running back of all time, no questions asked, and he's a lot bigger in person than he seems on TV. He was fast during practice though."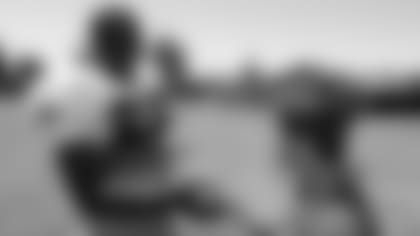 Jesse meets Raiders RB Darren McFadden. Photo by Tony Gonzales
Jesse then moved on to Coach Jackson's press conference and had the rare opportunity to ask the head coach a question. "I asked, 'Do you get tired of reporters always coming up and bugging you with questions?'" said Jesse. "That was really cool."
Coach Jackson appreciated Jesse's question and answered candidly. "Honestly, I don't," replied Coach Jackson. "I think they are great at what they do and they have a job to do and I respect what they do, because I think they respect what I do. So it is a mutual respect, they are trying to be good at what they do and I am trying to be good at what I do. Sometimes they can get a little overbearing and sometimes they probably think I can get a little overbearing, but they are good people and I appreciate everything that they do."
He then gave Jesse some good advice. "Always report honestly and I think that is very important," said Coach Jackson. "When you start digging for information; don't go get bad information, get good information and good things will happen for you."
Jesse left Napa, Calif., with a smile and was ready to tell his friends and everyone at NFLRUSH.com about his experience with the Oakland Raiders. "I'm going to tell them that the Raiders are the best, as I've been telling them for a long time," said Jesse.
---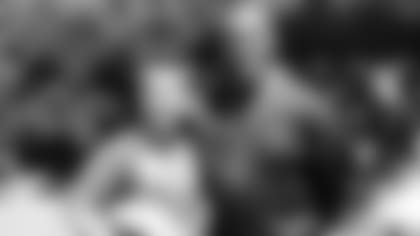 Jesse with Head Coach Hue Jackson. Photo by Tony Gonzales
Jesse followed up his visit to training camp with a post on NFLRush.com --
I had the best day of my life on Friday! I had the honor of being allowed to go to the Raiders Training Camp in Napa.  I was nervous at first but everyone in the Raiders organization is so cool and they made me feel like I was a Raider V.I.P. When I first got there Rosie, a member of the Raiders staff, showed me the media room and how to read the press release. Then we took the field. I couldn't believe the speed and size of the Raiders. We watched them work on plays and they were hitting seriously hard.
After their scrimmage I got to interview Darren McFadden, the best RB in the NFL! McFadden and the rest of the Raiders signed my football. Then Jeannette Thompson from Behind the Shield interviewed me. She's one of my favorite reporters, so I was very happy to do it.
Next they took me over to a live press conference with Hue Jackson. I asked him a few questions and he was so funny and cool. Coach Jackson talked to me as if we were father and son, he has great wisdom. Hue's the greatest coach of all time! Yes, better than Madden, you'll see. His players and coaches really like Hue and work hard for him.
Make sure to check out and watch my NFL Rush Kid Reporter interview and 8-26-11 press conference with Coach Hue Jackson. Lastly, I want to thank, Rosie, Tony, Michael, Bradley and Kim for making this all possible.