For a total of 100 days, we'll take a look at the men who have played for the Raiders jersey number by jersey number. This series will highlight some of the greatest players in NFL history. In some cases, the player and jersey number are synonymous. In other cases, the jersey number represents sustained greatness at a particular position. Some players are superstitious about their jersey number. Whatever the case may be, jersey numbers are an important part of the fabric of professional football.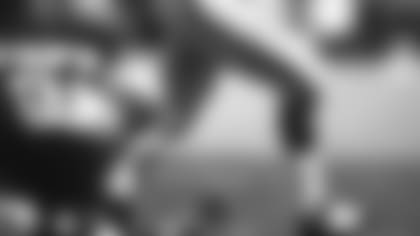 Jersey No. 23 has been worn by several dynamic playmakers in Raiders history including record holders at a few different positions.
Jack Larscheid – RB – 1960-61
Larscheid played in 16 games in two seasons and carried the ball 100 times for 400 yards and 1 TD. He caught 24 passes for 198 yards and 1 TD. He also returned 12 punts for 106 yards and 39 kickoffs for 1,106 yards (18th in team history). He even completed 3 of 7 pass attempts for 71 yards.
Rivera, a 10th round selection of the Raiders in the 1962 AFL Draft, played in nine games with Oakland in 1962 and went on to play for Buffalo in 1963.
Dickinson played for the Raiders after spending time with the Dallas Texans (Kansas City Chiefs), Denver Broncos and Houston Oilers. He played in seven games and carried the ball 4 times for 8 yards and caught 3 passes for 38 yards.
Sherman played one year for the Raiders in jersey No. 23 – 1967. He wore No. 13 when he re-joined the Raiders in 1969. He played in 53 games with seven starts as a Raider. He caught 35 passes for 533 yards and 1 TD. He also returned 19 punts for 113 yards and 26 kickoffs for 618 yards. In 1967, he caught 5 passes for 61 yards and carried the ball once for 13 yards. He also returned 12 kickoffs for 279 yards.
Charlie Smith – RB – 1968-74
Smith (pictured) played in 91 games with the Raiders with 65 starts. He carried the ball 858 times for 3,351 yards and 24 TDs. He also caught 141 passes for 1,596 yards and 10 TDs. He returned 22 kickoffs for 437 yards. Smith was a key factor in some fantastic games including the Heidi Bowl. He is the 11th leading rusher in team history.
Hart played for the Raiders from 1974-75 and 1978. He wore No. 34 from 1974-75, and No. 23 in 1978. He played in a total of 29 games with 4 starts, and carried the ball 114 times for 485 yards and 5 TDs. He caught 8 passes for 32 yards. He also returned 46 kickoffs for 1,236 yards (15th in team history) and 1 TD. In 1978, in No. 23, he played in seven games and rushed 7 times for 44 yards and returned 11 kickoffs for 252 yards. His 102-yard kickoff return in 1975 against Miami is the 2nd longest in team history.
Odis McKinney – DB – 1980-86
McKinney was a member of the Raiders Super XV and Super Bowl XVIII championship teams. He joined the team after two years with the New York Giants. As a Raider, he played in 85 regular season games with 19 starts and recorded 9 interceptions for 82 yards and 2 sacks. He split time with the Raiders and Chiefs in 1985.
Ethan Horton – RB/TE – 1987
After joining the Raiders in 1987, Horton wore No. 23 for one season. He played for the Raiders from 1987-94 after one year with the Chiefs. In all, he played in 84 regular season games with the Raiders with 65 starts. He caught 169 passes for 2,018 yards and 13 TDs.  In 1987, he caught 3 passes for 44 yards and rushed 31 times for 95 yards.
Derrick Crudup – DB – 1989, 1991
Crudup was drafted by the Raiders in 1988 and he played in a total of 20 games in two stints with the Raiders.
Seale played for the Raiders from 1984-87 and in 1992. He played 5 games in No. 23 in 1992. He played in 61 total games with 10 starts with the Raiders and recorded 5 interceptions for 40 yards and 1 TD, and returned 23 kickoffs for 482 yards (1985).
Lionel Washington – CB – 1997
Known for wearing No. 48 from 1987-94, Washington wore No. 23 in his second stint with the team in 1997. He played in 122 games with 99 starts for the Raiders and intercepted 19 passes for 200 yards and 3 TDs. In 1997, he played in 9 games with 3 starts and intercepted 2 passes for 44 yards and a TD.
Darrien Gordon – DB – 1999-00, 2002
Gordon played in 29 games with the Raiders with 2 starts and returned 71 punts for 655 yards and 1 kickoff for 17 yards. He recorded 3 interceptions for 44 yards in 1999. He also returned a fumble for a touchdown in 2000. He split time between Green Bay and Oakland in 2002.
Pope played for the Raiders from 2000-01 and wore No. 49 in 2000 and 23 in 2001. He played in 31 regular season games with 26 starts and recorded 3 INTs for 47 yards.
Hill played for the Raiders in 2 games in 2002 but did not record any statistics.
Marques Anderson – S – 2004
In his one year in Oakland, Anderson played in 14 games with 10 starts and intercepted one pass for 23 yards. He also recovered two fumbles.
Chris Carr – CB – 2005-07
Carr is the all-time leader in kickoff returns in Raiders history. He played in 48 games with 4 starts and returned an interception 100 yards for a TD (2nd longest in team history). He returned 201 kickoffs for 4,841 yards. He also returned 77 punts for 454 yards.
DeAngelo Hall – CB – 2008
Acquired in a trade with Atlanta, Hall played in 8 games with 8 starts and intercepted 3 passes for 31 yards before he was released in the middle of the season.
Jonathan Holland – WR/DB – 2009
After his switch from wide receiver to defensive back, Holland switched from No. 10 to No. 23. In No. 23, he played in 14 games in 2009 and returned 28 kickoffs for 550 yards.
Selected in the 7th round of the 2010 NFL Draft, Ware played in 8 games and recorded 1 interception in his one and only season in the NFL.
DeMarcus Van Dyke – CB – 2011
Initially assigned No. 38 after he was drafted in the 3rd round of the 2011 NFL Draft, Van Dyke played in 12 games with 4 starts as a Raider and recorded 1 INT and 1 fumble recovery.
Joselio Hanson – DB – 2012
Hanson played in 16 games with 5 starts and recorded 2 interceptions for 24 yards and 2 fumble recoveries.
Porter played in 16 games with 16 starts in 2013 and recorded 2 INTs for 44 yards and a touchdown.
Tarell Brown - CB - 2014-present
Brown joined the Raiders after 7 seasons with the San Francisco 49ers. He played in 14 games and recorded 55 tackles (47 solo) and 4 passes defensed.