For a total of 100 days, we'll take a look at the men who have played for the Raiders jersey number by jersey number. This series will highlight some of the greatest players in NFL history. In some cases, the player and jersey number are synonymous. In other cases, the jersey number represents sustained greatness at a particular position. Some players are superstitious about their jersey number. Whatever the case may be, jersey numbers are an important part of the fabric of professional football.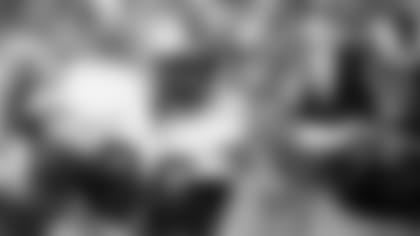 RB Clarence Davis wore No. 28 from 1971-78.
A handful of productive running backs, including the 9th leading rusher in team history, headline this installment in our series as we take a look at the Raiders who have worn No. 28.
Macon, who played with the Chicago Bears from 1952-53, played in 14 games for the Raiders during their inaugural season in 1960. He grabbed 9 interceptions for 105 yards and a touchdown.
Bob Garner – DB – 1961-62
After a year with the Los Angeles Chargers, Garner played in 27 games for the Raiders and returned 22 punts for 167 yards and 1 kickoff for 8 yards. He also logged 5 interceptions for 45 yards.
Clarence Davis – RB – 1971-78
The Raiders selected Davis in the 4th round of the 1971 NFL Draft out of USC. He played in 88 games with 31 starts and gained 3,640 yards on 804 carries and 26 TDs. He gained 137 yards on 16 carries in the Raiders 32-14 win over the Minnesota Vikings in Super Bowl XI. Davis caught 99 passes for 865 yards and 2 TDs during the regular season in his career. However, his most famous catch came in a 1974 playoff game against the Miami Dolphins as he caught a desperation pass from QB Kenny Stabler for a touchdown in a "Sea of Hands." Davis also returned 79 kickoffs for 2,140 yards. He is the 9th leading rusher in team history and 6th leading kickoff returner.
Dwight Harrison – DB – 1980
Harrison played for the Raiders in 3 games in 1980 in the last season of a 10-year NFL career.
Cle Montgomery – KR/PR – 1981-85
Montgomery played in 44 games and returned 22 punts for 278 yards and 1 TD. He also returned 74 kickoffs for 1,529 yards. Montgomery carried the ball 3 times for 8 yards and caught 2 passes for 29 yards. He was a member of the Raiders Super Bowl XVIII championship team.
Bell played in 6 games for the Raiders in 1990. He carried the ball 47 times for 164 yards and 1 TD and caught 1 pass for 7 yards.
Greg Robinson – RB – 1993-94
Robinson played in 12 games with 12 starts and rushed 156 times for 591 yards and 1 TD, and caught 15 passes for 142 yards – all in 1993. The Raiders selected him in the 8th round of the 1993 NFL Draft. His time with the Raiders was cut short by injury that same year. After sitting out the rest of the season and all of 1994 he signed with the Rams.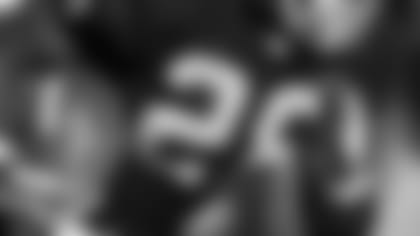 Randy Jordan – RB – 1993, 1998-02
Jordan (pictured at left) wore No. 23 in his first stint with the Raiders in 1993, and No. 28 when he returned to the Raiders after playing for Jacksonville from 1995-97. In all, he played in 88 games with 2 starts and gained 510 yards on 130 carries with 7 TDs. He also caught 53 passes for 507 yards and a score. He was a member of the squad that won 3 straight AFC West titles, appeared in 2 AFC Championships games and appeared in Super Bowl XXXVII.
Siddeeq Shabazz – DB – 2003
The Raiders selected Shabazz in the 7th round of the 2003 NFL Draft out of New Mexico State. He saw action in 4 games. He went on to play for Atlanta and New Orleans.
Zereoue joined the Raiders afterfive seasons in Pittsburgh and played in 15 games with 6 starts in 2004. He gained 425 yards on 112 carries and scored 3 TDs. He also caught 39 passes for 284 yards. He finished his career with one season with New England.
Ward played in 4 games for the Raiders in 2007 after spending the 2005 season with the Baltimore Ravens.
Gibril Wilson – DB – 2008
Wilson joined the Raiders after 4 years with the Giants. He played in 16 games with 15 starts and recorded 2 INTs, 1.5 sacks and 3 fumble recoveries. He played for Miami in 2009 and Cincinnati in 2011.
After spending the 2008 season with Green Bay, Porter played in 6 games with 1 start for the Raiders in 2011.
Phillip Adams – DB – 2012-13
Adams played in 31 games with 4 starts and has returned 33 punts for 198 yards. He has also snagged 2 INTs and recovered a fumble. Prior to coming to Oakland, Adams spent time with San Francisco, New England and Seattle.
Latavius Murray - RB - 2014-present
After wearing 34 during his injury-shortened rookie season, Murray switched to No. 28. In 2014, Murray appeared in 15 games with 3 starts and carried the ball 82 times for 424 yards and 2 TDs. He caught 17 passes for 143 yards and returned 19 kickoffs for 429 yards. His 90-yard TD run against the Chiefs at O.co Coliseum is the 4th longest run in team history.