For a total of 100 days, we'll take a look at the men who have played for the Raiders jersey number by jersey number. This series will highlight some of the greatest players in NFL history. In some cases, the player and jersey number are synonymous. In other cases, the jersey number represents sustained greatness at a particular position. Some players are superstitious about their jersey number. Whatever the case may be, jersey numbers are an important part of the fabric of professional football.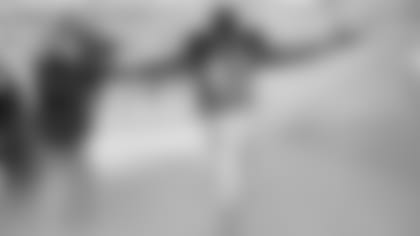 FB Marcel Reece has been selected for the Pro Bowl the past three seasons. Photo by Tony Gonzales.
Eleven players have worn No. 45 in Raiders history, including a ball-hawking defensive back and a two-time Pro Bowl fullback.
Jim McMillin – DB – 1963-64
McMillin joined the Raiders after two years with the Broncos and played in 15 games. McMillin intercepted 4 passes for 62 yards and 1 TD. He was re-acquired by the Broncos during the 1964 season.
| | |
| --- | --- |
| | |
| | Dave Grayson's 29 INTs rank 7th all-time in Raiders history. |
Dave Grayson – DB – 1965-70
Grayson joined the Raiders after four seasons with the Dallas Texans/Kansas City Chiefs. He played in 84 games with 42 starts and grabbed 29 interceptions for 624 yards and 4 TDs. He forced two fumbles and recovered two. Grayson also returned 7 punts for 39 yards and 26 kickoffs for 567 yards. He was named 1965, 1968 and 1969 1st team All-AFL.
The Raiders selected Slough in the 6th round of the 1971 NFL Draft out of USC. He wore No. 58 in 1971 and No. 45 in 1972. In all, he played in 22 games and recovered one fumble.
Henry Williams – DB – 1979
The Raiders selected Williams in the 6th round of the 1979 NFL Draft out of San Diego State. He played in 16 games with 13 starts and intercepted 3 passes for 37 yards and recovered one fumble. He went on to play for the Chargers and Rams in 1983.
Spivey joined the Raiders after three years with Chicago. He played in 9 games before he was acquired by the Saints. He also spent a season with Atlanta.
James Davis – DB – 1982-87
The Raiders selected Davis in the 5th round of the 1981 NFL Draft out of Southern. He played in 83 games with 2 starts and intercepted 4 passes for 125 yards and 1 TD. He also recovered 5 fumbles. He was a member of the Raiders 1983 Super Bowl championship team.
Mike Harden – DB – 1989-90
Harden joined the Raiders after nine years with the Broncos. He played in 30 games with 27 starts and grabbed 5 interceptions for 20 yards and recovered 3 fumbles.
David Fulcher – LB – 1993
Fulcher joined the Raiders after seven years with the Bengals and played in three games in 1993.
Bunch joined the Raiders after three seasons with the New York Giants. He played in three games in 1994.
The Raiders selected Hall in the 6th round of the 1996 NFL Draft out of Robert Morris. He played in 18 games and gained 127 yards on 26 carries and caught one pass for 9 yards. Hall also returned 9 kickoffs for 182 yards.
Marcel Reece – FB – 2008-present
Reece joined the Raiders as an undrafted rookie free agent out of Washington in 2008. After spending most of the year on the practice squad, he was added to the active roster in late December 2008. He was added to the practice squad after training camp in 2009 and signed to the active roster in late December 2009. In all, Reece has played in 62 games with 45 starts and has gained 723 yards on 152 carries with 3 TDs, and has caught 138 passes for 1,481 yards and 8 TDs. He has also returned 5 kickoffs for 101 yards. Reece has been selected for the Pro Bowl the past two seasons. In 2013, Reece was selected as a team captain.