For a total of 100 days, we'll take a look at the men who have played for the Raiders jersey number by jersey number. This series will highlight some of the greatest players in NFL history. In some cases, the player and jersey number are synonymous. In other cases, the jersey number represents sustained greatness at a particular position. Some players are superstitious about their jersey number. Whatever the case may be, jersey numbers are an important part of the fabric of professional football.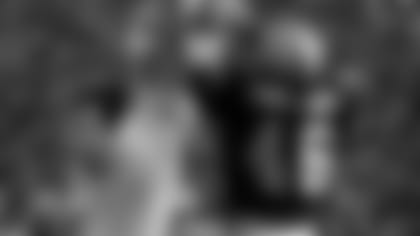 Nine players have worn No. 46 for the Raiders, including one of the best tight ends in not only team history, but NFL history as well.
Originally drafted by the San Francisco 49ers in 1956, Joyner played in two games for the Raiders during the team's inaugural season.
Billy Reynolds – RB – 1960
Reynolds played for the Cleveland Browns from 1953-57 and the Pittsburgh Steelers in 1958 before leaving the NFL for the AFL's Raiders in 1960. He played in 6 games and gained 6 yards on 1 carry and caught 3 passes for 43 yards. He also returned 7 punts for 24 yards.
Dave Costa – DT – 1963-65
The Raiders selected Costa in the 7th round of the 1963 AFL Draft. He played in 42 games for the Silver and Black and was selected to the 1963 AFL All-Star game.
After spending two seasons with the Buffalo Bills, Enyart played in one game for the Raiders in 1971.
Warren Bankston – TE – 1973-78
Bankston joined the Raiders after four years with the Pittsburgh Steelers. He played in 75 games with one start. He caught 7 passes for 94 yards and 2 TDs and rushed twice for 9 yards. He also returned 6 kickoffs for 68 yards. He was a member of the Raiders 1976 Super Bowl championship team.
Todd Christensen – FB/TE – 1979-88
Acquired as a free agent and converted to tight end, Christensen became one of the best tight ends to ever play the game. He caught 461 passes for 5,872 yards and 41 TDs. He led the NFL in receptions in 1983 and 1986, was selected for five Pro Bowls and named 1st Team All-Pro by the AP twice. He was a member of two Raiders Super Bowl championship teams. He is the 4th leading receiver in Raiders history. Christensen's 95 catches in 1986 rank 2nd in team history for catches in a single season. His 92 grabs in 1983 rank 3rd. Christensen recently passed away and was represented by his son at the Raiders 30th anniversary of the 1983 Super Bowl championship team.
Torin Dorn – DB – 1990-93
The Raiders selected Dorn in the 4th round of the 1990 NFL Draft. He played in 62 games with one start. He picked off one pass for seven yards, forced one fumble and recovered one fumble. Dorn recorded a safety in 1991. He finished his career with two years with the Rams.
Kidd played in 29 games and grabbed one interception, forced two fumbles and recovered one fumble. He also returned 29 kickoffs for 622 yards.
Oren O'Neal – FB – 2007-09
The Raiders selected O'Neal in the 6th round of the 2007 NFL Draft out of Arkansas State. He played in 18 games and caught one pass for one yard and carried the ball once for no gain.