Recently, the 12th Annual Madden/Mariucci Bocce Tournament benefiting local and national charities was held in Livermore, Calif. Current Raiders DE Matt Shaughnessy and Trevor Scott, and Raiders Legends Jim Otto and George Buehler came out to compete and enjoy the festivities in another version of the Battle of the Bay.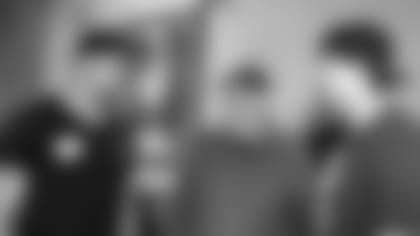 Hall of Fame coach John Madden chats with Raiders DE Matt Shaughnessy and LB Trevor Scott (right). Photo by Tony Gonzales.
The event was hosted by Hall of Fame Raiders coach John Madden and former San Francisco 49ers head coach Steve Mariucci, and was attended by current and former players from teams all over the Bay Area, fostering an environment full of friendly bocce competition.
Local professional teams, colleges, and businesses donated to the event, which supports the Juvenile Diabetes Research Foundation, Kaleidoscope (Easter Seals), and the Special Olympics of Northern California. This year Madden and Mariucci also decided to focus on the local high school football programs in need of football equipment. Bocce teams were formed from front office staff, current players, alumni, and coaches from The Oakland Raiders, San Francisco 49ers, San Jose Sharks, Golden State Warriors, San Francisco Giants, and the Oakland A's, as well as colleges and businesses.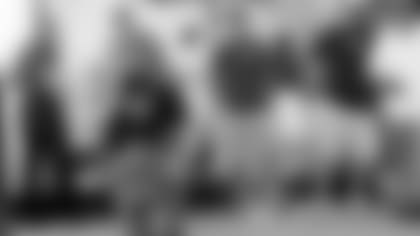 Raiders DE Matt Shaughnessy rolls the bocce ball. Photo by Tony Gonzales.
For a legend like John Madden, having some of the former Raiders players attend brought back memories. "It's just great to see the guys. It just reminds you of the days when we were younger and we were coaching and they were playing. We were winning a lot of games and those were the glory days of the Raiders. Those guys have been great," Madden said. Madden was particularly excited to have fellow Hall of Famer Jim Otto at the event. "Jim Otto, he'll always be Mr. Raider," said Madden. "No matter who comes and goes Jim Otto will always be Mr. Raider."
While old teammates reunited, current teammates Shaughnessy and Scott joined in on the fun, helping the legends play against other teams. For both players, this was not their first attempt at bocce. "I played last year," said Shaughnessy. "I think I did well today. I scored two points, Trevor scored none. I think that says it all." According to Scott, his bocce skills would not earn him a starting role. "I'd probably be riding the bench. Matt did better than me, which I'm pretty upset about." Although their bocce skills were rusty, both of the current Raiders were happy to be part of the charitable event. "It's always good to be on this side of the Bay, I'll tell you that much. And the charitable aspect, that's what it's about, going to events for a good cause," said Scott.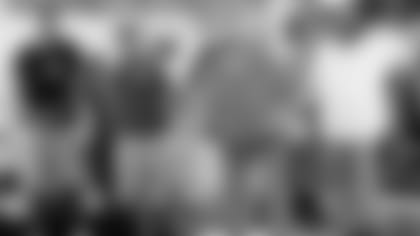 Raiders Hall of Famer Jim Otto plays in the tournament. Photo by Tony Gonzales.
In addition to the rivalries between the teams, Madden and Mariucci enjoy a little rivalry between each other. When asked about who was the better bocce player between him and Madden, Mariucci responded with a laugh, "It depends on how you look at it. His team has won twice, but it was in the Renaissance period of 2000 and 2003. That's when they won it on oyster shell courts. That's like old school. My team has won it more recently than that in 2005." In response to who would win in a one-on-one battle Mariucci said, "I would crush him."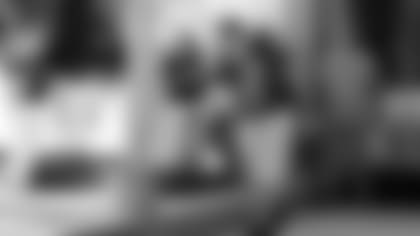 Raiders LB Trevor Scott rolls the bocce ball. Photo by Tony Gonzales. 
Everyone in attendance seemed to appreciate the choice of bocce as the way to bring all of the sports teams together. "Bocce is easy. It's an easy game to learn. Anyone can play it. You may not be real good at it, but you can play it," explained Madden. Mariucci agreed, saying "we're fortunate to have people who like to play, and everyone is capable of it and it's such a great sport."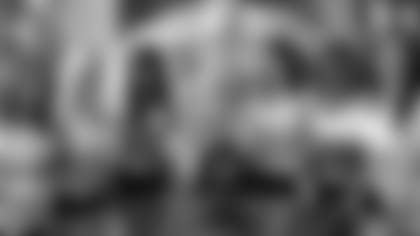 The Raiderettes were on hand for the tournament. Photo by Tony Gonzales.
Mariucci explained that it is not always easy to get all of the different sports together, but that this event has been able to join football, baseball, hockey and more together in a friendly version of the Battle of the Bay. With a tournament pitting the likes of legendary Raiders Jim Otto and George Buehler against former 49er R.C. Owens and former 49ers head coach George Seifert, attendees could enjoy themselves, earn Bay Area bragging rights, and support the charities.