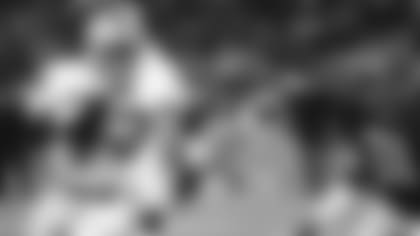 RB Kenny King scored the first touchdown of the game for the Raiders.
In 1980, Monday Night Football on ABC Sports was entering its second decade. "In the 10 years since it began, Monday Night Football has gone from a brash experiment in sports and sports broadcasting to what many regard as a national institution," commented Roone Arledge, then-President of ABC Sports.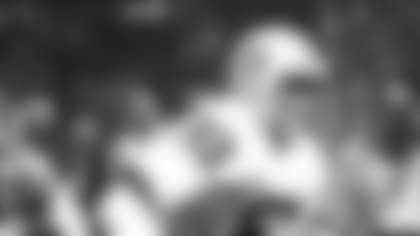 LB Ted Hendricks had two interceptions and a sack against the Steelers.
And one of the key factors that had taken ABC's prime time Monday night series to this exalted status was the brilliant, colorful play of the Oakland Raiders throughout the '70's. The Raiders entered the 1981 season with an incredible 13-1-1 record in the first decade of the Monday Night Football telecasts.
Tom Flores, then-head coach of the Raiders, remembers those years very clearly. Flores had a 14-4-0 record on Monday nights during his nine seasons as field boss of the Silver and Black.
"The secret of our Monday night success is hard to pin down," recalled Flores. "But starting well certainly helped. And it became a tradition for us. Of course, part of the reason is that we had some really great teams in the 1970's that won a lot of games regardless of when they were played. But our Monday nights really had been something special."
"You know, the Raiders always played well in big games," added Flores. "And Monday night, because all the excitement and because you're the only game in town, are always big games. The whole nation is watching you, and there's a lot of pride involved." The Oakland Raiders visited Pittsburgh's Three Rivers Stadium on October 20, 1980 and became one of Monday Night Football's greatest games – and one of the most explosive in series history.
There were 79 points scored – most ever in the 11-year history of Monday Night Football. There were nearly 800 yards in total offense, plus another 258 yards on returns. Five of the ten touchdowns came on plays of 34 yards or longer.
"Man, it was Pearl Harbor out there. It was just bombs away," said Steelers DE John Banaszak after the game.
This game in Pittsburgh was big for another reason – both the Raiders and Steelers needed a win. Both were 3-3-0 at that point in the 1980 season, and both had struggled. The Steelers were the defending World Champions and had won four Super Bowls in the last six seasons. Only the Oakland Raiders win in Super Bowl XI in 1976 and that of the Dallas Cowboys in Super Bowl XII in 1977 had kept the Steelers from sweeping six in a row. The 1980 season was different for Pittsburgh - nothing came easy.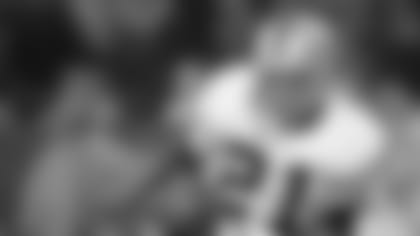 WR Cliff Branch had five receptions for 123 yards and two touchdowns.
The Raiders had little sympathy for their intense rivals from Western Pennsylvania. Oakland had severe problems of their own. New starting QB Dan Pastorini had broken his leg early in game five and the Raiders, then 2-3-0, had gone with San Francisco castoff Jim Plunkett at the key QB spot. Plunkett, former Heisman Trophy winner at Stanford and the very first pick in the 1971 NFL draft, had suffered with a weak New England Patriots team in the first half of the decade, then been traded to the 49ers organization. Finally waived in preseason 1978, he had been signed by the Raiders and allowed to slowly regain his form and his confidence. Now, two years later, the investment made by Al Davis – labeled "wasteful" at best by many so-called experts – would begin to pay off.
A week before the Raiders invaded Pittsburgh, Plunkett had led them to a 38-24 conquest of the division-leading San Diego Chargers, completing 11 of 14 passes for 164 yards and one touchdown. Kenny King, a first-year Raider astutely acquired by Davis in a draft-day trade with the Houston Oilers, had awakened the running game with a 138-yard afternoon, including a then-club record 89-yard scoring bust.
But on Monday night the hometown Steelers provided the early frills for their sellout crowd, jumping to a 10-0 lead. Steelers ace QB Terry Bradshaw completed four of his first five passes, finishing the initial possession with a 19-yard touchdown pass to Jim Smith. One offensive play later, the Steelers recovered a King fumble and had possession on the Raiders 19. But the Silver and Black defense stiffened and Pittsburgh Head Coach Chuck Noll was forced to settle for a short field goal and a 10-point advantage with less than six minutes played. Raiders Head Coach Tom Flores and his proud warriors had 54 minutes left. This was a Raiders organization that had learned to ignore injury, travel, weather, artificial turf and tough competition to concentrate on the job at hand.
In just six plays the Raiders drove 85 yards, with the touchdown coming on a 27-yard sweep right by King. A sack of Bradshaw by Oakland All Pro LB Ted Hendricks halted one Steelers possession, but early in the second quarter Bradshaw marched his team 84 yards to put the Steelers ahead 17-7.
Midway through the quarter Hendricks intercepted a pass, setting the Raiders up on the Pittsburgh 39. A pass from Plunkett to the talented WR Bob Chandler – another of six starters acquired in 1980 trades by Davis – covered 37 yards and Mark van Eeghen followed C Dave Dalby and Gs Gene Upshaw and Mickey Marvin for the short touchdown to narrow the Steelers lead to just three points, 17-13.
The Raiders defense earned the go-ahead touchdown just six plays later. On third-and-12 from his own 45-yard line, Bradshaw dropped back to pass. DE Cedrick Hardman roared in, got the sack, and forced a fumble that DE Willie Jones scooped up in heavy traffic and alertly lateralled to LB Rod Martin. Martin took the lateral 34 yards for the score, putting the visiting Raiders ahead 21-17.
WR Morris Bradshaw catches a 45-yard touchdown pass from QB Jim Plunkett before halftime.
Forty-one more points would be scored in the 33:05 left to play under the lights in Pittsburgh's Three Rivers Stadium, but the crowd of 53,940 and the many, many millions following the action nationally on ABC Sports would never see these Raiders trail again on that Monday night.
A few minutes later, Hendricks – one of the ten future Pro Football Hall of Famers involved in this game – captured his second interception. In just three plays the Raiders covered the remaining 49 yards, with the touchdown coming on a 45-yard bomb from Plunkett to speedy WR Morris Bradshaw. There was "no quit" in these Steelers, however, who scored with just ten seconds left in the second quarter. The teams headed for their dressing rooms at half time with the Oakland Raiders ahead, 28-24.
The Raiders offense did not cool off in the dressing room. Just five plays into the second half, Plunkett hit flying WR Cliff Branch for 56 yards and a touchdown. The Raiders now led 35-24.
The Steelers soon closed the gap to just one point with a 68-yard drive for a touchdown and a 32-yard field goal by Matt Bahr. After three wild quarters the scoreboard showed: Raiders 35 – Steelers 34.
"We came to win," stated Branch on the Raiders sideline. "I'm healthy now and want the ball."
Branch got the ball. The world-class sprinter caught three passes on the next Raiders drive, totaling 60 yards, with the last catch good for 34 yards, a touchdown and a 42-34 lead for the Raiders. For his Monday night efforts, Branch finished with five receptions, good for 123 yards.
Oakland ate up the clock in the final quarter with a nine-minute, 15-play march that culminated in a 36-yard field goal and a 45-34 Raiders lead that held up until the game's end. This was the Raiders fourth consecutive win over the Steelers and brought the Raiders Monday Night Football record to 14-1-1.
No team had ever come into Three Rivers Stadium and scored 45 points against Pittsburgh's famed Steel Curtain Defense before.
"It's a great victory," said Coach Flores. "Any time you beat the defending World Champions on their home field it has to be a super win."
And just three months later this proud band of Raiders would have a true "super win" in Super Bowl XV to become the World Champions of Professional Football.