Glen Vondrick and his guest pose with NFL Commissioner Roger Goodell
For the second year in a row, 32 season ticket members, one representing each team, received the ultimate NFL Draft experience courtesy of The Membership Club, an NFL league-wide benefits program.
Glen Vondrick, a Club Seat Member of 20 plus years was chosen by the Raiders as their team representative for the festivities.
Hand-picked by each club, this special group of fans helped kick off festivities and got behind the scenes access to Draft events in Chicago, which started on Thursday, April 30.
The experience commenced with an exclusive invite to the NFL Legends Draft Luncheon, presented by Nationwide, featuring an assortment of former NFL players and NFL Nationwide Man of the Year winners.
After the luncheon, the season ticket members headed back to their hotel to get ready for the Draft. Each season ticket member received a custom team jersey with "Draft Day" on the nameplate to wear for the night.
Season ticket members also received the opportunity to visit their respective Team House in Draft Town. Full of football, music, food and more, Draft Town is a 900,000-square foot Draft celebration in the heart of Chicago. Divided into AFC Row and NFC Row, Team Houses are the ultimate fan caves and provide a place for fans to gather and engage with unique club content and memorabilia.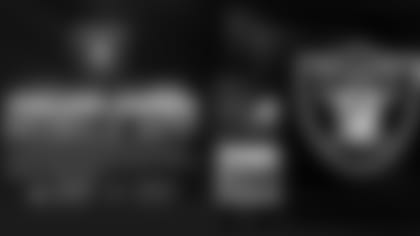 ](http://www.raiders.com/fans/mobile-app.html)