The Oakland Raiders returned home Sunday and fell to the Denver Broncos 16-10 at O.co Coliseum, dropping their record to 2-3 as they head into the bye week. Now let's take a look at who played and for how any snaps, and see what we can learn from taking a closer look at the numbers.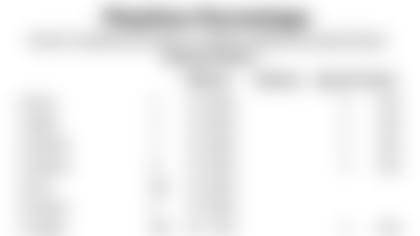 Wide Receiving Corps Becoming Established –The Raiders elected to dress just four wide receivers in Sunday's matchup with the Broncos, and of those four, three are establishing themselves as the corps of Raiders wide outs in 2015. Amari Cooper played 64 snaps (91%), Michael Crabtree played 50 (71%) and Seth Roberts played 29 (41%) in Sunday's game against the Broncos. When all was said and done, the trio accounted for 101 receiving yards.
Marcel Reece Gets in the Mix– The versatile fullback found himself involved in both the offense and special teams units Sunday, playing 22 snaps (31%) on offense as well as 12 more (46%) on special teams.
While he played less than one third of the team's offensive snaps, Reece made the most of his chances, rushing the ball 1 time for 6 yards, in addition to catching 7 passes for 49 yards and 1 touchdown.
Tight Ends All See Action– Lee Smith got the start at tight end Sunday, playing 37 snaps (53%), but the entire trio of Raiders tight ends saw action against the Broncos. Rookie Clive Walford played 26 snaps (37%), catching 1 pass for 33 yards, and Mychal Rivera chipped in with 23 total snaps (33%), totaling 3 receptions for 33 yards as well.
Starting Cornerbacks Go The Distance– DJ Hayden and David Amerson earned the start at cornerback for the Silver and Black, and the pair played all 58 defensive snaps against the Broncos. At the end of the game, Hayden totaled 5 combined tackles. Amerson totaled 5 as well and also added 1 pass defensed.
Mario Edwards, Jr. Makes His Presence Known– After playing sparingly in the first quarter of the 2015 season, Edwards played 50 snaps (86%) against the Broncos. He finished the game with 6 total tackles and 0.5 sacks, and proved to be a disruptive force along the Raiders defensive line.
Neiron Ball Sees an Increased Role– Similarly to Edwards, Neiron Ball had a limited defensive role the first four games of the season but saw his playtime increase dramatically against the Broncos.
Ball earned the start, playing 36 snaps (62%), mostly in passing situations and earned the praise of Head Coach Jack Del Rio.
"We see the skills that he brings and the work ethic that he has every day and the way that he prepares, so we increased his role," said Head Coach Del Rio. "Thought we would seek to take advantage of some of things we think he's capable of and I thought he did a nice job in his first extended activity."