Anthony Robles and his mom, Judy Robles, pose for a photo with Raiders Head Coach Hue Jackson.

Yesterday evening, long-time Raiders fan, Anthony Robles, received two ESPY Awards – the Jimmy V Award for Perseverance and Best Male Athlete with a Disability. According to ESPN, the Jimmy V Award is given to a "deserving member of the sporting world who has overcome great obstacles through physical perseverance and determination." Robles was born with only one leg, but overcame daunting odds to dominate on the mat and win the NCAA wrestling national championship. In the 125-pound weight class championship match, Robles beat defending champion Matt McDonough from Iowa to complete a perfect season (28-0 at the end of the regular season). Prominent throughout his championship match was the tattoo on his left shoulder of the Raiders shield.
"If I can teach our team what Anthony Robles has taught the world that through desire, determination, discipline, and dedication, that there is nothing in this life you can't do, if I can take those qualities he's shown the world and impart them on this team, we'll have a chance every Sunday, Thursday, or Monday that we play," said Oakland Raiders Head Coach Hue Jackson. "The spirit of this young man is Raider-like. We honor him for what he has accomplished in his college career, what he means to his family, what his family means to him, and what an unbelievable and awesome family. We just wish him the best for years to come."
A few months ago, after winning the National Championship, Raiders.com had an opportunity to chat with Robles about his success and the Raiders.
---
Anthony Robles: I'm a huge [Raiders] fan and my whole family bleeds Silver and Black. I'm not the only one that has that tattoo. My mom has one, my brother has one, my dad has one. It's like a family crest for us.
Raiders.com: How and when did you become a Raiders fan?
Anthony Robles: Our whole family, we're all Raiders fans. Before I moved to Arizona, I lived in California so I grew up always watching the Raiders. Ever since I was a little kid, on Sundays, we'd be barbequing and watching the Raiders game. I remember my dad told me that when I was little, my dad had tattoos and I always told him I wanted one. He told me when I was 16 you can get one. As soon as I turned 16 I wanted to get the Raiders one. That was my first tattoo. We're huge Raiders fans and we've always been watching them.
Raiders.com: What kind of response do you get in Arizona about your tattoo?
Anthony Robles: They don't like it too much. They ask, 'What's that on your arm?' I tell them, 'That's my team right there.' I'm proud of it. They ask me if I regret getting it. Whenever I answer I tell them, 'The only thing I regret about it is that I didn't get it bigger.'
Raiders.com: Was there a football player or Raiders play in particular that inspired you to get into sports or one that has kept you motivated?
Anthony Robles: I had a few growing up. As I grew older there were different players. It became Tim Brown and then Charles Woodson and right now my favorite player is Rolando McClain. As different players came in and others left it slowly changed.
Raiders.com: Do you get to watch the Raiders play on TV?
Anthony Robles: Oh yeah. They're not on normal TV here, but we have Sunday Ticket specifically to watch the Raiders games. It's kind of funny because we go to church every Sunday so if the Raider game is on during church, we'll Tivo it and we'll go to church and then watch the game. We'll shut off our phones because we don't want people to tell us the score. We want to pretend like it's live in front of us.
Raiders.com: What is your favorite Raiders moment?
Anthony Robles: I think my favorite moment was my first Raider game when they played the Cardinals, when the Cardinals were still at the Arizona State's Sun Devil Stadium. I was little. That was my first experience at a football game, at a Raiders game. It was awesome. I remember Jeff George was the quarterback and Charles Woodson got his first interception that game.
Raiders.com: What are you most excited about for the future of the Raiders?
Anthony Robles: Super Bowl. Every year, we say the same thing – Raiders are going to the Super Bowl. We watch every year with those hopes.
Raiders.com: How did you get into wrestling?
Anthony Robles: An older cousin of mine, he was a wrestler. I had no interest in the sport, but I was living with him for a little bit. Just to keep me busy, he'd take me to practice just to watch him and one day one of his teammates needed a drill partner and his teammate was my size. He kind of forced me out there, forced me to try it out and I fell in love with it. I've been doing it since I was a freshman in high school.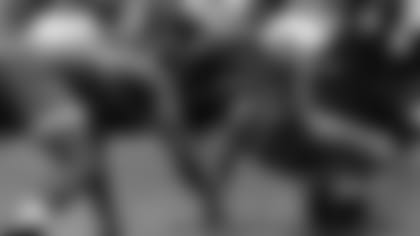 Anthony Robles squares off in one of his matches with his Raiders tattoo prominently displayed on his left shoulder. Photo by Jason Wise/ASU Media Relations.
Raiders.com: How did you choose Arizona State?
Anthony Robles: We moved from California to Arizona when I was a freshman in high school to help start a church so I went to high school in Arizona. I decided I wanted to stay close to home and close to the family. I went to Arizona State and also they have a great wrestling program. They were national champions in 1988.
Raiders.com: How did you mentally prepare for the NCAA wrestling championship?
Anthony Robles: In practice and every match I just tried to pretend like it was the finals. If I was in practice, I would just pretend like I was prepping for the national championship match. If I was in a normal duel meet, I was just trying to pretend like I was wrestling for a title. But nothing really prepared me for the actual experience of it. Everything that was going on with it - the atmosphere, the crowd – it was super exciting. I was pretty scared, but once the match started I forgot about everything and it was just like a normal match to me.
Raiders.com: What did it feel like to win the national championship?
Anthony Robles: It was awesome. It didn't hit me at first. I was so excited, it didn't really register. It was just a great experience. The crowd was cheering for me. They said there were over 17,000 people and they gave me a standing ovation. My family and friends were there in the audience and it was just a great experience all around.
Raiders.com: What has it been like since you won?
Anthony Robles: It's been pretty crazy. As soon as I got home, we were getting flooded with interview requests and stuff like that. I've been pretty busy doing TV appearances and radio stuff, but it's been fun. I didn't get into the sport for the attention, but it's a great honor to have this much attention right now. I'm just trying to enjoy it.