The Oakland Raiders defense shut down the Houston Oilers offense as the Silver and Black won the 1967 AFL title. AP Photo.
Mike Tanier of Bleacher Report ranked the Top 25 defenses in NFL history in a piece that posted Monday morning. He included teams from 1960-present and utilized various criteria to rank the units. The 1967 Oakland Raiders defense came in at No. 19.
"The Raiders recorded 67 sacks and 30 interceptions in 14 games in 1967. In other words, they recorded four or five sacks and two or three interceptions on any given Sunday. The average opposing quarterback had a disastrous week every time he faced the Raiders."
As we celebrate the 50th anniversary of the Silver and Black's first title this year, the 1967 AFL Championship, let's take a look back at some of the notable players and performances turned in by the '67 Raiders defensive unit, known as "The 11 Angry Men."
1. The unit led the AFL in yards allowed and finished 2nd in points allowed, and yielded just 3.8 yards per play.
2. That defense shut out the Denver Broncos on opening day (51-0), and held Denver to -5 total yards on the day.
3. Opponents were held to 150 yards or less passing nine times.
4. Hall of Fame cornerback Willie Brown recorded seven interceptions, while fellow defensive back Warren Powers grabbed six. The unit ranked 2nd in the AFL in causing turnovers in 1967.
5. This unit accounted for six defensive touchdowns - four INTs and two fumbles returned for scores.
6. In the 1967 AFL title game against the Houston Oilers, the Raiders defense held the Oilers to 11 first downs, 38 yards rushing and 108 yards passing in a 40-7 rout.
In addition to Brown and Powers, the defense featured the likes of defensive end Ben Davidson, linebacker Dan Connors, defensive backs Howie Williams, Dave Grayson and Kent McCloughan, and defensive linemen Tom Keating and Carleton Oats. Defensive end Ike Lassiter, defensive tackle Dan Birdwell, and linebackers Bill Laskey and Gus Otto rounded out one of the most dominating defenses in Raiders, and AFL/NFL history.
The 1967 Raiders went 13-1 on the regular season en route to the American Football League Championship and a berth in Super Bowl II against the Green Bay Packers, and the 11 Angry Men played a large part.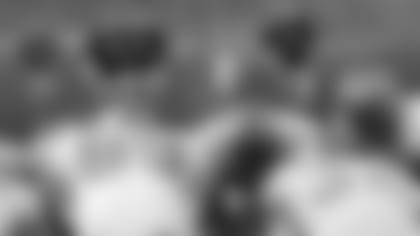 Down 27-0 and backed up in their own end, the Houston Oilers offense gets ready to face the vaunted Raiders defense yet again in the 1967 AFL Championship game.