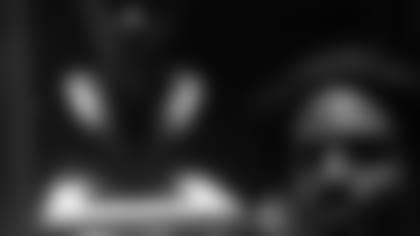 CB DJ Hayden poses for a photo with the Hall of Fame bust of Willie Brown.
Photo courtesy of DJ Hayden
We started off with a meeting and then we went to the Hall of Fame. First, we met the Hall of Fame president and then we got an introduction about what we were about to get ourselves into and what we'd see in the Hall of Fame. Then we split up into different groups, different teams, and we were the Dolphins. You walk around and you see all the old jerseys. They have a room with jerseys from the 1920s all the way down to now. So we were walking around that room following the time trail and noticed how football has just escalated and evolved. Then we saw the record room with all the stats, all the records of the teams that they could even remember. It's like a big wall with a big chart. Then you go through some other rooms. The one room that I liked was the Hall of Fame room with everybody's [busts]. I took a picture next to Willie Brown. I took a picture of all of them. Just seeing all those sculptures...That was probably the highlight of my day.
It's motivational just seeing the Hall of Fame…Trying to get my face or my jersey in there…They have current players, RGIII's jersey is in there. He was a rookie last year. It's doable. It's definitely possible. You just have to work at it and just ball out.
There was definitely a lot I can take from the Rookie Symposium. They touched almost every topic whether it's family, dealing with outside distractions, dealing with players on the team, everything. I feel like my biggest issue is probably family. They just told me, "You should set a boundary between you all. And say, 'look this is how it's going to be,'" instead of waiting until later down the road.
It was good to get to know [my draft class] even more. It's probably the last time we're going to see each other until training camp. It was a good experience. We had a lot of fun. We got all our laughs out, had a lot of laughs. We had a wonderful time.
DJ Hayden, CB, Oakland Raiders
Tyler Wilson
's Blog
Sio Moore
's Blog
Brice Butler
's Blog
David Bass
' Blog