| | |
| --- | --- |
| | |
| Despite the Steelers hat, LB Sio Moore made a new friend during the Play 60 event. | |
| | |
Today was more of a day for the kids. We did have some stuff with some vets. We played with the kids over at the Cleveland Browns facility and really got to make an impact on kids today. We really got to enjoy the day and get back to a good place, which is enjoying and having fun with kids. Brings you back to a place where it started all along and that's just going outside and playing. 
This was my second Play 60 event so far. We had one at the Raiders facility. It's always fun working with the kids. Like I said, it brings you back to a place we rarely get to touch anymore and that's our childhood because we're so preoccupied with so many other things. It's just a blessing to go out there and really get back to the basics with kids and then be somebody to these kids that can change their lives in some form or way. The biggest message we gave to those kids was to keep working in school and, number two, to listen to their parents and try to make the best decisions day-in and day-out.
And then from there we came back and we were able to speak with past players as well as current players, Vernon Davis, Patrick Kerney. We had LaVar Arrington. We had Chad Pennington and we finished up the day with Brian Dawkins. Meeting with those guys today, a lot of what they talked about was success – how to maintain it, how to gain it, how to obtain leadership, how to become a leader, how to set different tones for your team, how to be somebody that's a difference-maker. That was very motivating and then just listening to the words of Brian Dawkins, he's a guy who's strong in faith and he was everything of a leader in every facet of his career. So taking words from him is all motivation. It makes you look at yourself and see what you're doing because you look at him, his biggest thing was he never had an off-season. He devoted so many time and effort into his body so he could do the things he could do out on the field. It was just a blessing to hear from all those guys.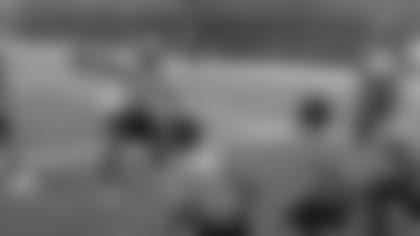 LB Sio Moore instructs the kids during a drill at the Play 60 event at the Cleveland Browns facility.
Just going through [the Rookie Symposium] now and seeing everything, I'm leaving with wide eyes. I gained and obtained so much information from players, former players, guys who had success stories and guys who had failure stories. I just learned a lot throughout the time. It's given me a lot to take for myself through my whole career.
[Tomorrow] it's going to be my first time at the [Pro Football Hall of Fame] and really getting to see some of the greats of all time, learning more about the history. I really can't wait to go there and just be able to say that I'm part of a league that holds these guys so high.
Sio Moore, LB, Oakland Raiders