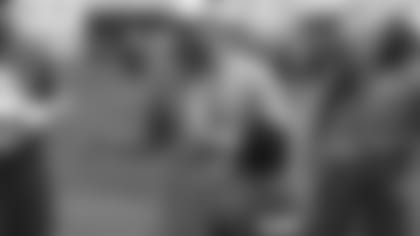 QB Tyler Wilson speaks to the kids during the NFL Play 60 event.
First of all, today was kind of cool because we got to get up and work with some kids at the Cleveland facility at an NFL Play 60 event. It was awesome. Although most of it was defensive drills by design, still got to get in there and interact with the kids. I think of how special that is. I wish I could have had that opportunity as a kid and glad that I have now been able to be a part of it and been able to affect some kids and have a positive time with them. It was good.
After we got done with most of the physical activity, a couple of the guys from the teams got to speak on the team's behalf about how we got to the position that we are in and what our thoughts of how to be successful and how to get to, not only places on the football field, but in life. I just talked real briefly about growing up playing a lot of sports. It was great that they were not playing Nintendo or games on the computer, but they're actually out exercising and making their bodies productive because that's what NFL Play 60 is all about. Also talked about being good students, going to school. I know it's the summertime but just giving them those kind of messages. I think that's always good and a constant reminder; I'm sure they've heard it before, but always good to hear it again.
After that we had some lunch with most of those kids and they had ice cream trucks outside, so that's always good.
Then after that, we headed back to the hotel and had a little bit of downtime. Finished up the day with a couple positive talks with the veteran group of guys – Chad Pennington, Vernon Davis, guys like that, that really set an example of how to be successful in the league and did it for a long time and found their way. We also heard their perspective on the league and how they became successful. Success is kind of a term that's thrown around and you realize that most of the guys only get a chance to play for a few years in the NFL. And for guys that play much longer than that you want to soak up as much as advice as you can from them. That's a lot of what went on today. It was really, really good.
The Symposium's been great. It's been a process for every rookie to understand the ups and downs of the league, things we all need to be aware of, whether it be financial matters, whether it be player conduct, just that whole umbrella of things the NFL represents and the image that we want to represent going forward. It's really a motivational piece for anybody that is listening. That motivation should make some guys hungry and I think it should also spread into training camp and start us off with a really good season.