Oakland Raiders Head Coach Jack Del Rio emphasizes playing complementary football, and being effective in all three phases of the game. While quarterback Derek Carr and Co., are an offense loaded with playmakers, and defensive end Khalil Mack is a monster in the trenches, another weapon lies in the special teams unit, and he goes by the name Marquette King.
You might know the Raiders punter because of his off-the-field pranks on social media, or by his eccentric celebrations on the field, but when you watch King play football, it's clear he's one of the best in the league. Sure, the Carrs and Macks of the world receive a lot of attention, and for good reason, but No. 7 has been bringing his own flare to his position for years now, and making it look easy.
"He works hard," said Carr when asked about what stands out about King. "Obviously, he likes to joke around and have a lot of fun, but at the same time, there's no doubting that he works his tail off. If he has a rough game or anything like that, he's out here working his tail off. Before practice or after, whatever he has to do to just be better. Anytime you get a guy with talent that works hard, it's going to be good."
From a fan's perspective, one might be unable to appreciate what goes into executing the perfect punt, and King takes making every one perfect very seriously. Special teams is an essential part of the game for many reasons, but primarily, field position can make or break a drive.
Pinning a team within their own 20-yard line is always a plus, and on 30 punt attempts this season, the former Fort Valley State Wildcat has dropped 14 into such territory. In terms of average net yardage, King ranks first with 47.1 yards, and is averaging the most yards per attempt with 52.3.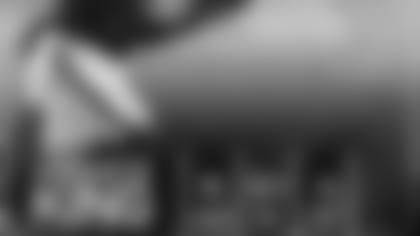 It's on the shoulders of the line to keep him protected when punting, but King also needs to be able to send the ball sailing through the air quickly. So far this season, he has yet to have a punt blocked, and during his six seasons in the NFL, King has only had three blocked. Since coming out of college, he's placed that ball within the opponent's 20-yard line 142 times, and kicked the ball a total of 18,239 yards.
As mentioned previously, the Georgia-native takes perfecting every punt very seriously, and consistency plays a big part in that. During the Raiders 2017 Training Camp, Special Teams Coordinator Brad Seely commented on how King has the talent to be effective, it just comes down to being effective day in and day out.
"You know a guy like that, that has the talent he has, it comes down to consistency," Seely said. "Being consistent every day, being consistent every game, being consistent for all four quarters, making the plays that are going to affect us positively in the game. I think he's done a nice job of that since I've been here at getting better at that every year."
Many punters are able to play in the NFL well into their late 30s, and sometimes even early 40s – take former Raider and now-Houston Texan Shane Lechler for example (41). At only 29 years of age, King has plenty of gas left in the tank, and as Seely said, will only continue getting better as time goes on. The "Kick Squad President" will get back to work this Sunday when the Silver and Black travel to Buffalo to play the Bills.