QB Matt Leinart throws a pass during practice. Photo by Tony Gonzales

The Oakland Raiders took the field for their 13th practice of Training Camp 2012, powered by Verizon 4G LTE, for the first time since Monday's Week 1 preseason loss to the Dallas Cowboys. In the shortest turnaround of the season, the Raiders will travel to Arizona to take on the Cardinals Friday evening. Although Monday's match up resulted in the loss, the Raiders were able to take away some positives, learn from mistakes, and improve for Preseason Week 2.
Monday night's game was many players first game wearing the Silver and Black. "It was fun," said QB Matt Leinart. "It was definitely fun to be there, just to have this opportunity; it's been really cool for me. I've been working hard, but it felt good to put that uniform on and I'm representing a great organization with a lot of tradition. It was fun to be out there with my teammates, crowd was all fired up and it's only going to get better as the season goes on."
Rookie DT Dominique Hamilton recorded a sack against the Cowboys and was fired up playing in his first game. "It felt good hitting somebody else other than my teammates," said Hamilton. "Just getting out there and hearing the roar of the crowd after I got a sack, it just felt really good."
WR Rod Streater, a rookie out of Temple, also had a nice game for the Raiders. "It felt good," said Streater. "With all the work we put in it really felt good to get out there and really show everybody what we can do."
The Raiders fourth round pick in the 2012 draft, LB Miles Burris, was able to get his first feel for professional football. "It felt good," said Burris. "I got my feet wet, got to feel the speed of the game a little bit and gain some confidence as I went."
Despite the first game only being two days old, the rookies and veterans have to quickly learn from the game film and somehow get their minds right for Friday's game. "It's a little bit of a funny schedule but it is good because you have that Thursday night game during the season," said QB Carson Palmer. "You have some Monday night games and short weeks. It is good practice for us to have to turn around right after a game and have a hard practice Tuesday after a Monday night game and then be ready to play in a couple days and get your body right. It's good preparation for the season."
"This is the fastest I've ever had to play," said Streater on the quick turnaround. "[I just have to] continue to hit the playbook, watch film, and try to stay with Carson and learn everything I can possibly learn."
Hamilton has never experienced games so close together, but is staying ready to go. "This is all new for me," said Hamilton. "I've never had a quick turnaround. I think you just stay focused. You just stay hungry. In my case alone, I'm hungry, and I just want to go out there and prove that I belong."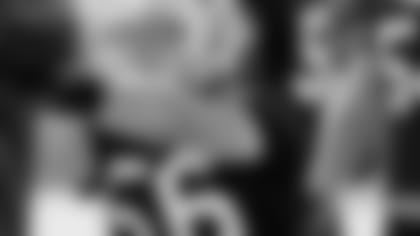 Rookie LB Miles Burris. Photo by Tony Gonzales
Heading into Preseason Week 2, the players have individual goals and team goals. Head Coach Dennis Allen wants to see improvement. "I'm hoping to see that we get better from week one to week two," said Coach Allen. "I've said that all along and we'll continue to say that. Our job is to get better every week and get ready and prepare for the opening game of the season so that's what we're aiming to do."
Leinart is of the same mindset as Coach Allen. "I just want to clean up some of the stuff for me footwork wise, getting the ball out quick, trusting my decisions and I think I did that okay Monday night, but just want to keep improving on that," said Leinart. "[Also] I think tempo in and out of the huddle, making sure everyone is on the same page, playing fast and definitely want to put some points on the board this week."
The former Heisman Trophy winner will return to University of Phoenix Stadium where he played for four years as the Cardinals first round pick in 2006. "It'll be fun," said Leinart. "I still have a lot of friends on the team. I was there for four years and there was a lot of expectations and it didn't work out, but it'll be fun to go back. I'm there to just go out there and play well when I'm in there. That's it really, that's all I'm focused on."
LB Chad Kilgore, who joined the Raiders at the start of training camp, is working hard to catch up learning the defense. "I just want to not make the mental mistakes like I did last game and just keep improving, learning the defense and just making more plays," said Kilgore. "My focal point is concentrating on what we're doing, what I need to be doing, so I don't mentally mess it up."
Hamilton wants to continue to pressure the quarterback and fight for a roster spot. "I always just want to keep doing my technique," said Hamilton. "I want to take the right steps, do the right reads and my goal is to get a sack. My goal is to get a sack a game. That's my goal, so I just want to keep doing that."
Streater, who caught six passes for 66 yards in his Raiders debut, wants to go out and have another big game. "I want to continue to catch the ball good, get yards after the catch, make big blocks and continue to have zero errors," said Streater. "I want to just focus on the little stuff."
Coach Allen knows the Arizona Cardinals will present challenges on offense and defense for the Raiders, but he's still most concerned with where his own team is as they head further into the preseason. "They are going to throw the ball to number 11. He's a good player," said Coach Allen. "They present some tough challenges. They give you a lot of different looks on defense.  Obviously offensively they've got a good runner. Obviously Larry Fitzgerald is an outstanding receiver. So we will have our work cut out for us. I'm not really concerned about what Arizona is going to do. I'm more concerned about us and how we execute."